A number of factors, such as genetics, excess weight, and inactivity, promote the development of Type 1 and Type 2 diabetes in dogs, much like in humans.
You may suspect your dog is developing diabetes if they drink more water and urinate more frequently and in larger amounts, or they may have accidents in the house when they were well housetrained.
Or your pup may eat more but lose or maintain his weight. 
Once you consult a veterinarian, confirm diabetes, and maybe start medication, or if your dog's type 2 diabetes needs specific control through diet, you can treat your pup with these healthy and delicious recipes that are safe for diabetic dogs.
Popular reads: 20 Dog Food Recipes With Chicken
Diabetic Dog Treats
From: YourDoghasDiabetes.blogspot.com
#1 Homemade Chicken Jerky
This simple recipe involves drying plain chicken over hours at a low heat.
The pure protein treat with no added fats, sugars or spices will please your pup's taste buds and you can feel good knowing it is a healthy choice, since a low carbohydrate diet that does not raise blood sugar levels is an important part of managing diabetes.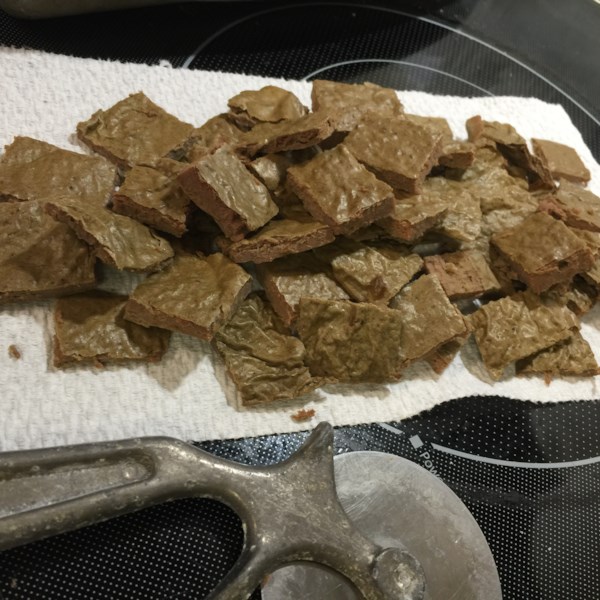 From: AllRecipes.com
#2 Beef Liver Diabetic Dog Treats
Beef liver and eggs are protein-rich nutrition sources in this diabetic dog recipe.
Liver is one of the most nutrient dense meats that you can buy, very high in vitamin A, folate, choline, and vitamin B12, and copper, all essential to your pup's body functioning properly.
Read: How Much Should A Shih Tzu Eat?
#3 Peanut Butter Dog Bagels with Sesame Topping
These donut-shaped treats are extra tasty due to peanut butter, a highly recommended food for diabetics.
Peanuts are a good source of magnesium, which scientists say might offer protection from type 2 diabetes by improving insulin sensitivity, reducing oxidative stress and helping prevent systemic inflammation.
Check Now Peanut Butter for Dogs on Amazon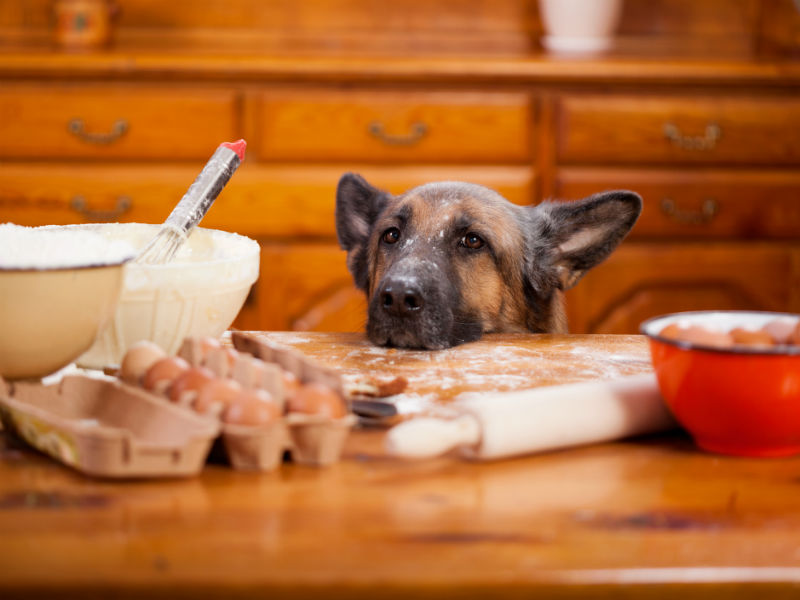 From: AKC.org
#4 Frozen Meat Cube Treats
Chicken, carrots and yogurt combine in this healthy and protein rich treat that you freeze in ice cube trays and can pull out at any time for a quick doggy treat.
Between meal treats are important for diabetic pups, whether as training tools, blood sugar stabilizers, afternoon snacks, or rewards for submitting to blood tests and insulin injections.
You may also know: What Is The Best Dog Food For American Bully?
#5 Diabetic Meal
This meal recipe also balances lein protein, whole grains, and kidney beans, which are high in protein, fiber and B vitamins.
This recipe suggests cooking the contents of Vitamin A and B supplement capsules, into the recipe.
These vitamins can have a beneficial effect in dogs with diabetes, because they help the body metabolize carbohydrates and function optimally.
Consult a veterinarian to make sure your dog is OK to have these vitamin supplements added to their diet.
#6 Bean and Chicken Diabetic Dog Food
This nutritious recipe combines 4 types of beans with barley, chicken and vegetables to make a completely balanced and delicious meal that is low on the glycemic index (GI).
A healthy low-GI diet helps people and dogs with diabetes (type 1 and type 2) manage their blood glucose levels, blood cholesterol levels, and reduce insulin resistance, which is important for reducing the risk of long term diabetes-related complications.
Learn: Is Hummus Harmful To Dogs?
From: TasteOfHome.com
#7 Dog Pizza
This pizza recipe is a bit more work than other recipes on this list but your pup will surely appreciate the effort.

The cornmeal and whole wheat dough is coloured with beet powder and flavoured with star anise, which contains properties that can help combat diabetes.
Shop Now Cornmeal for Baking on Amazon
#8 DIY Salmon Brittle Dog Treats
This simple brittle, made with only salmon, flour and eggs, will be a tasty favourite for your diabetic pooch.
The omega-3 fatty acids in salmon promote heart health and salmon can also help protect your dog's kidneys from problems associated with diabetes.
Peoples also read: What Food Should I Feed My Great Dane?
#9 Broth Dog Treat Recipe
You can use chicken or beef broth (or a combination) in this recipe for gentle on the stomach but nutrient dense treat for your pup.
The gelatine in meat broths promotes gut health, and the glucosamine is great for joints.
You can even make your own broth from leftover kitchen scraps.
#10 Chicken, Asparagus and Broccoli Bake
This brown rice casserole, with meat and veggies, is a well-balanced and nutritious meal for your diabetic pup.
The asparagus, in particular, can be a powerful dietary tool to help control diabetes; studies show that regular consumption of this vegetable can keep blood sugar levels in check and increase insulin production in the body.
Buy Now Casserole Dish for Oven on Amazon
From: Hachiko.me
#11 Doggy Pasta
This fiber-rich pasta meal recipe has many health benefits for your diabetic dog.
Fiber helps control blood glucose levels because it slows the glucose being absorbed into the blood.
It also lowers blood cholesterol levels, which also lowers the risk of diabetes and heart disease, helps with achieving and maintaining a healthy weight.
You may also know: What Makes Large Breed Dog Food Different?
#12 Sweet Potato Dog Loaf
This sweet potato loaf, baked with eggs, applesauce, cinnamon, ginger, whole-wheat flour and oats, is a low sugar and diabetic friendly baked treat you and your dog can enjoy.
Sweet potatoes and applesauce will add sweetness without needing to add sugar.
Sweet potatoes are low on the glycemic index, with chart topping vitamin A for eye health and potassium that helps control blood pressure, they also help with blood glucose control and weight management.
#13 Red, White, and Blue Yogurt Popsicles
Recipe for Dogs
This frozen popsicle recipe uses whole blueberries, which are high in fiber, antioxidants, and phytochemicals, all of which can help in the prevention and treatment of chronic diseases such as diabetes.
The recipe uses yogurt, which can be replaced with water if your dog is lactose intolerant, and do not use yogurt containing xylitol, a common sugar substitute that is toxic to dogs.
Also read: Can I Feed My Dog Rice Everyday?
#14 Barley Hemp Diabetic Dog Treat Recipe
With barley, hemp, cranberries, applesauce and cinnamon, this recipe is full of ingredients that will benefit a dog with diabetes.
Hemp can help regulate blood sugar levels, and cranberries may decrease the side effects of diabetes and increase the quality of life for those with diabetes.
#15 Pumpkin Dog Cookies
Pumpkin is a nutrient dense and tasty food that will help maintain your dog's weight, which is very important when managing diabetes.
And the cinnamon in the recipe will do more than complement the pumpkin's taste – some studies suggest cinnamon can have a positive effect on diabetes, by cutting cholesterol by about 18% and blood sugar levels by 24%.
Check Now Pumpkin Puree Digestive Supplement Pouches For Dogs on Amazon
From: Tasty-Lowcarb.com
#16 Low Carb Dog Food Recipe
This recipe makes a large amount of homemade dog food so you can store some and save it for later.
It is high in protein and fiber, with lean meat, pearl barley, brown rice, and veggies such as celery, green beans, and spinach, and very low in carbohydrates, that can interfere with proper insulin levels in your diabetic pup.
You may also know: What Do You Feed A Picky Dog?
#17 Complex Carbs Dinner Recipe
(http://www.petdiabetes.com/pdorg/home_cooking.htm)
This delicious dog food recipe is a well balanced meal of lean meat, vegetables and lots of complex carbohydrates like brown rice, rye, millet, and buckwheat groats.
Complex carbohydrates are better for your diabetic pup because they take longer to digest and give the body steady energy.
Shop Now Buckwheat Groats on Amazon
#18 Chicken and Carrot Dog Dinner Recipe
(http://www.petdiabetes.com/pdorg/home_cooking.htm)
This recipe uses either rice or pasta, with lean chicken, carrots and bone meal cooked into a dish your pup will eat right up.
Carrots will add sweetness without raising blood sugar levels and high quality (pet food grade) bone meal, which has many nutrients important to your dog's health like calcium, fat, protein and phosphorus, that build and maintain strong teeth and bones, help with nutrient absorption, can assist in digestion and can ease gas and diarrhea.
#19 Healthy Dog Dinner Recipe
(http://www.petdiabetes.com/pdorg/home_cooking.htm)
This well balanced meal recipe of oats, veggies and meat also uses optional vitamin and mineral supplements, as well as a DIY "Healthy Powder", a combination of nutritional yeast – which has lots of protein, vitamins, minerals and antioxidants and can lower cholesterol and protect the body from free radical damage – lecithin granules, kelp powder, bone meal and vitamin C.
You may also like: What Is The Best Dog Food For Pomeranians?
#20 Baked Cocktail Sausages
(http://www.caninediabetes.org/queenie.html)
Regular hot dogs are full of nitrates, sodium, fat and preservatives, and do not make a good snack for your pup.
You can make a healthy version for your diabetic dog with this recipe, where you mix protein-rich roast beef and fiber-rich wheat germ into sausages.
Some studies show that wheat bran can be an effective tool to regulate glucose levels in patients with diabetes mellitus, the type of diabetes most dogs have.
#21 Turkey, Spinach, Carrot and Pumpkin Jerky
Your pup will love this pumpkin, meat, and vegetable jerky, and don't worry if you don't have the required tools of dehydrator and/or jerky gun, since you can use an oven at the lowest temperature of 175F and create strips without the gun using parchment paper, a cutting board or your hands.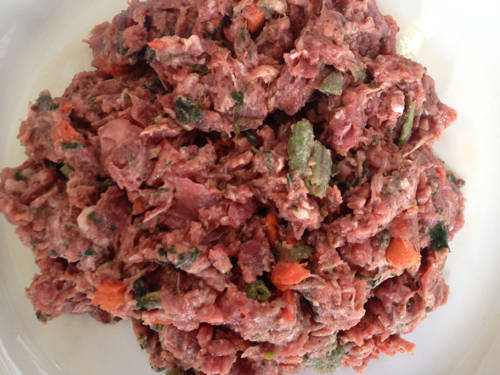 From: Hachiko.me
#22 Raw Food Diabetic Diet
Raw meat, non starchy vegetables, and fruits and berries are combined in this raw food treat for your pup.
Proponents of the raw food dog diet claim it leads to cleaner teeth and fresh breath, better weight control, improved digestion, healthier skin and coat, a reduction of allergy symptoms, increased mobility in senior pups, and more energy and stamina.
As with any change in diet, please consult your veterinarian before you feed your dog raw food to ensure there won't be any health problems.
You may also learn: What Is a Good Source Of Protein For Dogs?
#23 Tilapia Sweet Potato Diet
Tilapia is a great fish to cook for your diabetic pup, since it is affordable, mild-tasting, and nutritious, with lots of protein, niacin and B12. 
It is important that you feed your pup a diet that contains B12, because diabetics often have a B12 deficiency and they share some similar symptoms, such as neuropathy or nerve damage.
#24 Diabetic Dog Food With Vitamin Therapy
With beef, liver, spinach, whole grains, and a well written recipe that lists each ingredient's vitamins and minerals, this recipe is a winner.
Garlic is added to this recipe, not just for flavour, but because it has significantly lowers blood sugars and lipids, and inhibits platelet aggregation.
#25 Fruit and Veggie Treats
These vegan treats are packed with essential nutrients and no fat or added sugar, but they will taste sweet thanks to the carrots, sweet potato, banana, applesauce and oats.
Carrots in particular are packed with fiber, antioxidants, and vitamin A, which helps bone growth, reproduction, cellular differentiation and a good immune response, according to the British Journal of Nutrition.
You may also know: What Is The Best Dog Food For Labrador?
#26 Two Ingredient Dog Treats
With only flour and baby food required, this recipe is very easy to make, and versatile as you can decide which kind of flour or baby food you wish to use.
You can even get creative and make your own baby foods from whole ingredients (lean meats and veggies), which is more fresh and cost effective than store bought baby food.
#27 Peanut Oat Easy Drop Doggie Cookies
Peanut butter is another food that is low on the glycemic index, it does not elevate blood sugar levels because of its low carbohydrate and high healthy fat and protein content.
You can even try using chunky peanut butter for some extra texture and crunch!
Check Now Non-Stick Parchment Paper on Amazon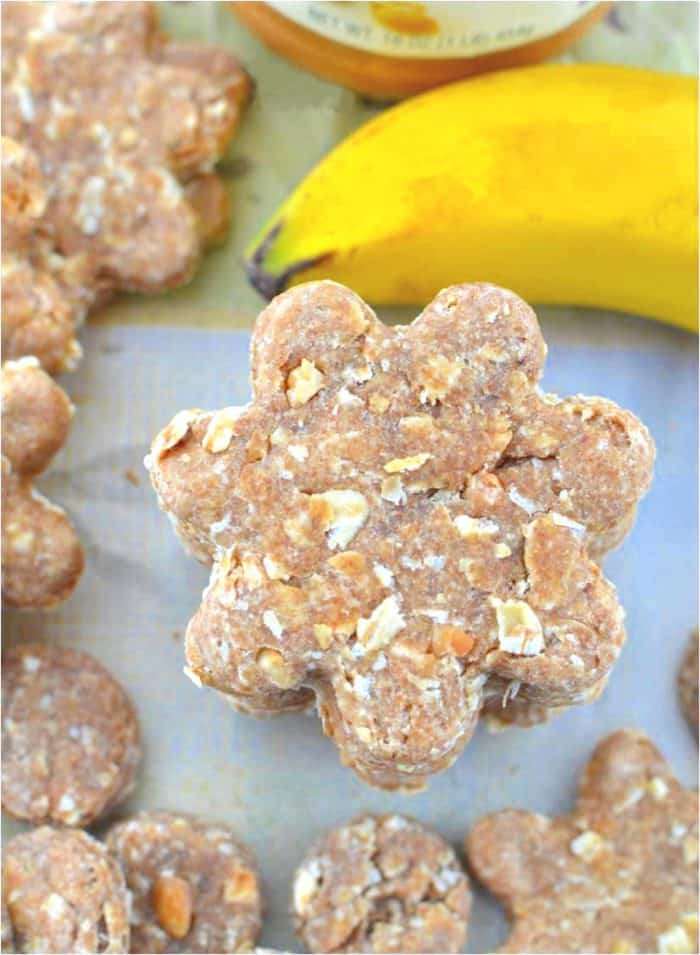 From: TheCozyCook.com
#28 Peanut Butter and Banana Treats
Oats are a carbohydrate with a low glycemic index, so they help keep blood sugar levels steady.
And even though bananas and peanut butter both have natural sugars, they still rate low on the glycemic index and can be eaten in moderation.
Learn: What Is The Difference Between Giant Breed Dog Food and Regular?
From: MyUntangledLife.com
#29 Turkey and Barley for Diabetics Dogs
Dogs with type 2 diabetes have a condition called insulin resistance, which gets better with a combination of weight loss and exercise.
Getting to a healthy weight and exercising regularly makes it easier to reach target blood sugar levels.
And, in some cases, the body's ability to control blood sugar may even return to normal. 
Feeding your dog a low fat, complete meal like this turkey and barley dog food recipe will be an excellent way to keep your dog trim.
Shop Now Barley for Cooking on Amazon
From: EasyDogRecipes.com
#30 Meaty Baby Food Treats
Since it is best to feed your diabetic dog smaller portions frequently throughout the day to reduce large spikes in blood sugar, you can whip up easy dog treats like these, that use pre-made baby food, to have on hand.
Just make sure to read the ingredients of any pre-prepared foods you use to make sure there are no onions, since they have a substance called thiosulfate that's toxic to canines.
From: PrettyFluffy.com
#31 Banana Almond Puppy Treats Recipe
These yummy treats use healthy nut butter made from almonds.
Almonds help regulate blood glucose and insulin levels and are an excellent source of protein, fiber, copper, riboflavin, and calcium, all of which your pup needs to function at an optimal level.
You may also know: What Food Should You Feed Your Doberman?
#32 Fishermen's Seafood Treats
These fishy treats use sardines, which are full of health benefits and nutrients such as omega-3 fatty acids, vitamin D, and vitamin B12.
And since mercury in fish is a concern, sardines are a great option for dogs and humans because they're small – their life cycle and diet makes them very safe to eat, and less likely to have more than trace amounts of mercury.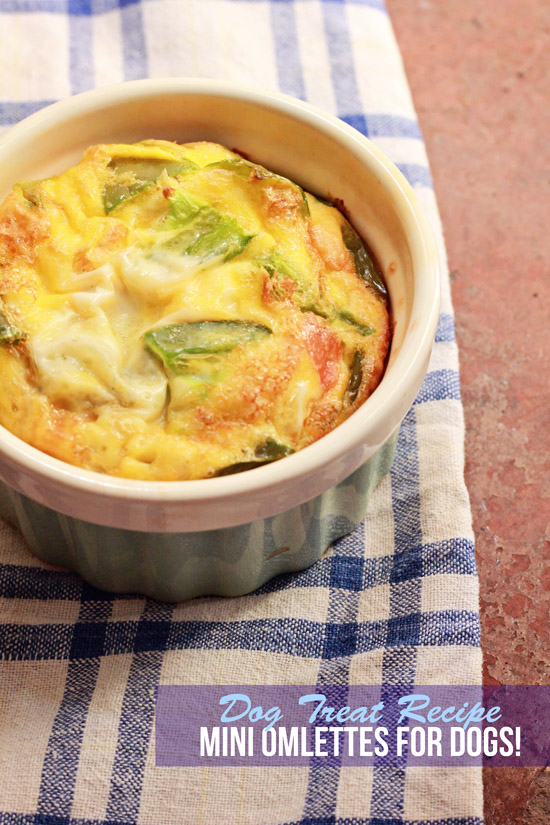 From: Pawsh-Magazine.com
#33 Mini Salmon Dog Omelettes
These mini salmon omelettes are a great treat for a diabetic pup, since eggs are an excellent source of protein and nutrients that have almost no carbohydrates, so they will not raise your pup's blood sugar levels.
Eggs have many nutrients, such as lutein, which protects against disease, and biotin, which can aid insulin production.
#34 Basic Diabetic Homemade Dog Food Recipe
Many dog parents make their own homemade dog food to ensure that meals are well balanced and healthy.
This recipe will give your diabetic dog well balanced nutrition every day, with 6 pounds of lean meat, a lot of fresh green vegetables, and 7 cups of whole grains, and will make tons of food that you can store.
To control your diabetic dog's blood sugar levels, it's important to feed meals at fixed times each day.
Ideally meals are timed to the insulin injection, ie. feed your dog and give insulin within 1 hour to help combat the blood sugar rise from the food.
So the insulin works effectively at each meal, it is best that each feeding contains the same amount of calories and the same ingredients so that the insulin will have an expected effect.
You may also know: What Should You Feed Your Dachshund?
From: IittyBittyFarm.blogspot.com
#35 Homemade Dog Food
This recipe for dogs is a healthy and well balanced meal that you can freeze in batches and use instead of your store-bought dog food.
It has equal parts carbs, protein, veggies, and the carbs  are complex carbohydrates with a low glycemic index, like brown rice, barley or beans, that digest slowly and produce steady energy.
You can also add supplements like fish oil or multivitamins to ensure your pup gets all the nutrition he needs to stay strong.
From: SeniorTailWaggers.com
#36 Apple Cinnamon Diabetic Dog Treats
These quick and simple drop treats are a sweet treat you can make for your diabetic pup, you only need oatmeal, applesauce, an egg and some cinnamon, and less than half an hour in the oven.
If you make your own applesauce, it is a good idea to leave the skin on, as they contain a lot of fiber and essential vitamins, minerals and antioxidants for your pup.
Buy Now Cookie Cutters Dog Bone Shape on Amazon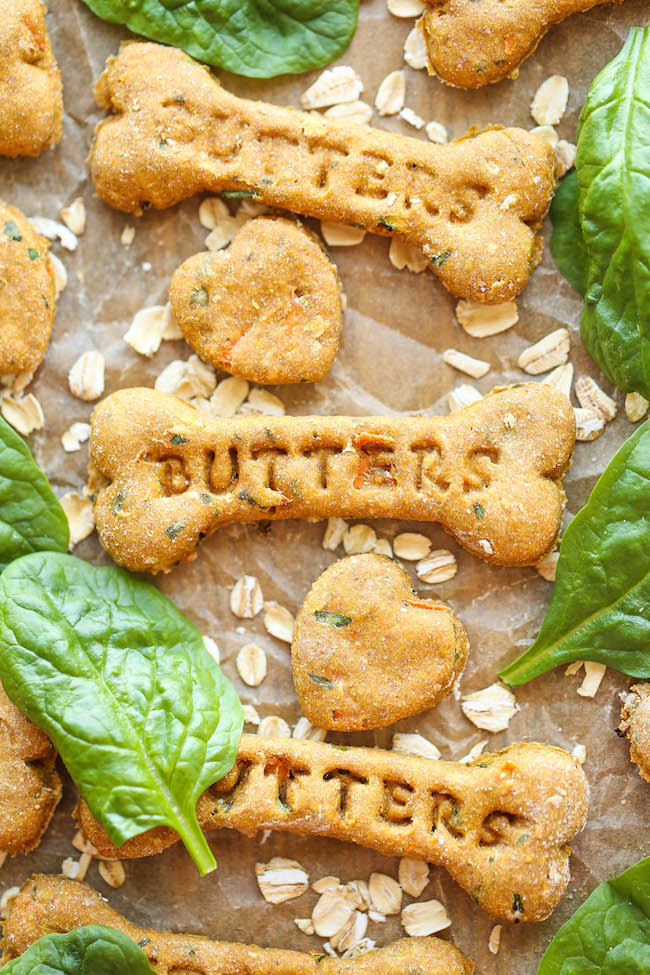 From: PetResort.com
#37 Vegetarian Dog Treats
This meatless recipe uses barley flour, an excellent source of easily absorbed dietary fiber.
Barley is one of the oldest grains in the world, and it helps increase the number of beneficial bacteria prevotella in the gut.
These bacteria lower blood sugar levels for up to 11–14 hours, which can help reduce the risk of type 2 diabetes and help dogs with diabetes manage their blood glucose levels.
You may learn: Do English Bulldogs Need Special Food?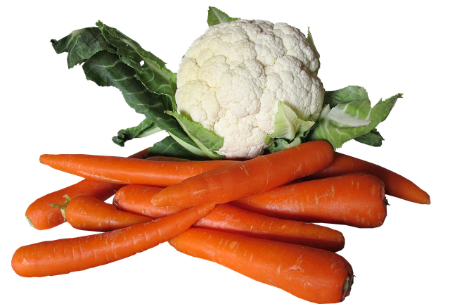 From: SeniorTailWaggers.com
#38 Carrot, Oat Flour and Parsley Dog Treats
These healthy dog treats are great for a diabetic pup, with whole grain oats, flax and carrots, but the secret ingredient inside them is parsley.
Studies show that parsley can help control and reduce weight as well as regulate blood glucose levels.
#39 Honey Coconut Surprise
If you need to feed your dog a pill they don't want to swallow, try tucking it inside a sweet treat like this.
The sweetness comes from a small amount of honey, vanilla and coconut.
Coconut tastes sweet but is low on the glycemic index, so it won't raise blood sugar levels, and it has lots of fiber and other beneficial nutrients.
Peoples may also read: What Foods Are Best For Great Pyrenees Dog?
#40 Turkey Dog Treats
Turkey, like chicken, is a great food choice for diabetic dogs, as it is high in protein, vitamins and minerals, and low in fat and carbohydrates, just make sure you don't use the fatty skin.
After baking for an hour make sure to leave these treats to dry in the oven overnight or use a dehydrator, as they contain fresh meat and broth, but once totally dry they will keep for a couple of months in an airtight tin.
Chcek Now Airtight Pet Food Container on Amazon
Which Recipe You Like Most?
Even if your dog is not diabetic, they will benefit from trying these nutritious treats that promote healthy blood sugar levels and weight, and contribute to a long and healthy life.
Have you tried any of these recipes yet? Which one do you want to try next? Do you have any other recipes you would add to this list?
Please comment below and share this article with your friends and family so they can benefit from them too.
Ciao for now!
Other Dog Food-Related Topics
1. Can Dogs Eat All Types Of Radishes? What You Need To Know!
2. What Should I Do If My Dog Ate Plastic?
3. Can Dogs Eat Mangoes?
4. Can Dogs Eat Sunflower Seeds?
5. Can Dogs Eat Limes?
6. 87 Human Foods Dogs Can And Can't Eat
7. Best Dog Foods For Maltese
8. 45 Easiest Homemade Frozen Dog Treats
9. Top Dog Foods For Labradoodles
10. Best Dog Food For Yorkies
11. How Long Can A Dog Go Without Eating Or Drinking Water?
We have partnered with HungryBark.com to offer the best deal on high quality dog food to our readers. If you click on the button below, we will take you to their exclusive discount page.