Commercial dog food, you know the ones you find on the shelf at the pet store with what seem like contain a million ingredients? A million ingredients can't all be good for your beloved canine.
So why not cook up your own tasty meals that are only made with quality ingredients?
After feeding my dogs commercial dog food for a long time, I decided to make the switch to home-cooked meals.
I'm not going to lie, it took me a while to get used to the prep work and come up with easy-to-make recipes, but the reward is worth it.
The reward is a healthier, happier dog who is nourished by the food he or she eats. You can effortlessly make dog food with chicken, lean beef, a variety of vegetables, and even some fruits.
I'm so excited to share with you my favorite recipes and I know your dog is too.
Popular Read: Best Dog Foods For Less Pooping
Easy Chicken Recipes For Dogs
From: PetGuide.com
#1 Country Chicken Casserole Dog Food Recipe
Roasted assorted vegetables with baked chicken come together in this Country Chicken Casserole. Combine peas, carrots, potatoes, and any other veggie your pup loves with pumpkin and chicken to make a delectable meal.
The pumpkin addition is great for sensitive digestive systems.
There are a few required steps, such as boiling the potatoes, prepping the chicken, and making the rice, but otherwise, it is a simple recipe that makes a great dinner or hearty breakfast for your dog.
Just pop the casserole dish in the oven and watch it bake.
 Check this Oven Casserole Dish on Amazon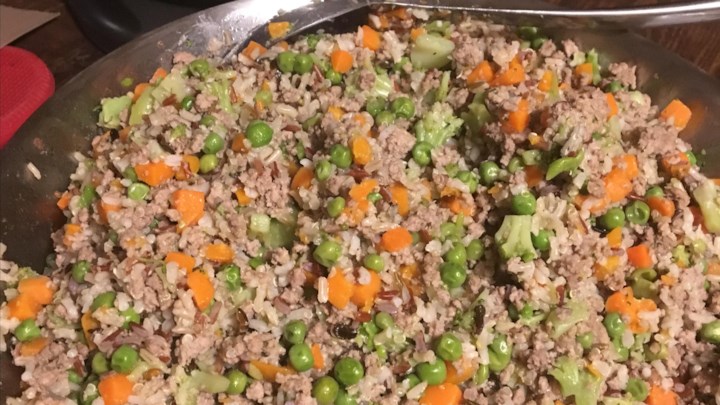 From: AllRecipes.com
#2 All the Fixings Dog Food Recipe
With only a few delicious ingredients, your dog can have his or her very own home-cooked meal.
This recipe uses mixed vegetables, rice, chicken (can sub any other meat), and water. It makes a wholesome breakfast, lunch, and breakfast that will keep your dog satisfied until the next meal.
All the Fixings Dog Food Recipe makes a big enough batch that it will last a long time.
People Also Liked: Top Dog Foods For Labradoodles 
From: HappyAndYummy.com
#3 Hearty Chicken Stew
Pop it in a crockpot or casserole dish, this Hearty Chicken Stew is easy to prepare and quick to gobble up.
Your dog will love the juicy chicken chunks with delicious veggies. It packs a lot of protein and vitamins and minerals with each bite.
This makes the perfect meal for a working dog or a dog who loves to run outside for hours because of the heartiness of it.
Additionally, the sweet potato that is used in the mix adds a bit of sweetness to each bite.
#4 Easy Slow Cooker Roasted Chicken Stew
I don't know about you, but I love using my slow cooker to make meals for myself, but I never thought to use it to make dog food!
This Roasted Chicken Stew makes a delicious dinner for your dog, with all the right amount of protein, fat, carbs, and fiber. Toss in green beans, kidney beans, chicken, sweet potato, and carrots, and let it simmer away.
This recipe is ideal for busy pet owners who do not have time to cook a hearty home-cooked meal for their dogs each night.
All you do is throw everything in your casserole and let it cook while you are at work. Plus, the ingredients are inexpensive!
From: WagTheDogUK.com
#5 Chicken Pot Pie Dog Food Recipe
Comfort food for your furry friend! Mix chicken, apple, eggshells, carrots, potatoes, sweet corn, and water to create a savory dinner or breakfast.
It is very simple to make and will please almost every dog's pallet. The ingredients can easily be changed and the pot pie can last for several days if feeding just one dog.
However, you can always double the recipe if you have more than one dog or want to have meals to freeze.
Check: Can Dogs Eat All Types Of Radishes?
From: DogsAholic.com
#6 Turkey-Chicken Stew
Whether you prefer turkey or chicken, either one will taste great in this stew. The addition of carrots, green beans, rice, and a little oil mix together to create a delectable stew.
The vegetables and meat provide the right amount of fiber, fat, protein, vitamins, and minerals your dog needs to thrive and remain energetic.
The next time you are making a stew for yourself and the family, whip up one for your dog too!
From: SallysBakingAddiction.com
#7 Doggie Treats
It is so easy to make your own dog treats! In fact, some of the suggestions in this recipe are meatloaf and a smoothie.
And, most of the ingredients used in these recipes you should have on hand already.
A smoothie is an easy way for your dog to get all its nutrients, and it also makes the perfect snack to have on a hot summer's day. The Meatloaf makes a great dinner that is filling and nourishing.
Read: Best Dog Food Brands For Gaining Weights 
From: MyTailHurtsFromWaggingSoMuch.com
#8 Chicken Chomps
Combine chicken, egg, rice or oats, parsley, and rice flour in a bowl to make these fun Chicken Chomps!
When you finish mixing the ingredients, spoon some of the mixtures into desired molds like stars, hearts, or seasonal snowmen, or pumpkin shapes.
These are fun treats that are delicious and easy to keep in a container for when it is snack time.
The ingredients can also be easily changed to suit your dog's taste buds.
 Shop Silicone Baking Molds From Amazon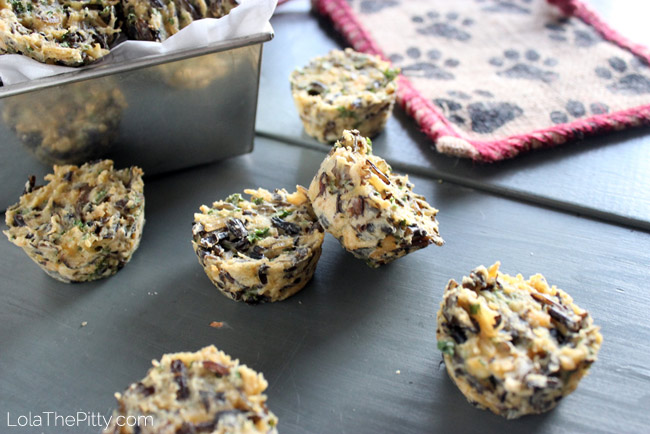 From: LolaThePitty.com
#9 Nourishing Rice Bites
Rice is a great ingredient to add to most dog food recipes. It is full of fiber, vitamins, and offers a satisfying taste for dogs.
These Rice Bites use chicken, rice, egg, and parsley which then are spooned into a muffin or cupcake tin. They make the perfect snack for your dog, whether they are out for a walk or swimming in the lake all day.
Plus, they contain no added fillers or harmful chemicals, so you can feel good about feeding your pup these treats.
Read: Best Dog Food For Large Breeds
From: DelishAbly.com
#10 Begger Bones
These treats are called Begger Bones because your dog will certainly beg for them!
Peanut butter, rolled oats, whole wheat flour, dried parsley, and an egg are mixed together and then later morphed into bone shapes.
Not only are they cute to look at, but they are also packed with delicious, nutritious ingredients your dog will crave.
These treats should stay fresh in a sealed container for a couple of weeks.
Read To Learn: Will Butter Hurt Your Dog?
From: MarthaStewart.com
#11 Peanut Paws
These easy cookies use peanut butter, rolled oats, and some water to create Peanut Paws. These make great snacks in the morning, afternoon, or just before bedtime.
The protein comes from peanut butter and the rolled oats offer fiber and important vitamins.
This is a treat your dog will love and you can feel good about feeding to him or her.
From: SeededAtTheTable.com
#12 Cheesy Beef Bites
What dog does not like cheese? Or beef? Or any kind of treat?
Your dog will love these Cheesy Beef Bites that contain the two obvious ingredients, but also milk, bouillon granules, cornmeal, and white sugar.
A little sweet and a little salty unite and create these delicious treats. Switch up any of the ingredients to tailor it to your dog's needs.
They take only a few minutes to whip up and even less to enjoy!
Read: Best Tasting Dog Foods For Picky Eater Puppy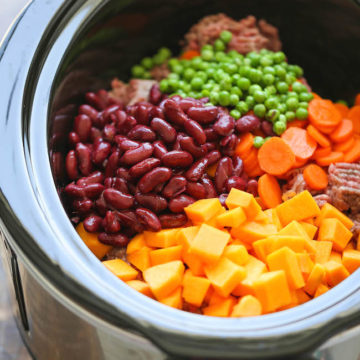 From: DamnDelicious.net
#13 Easy Crock-Pot Dinner
All you need to do is put rice, chicken, sweet potato, kidney beans, green beans, and carrots into a crockpot with water.
After a few hours, your dog is treated to a mouth-watering meal that will energize and nourish his or her body.
It is very easy to make and freezes well for several months. 
The great thing about this recipe is it can be served for breakfast, lunch, or dinner and the ingredients can be changed to suit your dog's fancy.
From: DogVills.com
#14 Chicken Rice Bowl
After making this for your pup, you will want to make one for yourself.
This rice bowl incorporates carrots, potato, rice, egg, and chicken to create a wholesome meal every time.
You can think of it as an Asian-inspired rice bowl for dogs!
If your dog is not able to digest rice well or you find you want to change it up, then simply eliminate the rice and add more sweet potato or regular potato.
From: SkinnyMs.com
#15 Liver Lovers Delight
This meal uses organ meat in addition to breast meat, which makes it a powerful dish.
Fry up turkey organ meat, carrots, broccoli florets, sweet potato, zucchini, and cauliflower and form the mixture into the desired shape.
I like to form mine into balls or mini loaves. The great thing about this recipe is you can use a variety of vegetables and different meats.
Your dog will love the meaty taste and nutritious benefits.
Read: Best Dog Foods For Huskies 
From: 12Tomatoes.com
#16 Savory Stew
This may easily be your dog's favorite meal.
With a hearty vegetable blend (carrots, butternut squash) and a mix of kidney beans, rice, and ground beef, this stew is juicy and satisfying.
Your dog's natural instinct is to crave meat, and this recipe packs a lot of meaty protein. The beef can easily be substituted for chicken or turkey.
All you have to do is throw it all into a crockpot with some water and let it simmer all day.
Make sure you always add vegetables into the stew like it calls for, as your dog needs it for vitamin sources.
From: LifeAtCloverHill.com
#17 Fido's Favorite Meat Stew
Savory beef, chunky carrots, sweet potatoes, crisp peas, and freshwater go together in a crockpot to create Fido's Favorite Meat Stew.
With all the protein, carbs, vitamins, and minerals your furry friend needs, this recipe takes away every excuse not to make homemade dog food (it is that easy).
Plus, this makes a great breakfast or dinner meal for your dog. Switch up the ingredients if you find your dog becoming bored, or add in some parsley to keep the teeth clean.
This recipe takes only minutes to prep and conveniently cooks in the crockpot.
Read: Best Dog Foods For Pomeranians
From: HomeMadeDogFood.com
#18 Chicken and the Egg Dog Food Recipe
Chicken, eggshells, rice, and some added supplements make this dog food recipe truly a superfood recipe. The eggshells offer a solid amount of calcium, while the chicken and rice add fiber and protein.
This recipe can be made large and you can store extras in the freezer or refrigerator.
Don't be afraid to throw in chicken legs and cartilage, just be sure there are no large pieces of bone for your dog to accidentally choke on. 
Follow the links to the supplements used in the recipe.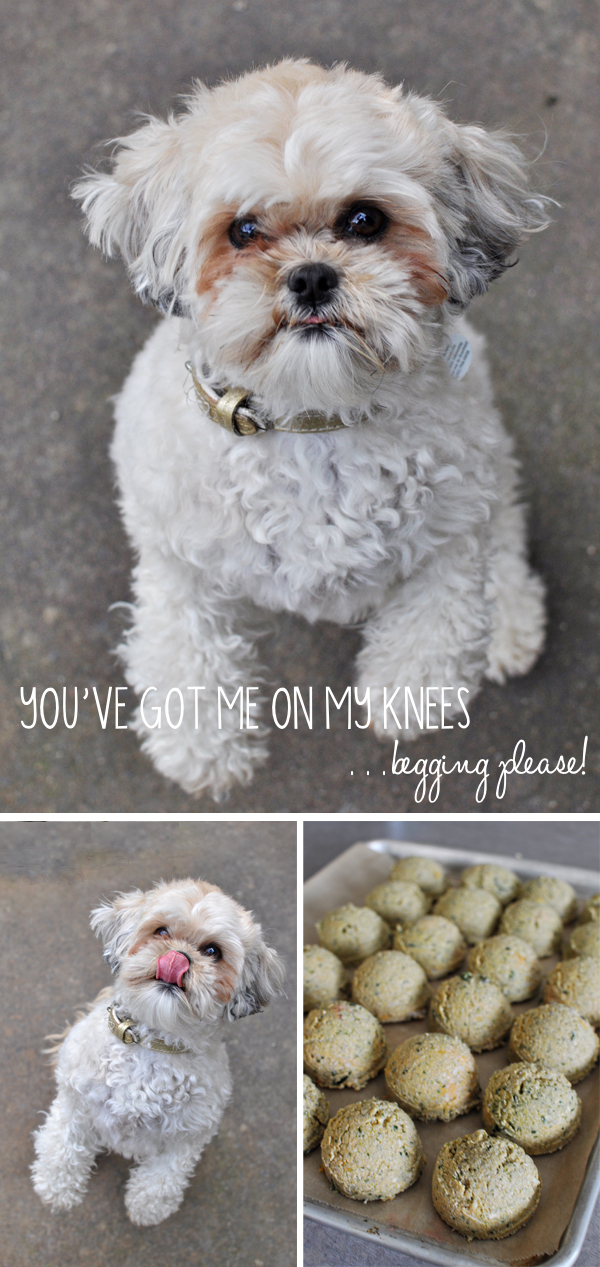 From: PinkPistachio.com
#19 Delicious Chicken and Yam Treats
A little bit of tomato sauce, tasty yam, fibrous brown rice, and some protein-packed chicken create a delicious meal for your dog.
Blend all of the ingredients so that the mixture is slightly chunky, form into balls, and freeze. 
These tasty treats are the perfect snack before dinner or as a special dessert after breakfast. You can feel good about feeding your dog one of these treats because you know what goes into them.
Fresh, wholesome ingredients that only take a few minutes to mix together to create a tasty treat.
 Need whole grain brown rice for your dog? Check on Amazon 
From: Aaflux.net
#20 Everything But The Kitchen Sink Dog Food
This recipe incorporates a lot of delicious, healthy ingredients. For example, ground beef, apples, chicken, peeled potatoes, peas, and carrots are used and these are relatively inexpensive ingredients.
Toss them all into a crockpot and let your dog food cook all day. Afterward, you will find a delectable smelling and looking meal for your pup.
If you have extras, just freeze them! It is as simple as that. This recipe is perfect for busy dog owners who care about the quality of their dogs' food.
Read: Best Dog Food Brands For Small Breeds
Which Recipe Do You Like The Most?
After reading about all these amazing dog food recipes, I'd love to hear which one you liked the most! I have to say, it is hard for me to pick just one.
As a dog owner, it is so important to know what our dogs are eating. If we care about what we put into our bodies, we should also care about what goes into our furry friends too.
Please let me know in the comment section if you have tried one of these recipes yet, or which one you will try. And, if you enjoyed reading this post, give it a quick share to spread the word!
I'd also love to hear from you if you have any great dog food recipes that you think I should try!
Other Dog Food-Related Topics
1. Puppy Feeding Schedule: The Ultimate Guide
2. Best Dog Food For Border Collie
3. 20 Best Dog Food For Chihuahuas
4. Top 21 Best Dog Foods For Labradoodles
5. 12 Best Dog Foods For Diabetic Dogs
6. 40 Diabetic Dog Treats You Can Easily Make
7. Best Dog Food For Large Breeds
8. Best Tasting Dog Foods For Picky Eaters
9. 39 Healthy Homemade (Grain-Free) Dog Food Recipes
10. Best Dog Foods For Schnauzers
11. Best Dog Food For Standard, Miniature And Toy Poodles
We have partnered with HungryBark.com to offer the best deal on high quality dog food to our readers. If you click on the button below, we will take you to their exclusive discount page.