Homemade frozen dog treats- sounds complicated, right? It's not.
Making your own homemade treats are not hard to do, and making the frozen variety is even easier!
As I have mentioned before, with some of the dog food recalls that happened recently, I got a bit nervous about the diets of my two fur-babies.
I have found that not only do dogs seem to really like homemade treats (mine inhale them!) but that they can also be much healthier than commercial brand dog treats.
Popular reads: 87 Human Foods Dogs Can And Can't Eat
#1 Peanut-Butter Banana Pupsicles
All dogs love peanut butter!
These cool, refreshing treats are super simple to make with only three ingredients: banana, yogurt, and peanut butter and are perfect for hot summer days.
If you have an ice cube tray, a freezer, and two hours to spare, your pup could be munching these down in no time.
Remember to use all natural or organic peanut butter as regular contains an ingredient that can be toxic to dogs – (Xylitol).
From: IrresistiblePets.net
#2 Frozen Apple Dog Treats
This super simple recipe only requires apples, greek yogurt, and water. That's it. Your pup will think you are a gourmet chef.
He is going to go crazy over these healthy little treats.
If you use a conventional ice cube tray the recipe should make about 16 treats.
Always be sure to remove the core and all of the seeds!
These are the perfect alternative for pups with food allergies so long as they are not allergic to apples, of course.
Check Ice Cube Trays on Amazon
#3 Frosty Watermelon Dog Treats
Being that watermelon is made up of 92% water, these are not only yummy, but they can also help rehydrate your pup on a hot day.
They are also chock full of nutrients, hello Vitamin C!
It is very important to remove ALL of the seeds, as they can possibly cause an intestinal blockage.
It may be easier to buy the seedless variety.
The recipe calls for milk or coconut water.
For the reasons mentioned above, coconut water may be a bit more beneficial.
From: SugarTheGoldenRetriever.com
#4 Tooty Fruity Frozen Dog Treats
With five, yes five, different fruits, Fido is going to paw-sitively love these!
The mix of mango, banana, strawberries (and more!) provide large amounts of fiber and antioxidants.
They taste great with a powerhouse of nutrients.
So, while Fido thinks he is getting a super sweet treat, it's healthy for him too!
You may also learn: How To Help Your Dog Gain Weight?
From: HelloNatureBlog.com
#5 Coconut Blueberry Icy Pup Treats
Coconut oil can be a great addition to your dog's diet.
It helps aid in digestion, boosts the immune system, and does wonders for the skin and coat.
Those yummy little blueberries are full of antioxidants too!
These treats are so easy to make and your pooch is sure to love them!!
From: Blog.Etsy.Com
#6 Frozen Pup Pops
Aside from being positively adorable, these pup pops are a favorite of my four-legged friends.
The peanut butter and bananas are a perfect combo (Elvis, anyone?), and the banana is really healthy for your pup.
Low in sodium, fat, and cholesterol but rich in fiber and vitamin c, this is a well-rounded, incredibly healthy, puppy snack.
This should be an occasional treat, however, as bananas while good for your pooch, contain quite a bit of sugar.
Everything in moderation!
From: StayingCloseToHome.com
#7 Homemade Frosty Paws
Just as wholesome and delicious as the store-bought brand and inexpensive to make.
This way you know exactly what ingredients are going into your pup's tummy.
These are super versatile too! You can do a peanut butter banana blend or use an assortment of fruit.
These are so healthy (and yummy!) that they are safe enough for even your human children to eat if Fido doesn't mind sharing, that is.
You may also know: What Dog Food Is Best For Less Pooping?
From: BeagleSandBargains.com
#8 Barking Delicious Blueberry Drops
Depending on the preference of your dog, these can be made with either bananas or honey.
The blueberries can be substituted for another fruit as well.
We have already talked about the benefits of banana and the fact that it is high in sugar.
Honey is relatively healthy for your pet as well.
Honey also has elevated sugar content so raw honey should not be fed to dogs with diabetes or those that are already overweight.
#9 Pawfect Puppy Pudding Pops
(say that 5 times fast..)
These are doggone cute! Using only three ingredients make these really easy to make and they are made with real ingredients (none of that stuff we can't pronounce) so it is safe enough for the two-legged kids in your life.
My daughter fights the slobber twins for these pudding pops!
Do not forget to use sugar-free peanut butter and that it does not contain xylitol!
Check Peanut Butter For Dogs on Amazon
From: YouDidWhatWithYourWeiner.com
#10 Banana Blueberry Canine Cubes
These cool ice cubes (see what I did there?) are a fabulous way to use up those overripe bananas you have laying around.
Mashed banana and a handful of blueberries in an ice cube tray, I mean, how simple is that?
As always be sure to remove the banana skin, they aren't necessarily toxic but can cause digestive issues.
These are a great snack for both you, and your pup.
You may also like: What Is The Best Dog Food For Huskies?
From: DogVills.com
#11 Hypoallergenic Pumpkin Banana Puppy Pops
These nifty homemade treats are great for those poochies that are prone to food allergies.
Using a non-dairy yogurt added with pumpkin and those handy bananas provides your pup with a snack that is not only safe for them to eat it is quite healthy.
Pumpkin can be beneficial as it is filled with fiber and beta-carotene and can be useful in treating urinary incontinence.
Remember to use the canned pumpkin and not pie filling!
Check Pumpkin Puree Digestive Supplement Pouches For Dogs on Amazon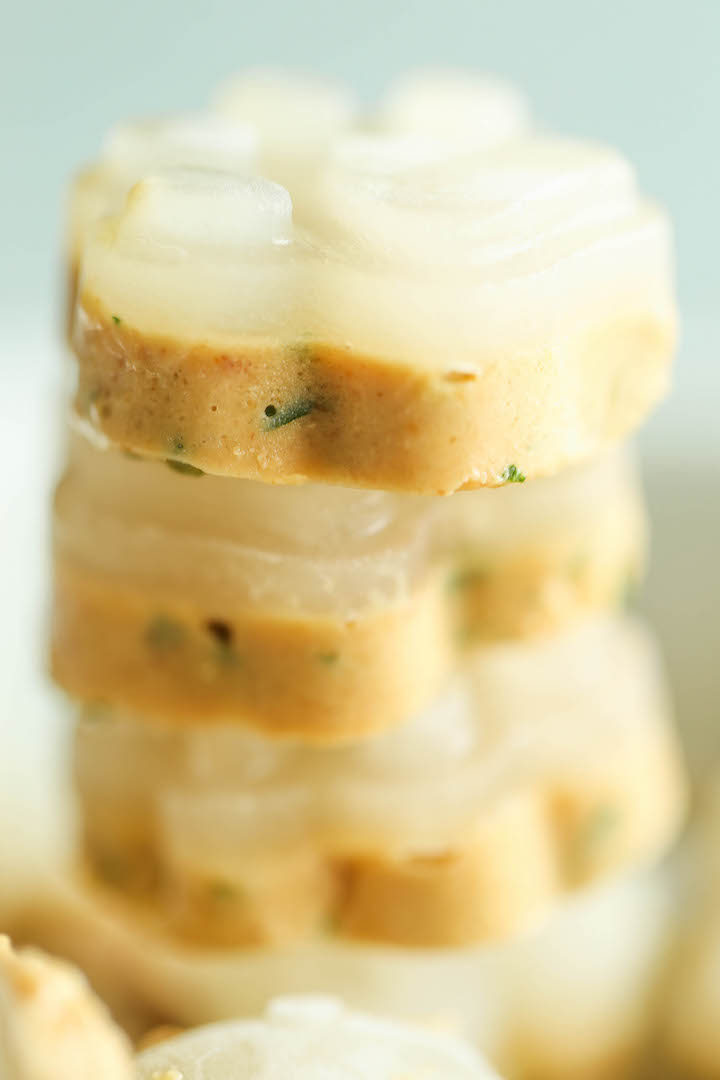 From: DamnDelicious.net
#12 Savory Chicken-PB-Parsley Tasty Tidbits
These are great.
It may seem like an odd combination to us but your pup is going to adore these delectable doggy snacks!
The chicken broth/stock is going to be the most popular ingredient for your up, however, please use one that does not contain onion as it can be toxic to dogs, typically in large amounts but better safe than sorry.
The parsley can be left out but it does freshen doggy breath so you may want to include it.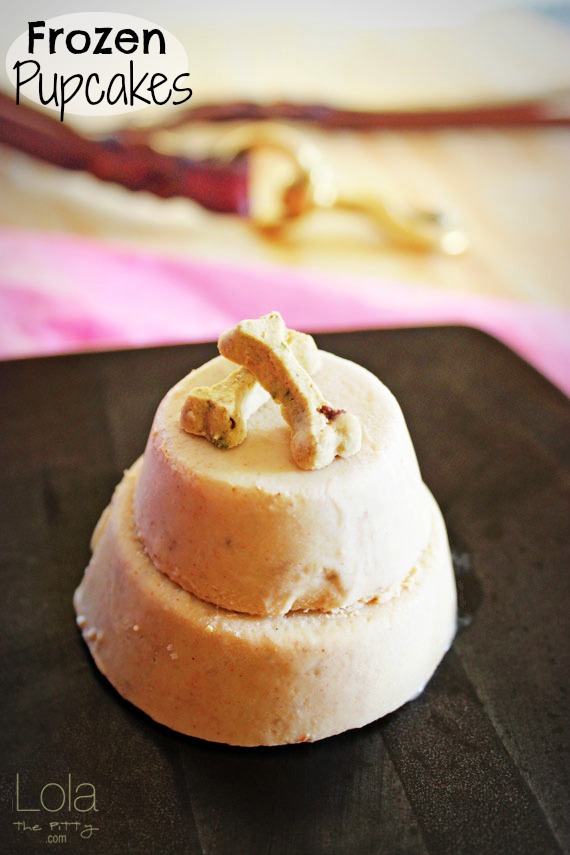 From: LolaThePitty.com
#13 Frozen Puppycakes
What I really like about these is the addition of the almond milk.
This is especially great for our lactose intolerant furballs but, yep there's that big but again, almond milk is about 100 calories a cup and may have added sugar.
They can have it, although it is best to keep it at minimal amounts.
Regardless, your pooch is going to love these cool, yummy treats.
Learn: What Is The Difference Between Small Breed Dog Food and Regular?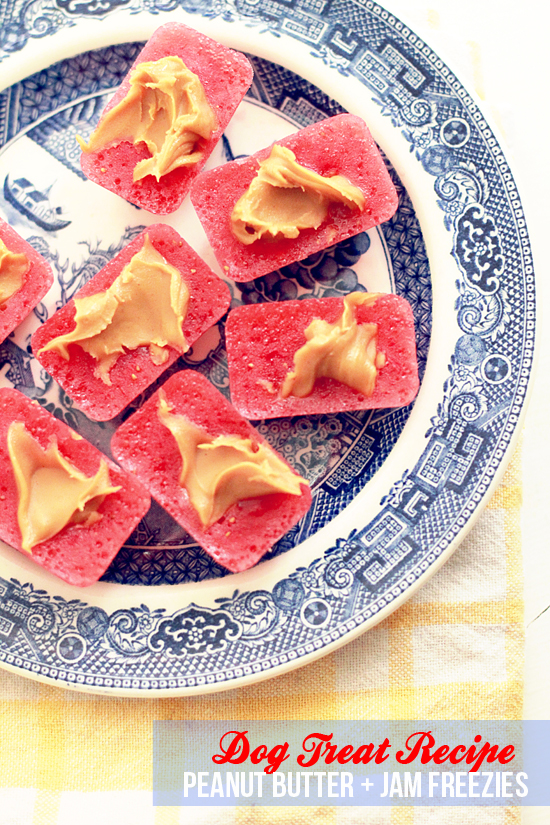 From: Pawsh-Magazine.com
#14 Peanut Butter Jam Freezies
Mimicking a favored childhood snack, these protein-packed treats offer that delicious blend of peanut-buttery goodness with sweet and juicy strawberries.
While bursting with fiber and Omega3, strawberries, like most fruit, does contain sugar and as we said too much sugar is no good.
Don't forget to use all-natural peanut butter!
From: IrresisTiblePets.net
#15 Hawaiian Luau Tiki Dog Treats
Now, usually I would say to just use any old ice tray but the Hawaiian themed are so unbelievably cute!
These are the classic snacks with a tropical twist. Blender, pour and pop into the freezer for a couple of hours, it could not be easier.
Peanut butter and bananas are two flavors your pup just won't be able to turn his snout up at.
Check Hawaiian Themed Ice Tray on Amazon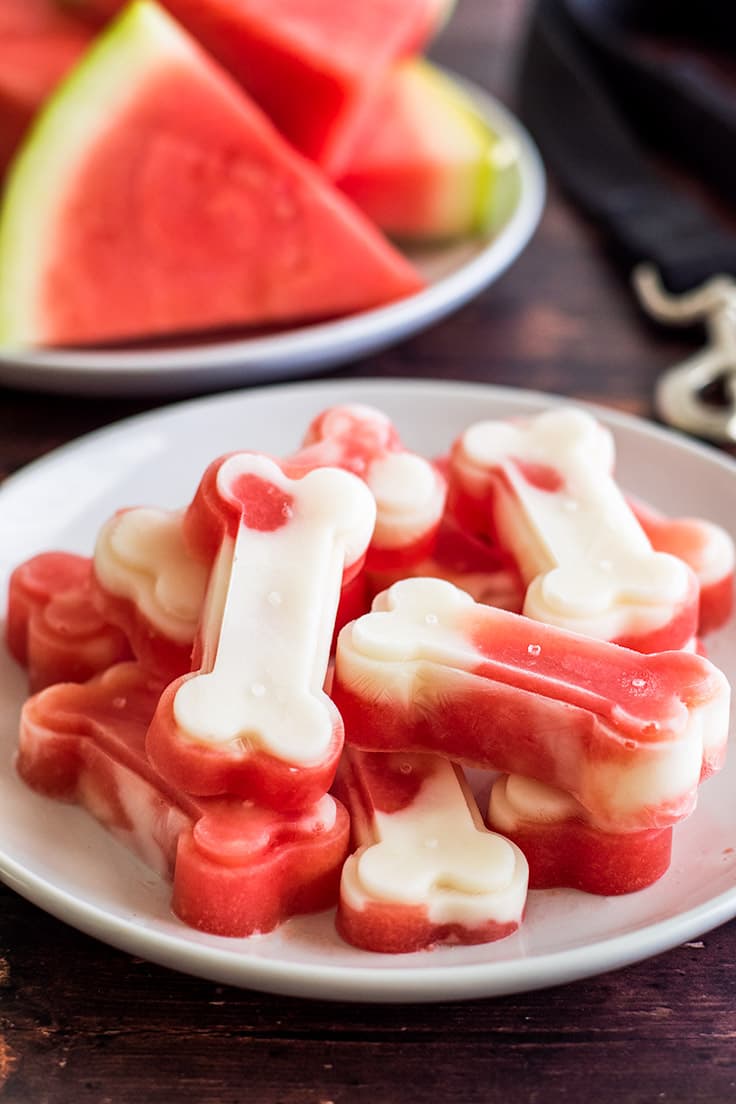 From: BakingMischief.com
#16 Yogurt Watermelon Ice Treats
Any kind of cool treat is great on a hot day, but as we've said before, watermelon is even more beneficial due to being made up of mostly water.
The yogurt makes a nice, creamy, blend with the strawberries.
These are honestly good enough for us to eat.
If Fido has any kind of dairy allergy, you have the option of dairy-free yogurt, or even omit it altogether.
Peoples may also know: Should I Feed My Pitbull Large Breed Food?
From: GoPetPlan.com
#17 Peanut Butter Banana Frozen Woofies
With yet another twist on Fido's favorite flavors, these PB Banana Frozen Woofies make a wholesome but doglicious chilly treat.
If you prefer, instead of a dog biscuit as a handle, try rawhides or these super cute toy dog bones.
Always supervise when feeding a frozen snack as it can damage the teeth and/or gums.
Check Cute Toy Dog Bone on Amazon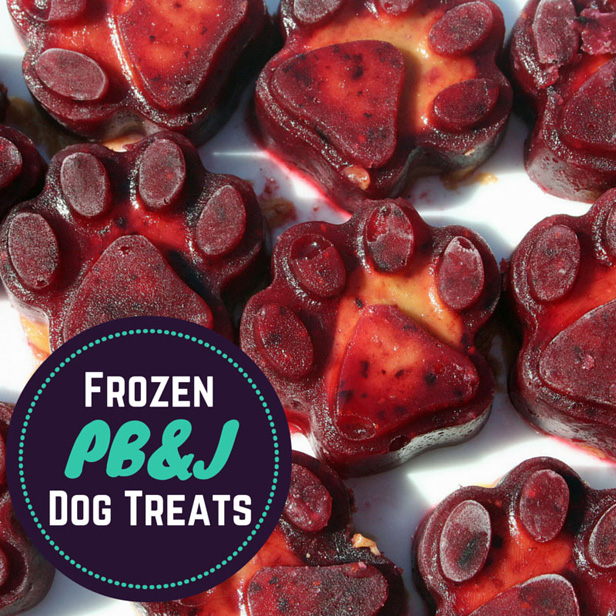 From: Hgtv.com
#18 Frozen PB&J Doggy Treats
Are you noticing a theme yet?
Peanut butter is going to be a recurring ingredient due to the beloved taste and the fact that it is full of protein and fiber.
Much like number 14, these awesome treats include strawberries.
They also throw in some blueberries to give them something extra special. Furtastic!
From: TheHonestKitchen.com
#19 Frozen Raspberry, Pineapple Dog Treats
Raspberry and pineapple?
Yes, please. These are fantastically delicious!
Raspberries are a well-balanced, nutritious snack for your pet.
They have an assortment of nutrients that are beneficial to your furchild, like, vitamin b and folic acid and of course, pineapple is just as good for him.
Plus, they're both so yummy, duh.
You may also read: What Is The Best Dog Food For Schnauzers?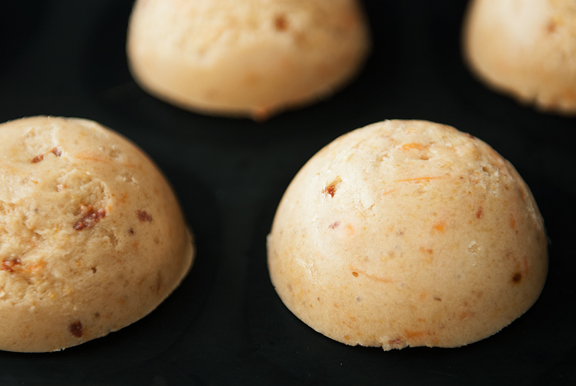 From: UseRealButter.com
#20 Bacon-rific PB, Banana, Carrot, Pooch approved, Ice Cookies
Ok, one word: BACON.
Oh, yes, Fido is going to be at your beck and call for even a chance of tasting one of these frosty treats.
And for his pet mommy (you!) these are good for you pooch too!
The peanut butter is healthy of course but the carrots are a close runner up adding vitamin a, fiber, and potassium.
This is one snack your dog will never get enough of.
From: WearWagRepeat.com
#21 Gourmet Pupsicles
These pupsicles are good enough to roll over and beg for!
The blueberries add a boost of antioxidants that make your dogs' coat shin and his skin soft and healthy.
And as proven below, antioxidants are just as crucial to your dogs' diet as it is to yours.
These are a perfect alternative to the chemical laden dog treats available in stores.
Check Popsicle Molds Set on Amazon
From: Blog.ModCloth.com
#22 Apple Peanut Butter Pup Treats
What I pawsitively love about these is that it recommends using brewers yeast.
Rich in antioxidants and vitamin b which can have a calming effect it is a great add in with some of your dogs' favorite flavors.
The yeast tablets are optional however why not? The healthier the better!
Peoples may also know: What Food Is Good For Poodles?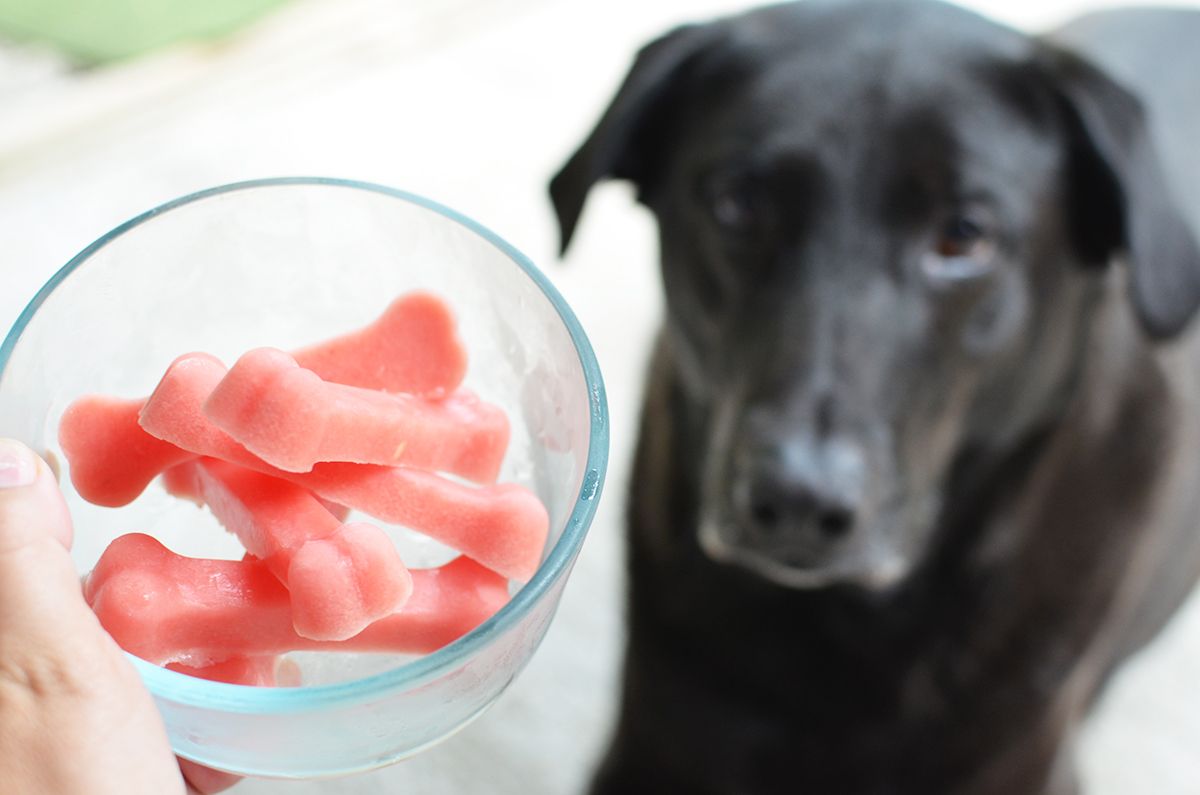 From: GrrFeisty.com
#23 Coco-Melon Frozen Pup Snacks
Coconut and watermelon, you really can't go wrong.
I absolutely adore the dog bone mold so we are including one here but you could totally use a regular ice cube tray!
These are healthy and my canine companions just gobble them up! Win, win for mom!
This recipe calls for coconut milk which is not the same thing as coconut water.
The thickness makes a big difference!
Check Bone Shaped Ice Cube Tray on Amazon
From: TheCottageMarket.com
#24 Pumpkin Pupsicles
Pumpkin for our pumpkins.
My boys simply drool over these, and for good reason, too.
They are layered which really helps accentuate the different flavors.
Remember to only use plain, canned pumpkin, not pie filling or spiced!
The recipe calls for popsicle sticks, however, you could use milk bones, rawhides, or chew toys!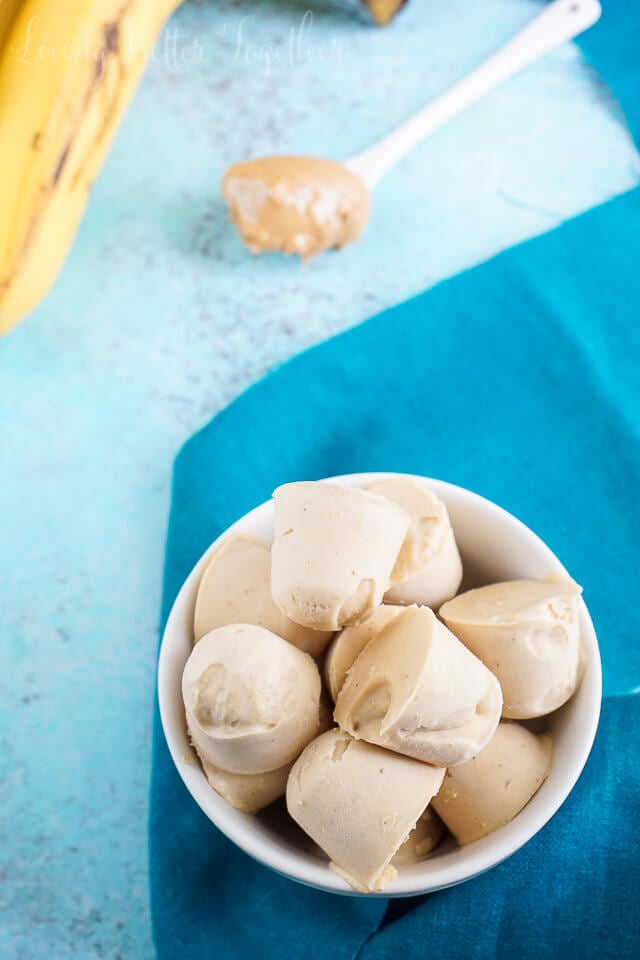 From: SugarAndSoul.co
#25 Peanut Butter Banana Frozen Doggy Poppers
Great minds sure do think alike.
This is just a wonderful combination.
Banana and peanut butter are the only ingredients so it is unbelievably simple but tastes like heaven to your pooch.
Using a ripe banana works even better considering that it makes easier and you can tweak to your pups liking!
You may also like: Do You Know Which Dog Foods Best For German Shepherds?
From: TheCottageMarket.com
#26 Strawberry Banana Puppy Smoothie Bites
These blissful bites of frozen smoothie deliciousness are everything Fido could want and more.
This terrific recipe calls for skim milk, and in small amounts, it should be fine.
If you are still uneasy, you could always substitute with almond or coconut water.
Either way you do it, your pup will love them!
Check Skim Milk Powder on Amazon
From: FrugalCouponLiving.com
#27 Chicken and Apple Tail-Wagging Ice Pops
Sweet yet scrumptious these doggy ice pops are the perfect answer to a steamy summers day.
They get to cool down and enjoy a perfect blend of flavors.
Seriously, you won't even be able to open your freezer once your pup has tasted these amazing ice pops.
Please remove the seeds as apple seeds contain small amounts of cyanide (yikes)!
From: Rover.com
#28 Banana, Watermelon, Pineapple Freezer Treats
Three ingredients!
This is a favorite around here, my boys go gaga over pineapple.
Pineapple is replete with vitamin c so this is a really good choice for your four-legged family member.
Not to mention all of the nutrients that come with the banana and watermelon.
Truly a well-rounded scooby snack!
You may also read: What Is The Best Food To Feed Corgis?
From: Rover.com
#29 2-Ingredient Cantaloupe Doggy Ice Cream
Cantaloupe is great as it is a super hydrating, healthy, treat for your fur baby.
It has tons of nutrients like potassium and vitamins a and c, and is low in calories!
And again, if your pooch does not handle dairy very well, there are some fantastic dairy-free yogurt alternatives out there!
From: HealthStartsInTheKitchen.com
#30 Cantaloupe Yogurt Popsicles
One of the great things about these treats is that they are good for dogs and pet parents alike!
Yogurt and cantaloupe meld together to make one tasty summer snack.
As per usual, it would be best to supervise the enjoyment of this one, we don't need any accidents with popsicle sticks!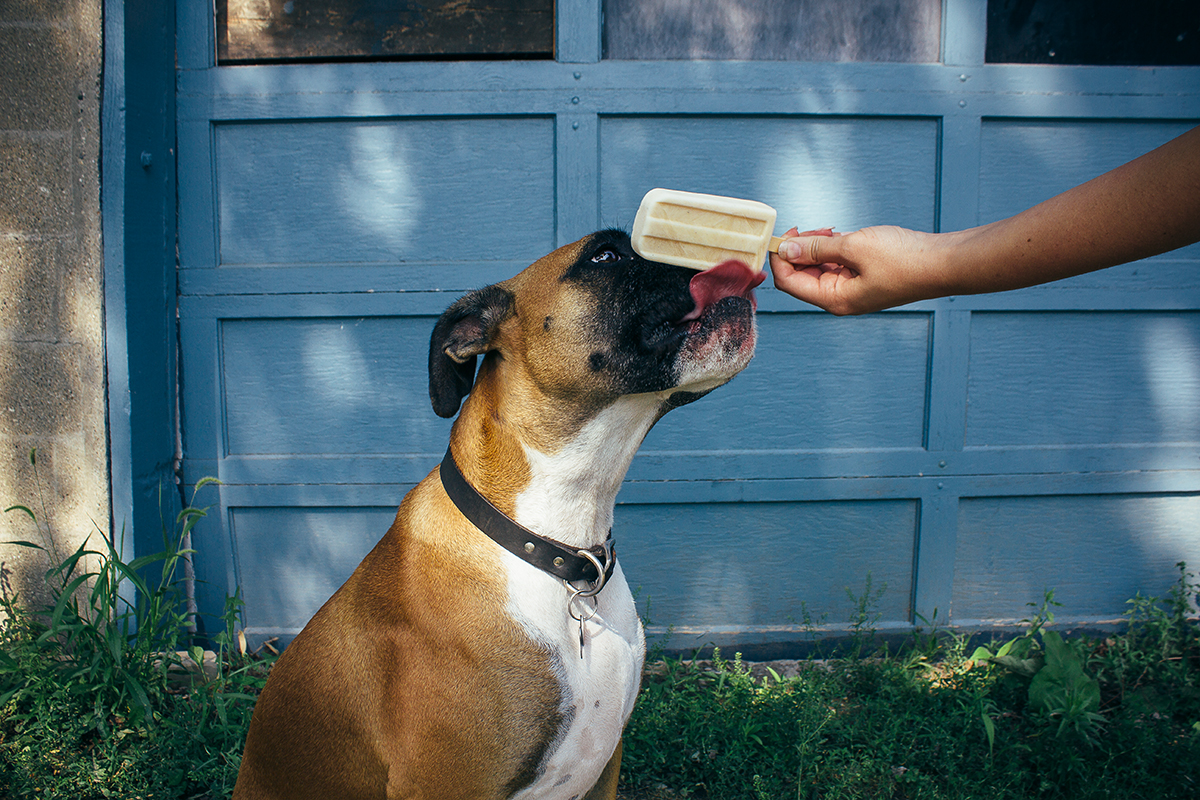 From: VegetarianVentures.com
#31 PB Pup-Sicles
The simplicity of this recipe is a beautiful thing.
Water and peanut butter, that's it!
And since they are made with all peanut butter your dog is sure to love them, (seriously, I've yet to meet a dog who doesn't!) and they're good for him too!
Peanut-buttery goodness that your pup will devour before he can say woof!

Peoples may also read: What Is The Best Dog Food For Border Collies?
From: DogMomDays.com
#32 Chicken, Carrots, Peas, More DIY Pupsicles Please
Your dogs dream all frozen into one yummy treats.
Wholesome, healthy ingredients make these pupsicles ones that you do not have to worry about.
Rich in vitamins a, k, and b, peas are a great way to give your dog the nutrients he needs without him knowing it is good for him!
#33 Dog-Friendly Ice Treats
Beef liver. I know that it does not seem all that appetizing to us, but dogs love it.
The inclusion of beef liver makes these icy treats a powerhouse of nutritious yumminess and I like the idea of using the baby carrots as a handle although we should keep an eye out as they could be a choking hazard.
From: BettyCrocker.com
#34 Coconut Puppysicles
We all know how good coconut is for our doggy friends, so this one is really good for him, and tasty too!
It calls for both the meat and the juice from the coconut so you know it is full of useful nutrients.
In addition to the benefits mentioned earlier, coconut is great for inflammation.
All around a really great choice for Fido.
You may also like: What Is The Best Thing To Feed An Older Senior Dog?
#35 Peanut Butter Bacon Ice Cream
What is better than bacon? Peanut butter and bacon!
This ice cream is out of this world.
Yes, I know, bacon is not very good for your pup, but these call for a minimal amount and since they are an occasional treat it should be absolutely fine.
If your baby is already on the chunky side, you may want to skip this one!
From: DalmatianDIY.com
#36 Bone Broth-Sicles
Bone broth is incredibly healthy for our furry loves.
It promotes a healthy gut and is also great for your dogs' joints because it provides an ample amount of glucosamine (many dogs take the supplemental variety but these work too!).
The flavor we leave up to you depending on Fido's preference, chicken, or beef would work quite well.
Check Organic Bone Broth For Dogs on Amazon
#37 Double-Duty Smoothie frozen Pup Pops
This one is totally versatile, choose the flavors that your dog loves the most.
Of course, make sure that you are using all-natural ingredients that are dog-friendly.
For mine, I decided to go with a green smoothie for my boys.
Once you have crafted your smoothie, you'll follow the instructions for how to turn them into pupsicles!
Totally pawsome.
Peoples may also read: What Foods Are Best For Great Pyrenees Dog?
From: TheHealthyHippieBlog.com
#38 Minty Watermelon Popsicles
I love a big slobbery kiss from my boys as much as the next girl but doggy breath is not the highlight.
These minty, watermelon treat infuses lime in the mixture.
Freshen Fido's breath and make him tail-wagging happy at the same time. (By the way, these are fantastic for the pet parents too!)
From: Under500Calories.com
#39 Frosty Yogurt Double Berry Parfait
Blackberries are another excellent source of antioxidants.
Throw in the strawberries and yogurt and you have one healthy but positively delicious doggy snack that your pup will have a ruff (he, he) time saying no to.
This puppy parfait is also going to give a nice boost of vitamins, minerals, and fiber.
From: VetNaturally.com
#40 Coconut Strawberry Frosted Kong
Ok, so this yummy recipe says to use sliced bananas or strawberries, Chance, Bud, and I agree, that you should be using both!
Kicking the scrumptiousness to a whole another level.
Using both fruits adds more nutrients as well.
Coconut, as we know, is very healthy, so while it tastes terrific, it is really good for Fido too!
Check Organic Extra Virgin Coconut Oil For Cooking on Amazon 
#41 Clem's Pumpkin Frosty Paws
Even if you do not plan on making this one, you still need to pop over and take a peek.
If for no other reason, Clem is an absolute cutie!
Don't get me wrong, the recipe is fabulous, full of pumpkin goodness.
Which of course, makes it healthy, and quite drool-worthy.
We give four paws up to our adorable little buddy, Clem!
You may learn: Do Chihuahua Have Any Special Dietary Needs?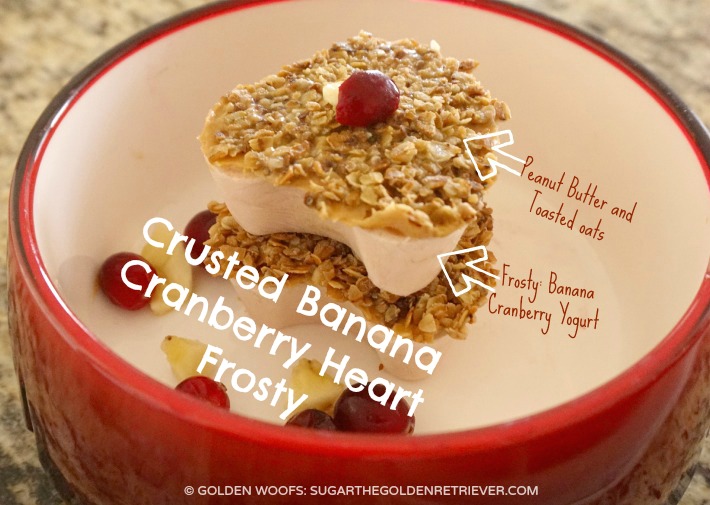 #42 Crusted Heart Frosty Dog Snacks
O.M.G these are darling! We also love the toasted oats.
Oats are high in protein, vitamins, minerals, fiber and offer a great balance of amino acids.
They are also a good source of zinc and iron.
These are one homemade treat you will definitely want to make for your favorite pooch.
#43 Frozen Meat Treats
While this recipe lets you choose the meat you'll be using, try to avoid meats that are high in fat (bacon not a good idea for this one as too much can adversely affect your pup) or one that is seasoned.
So these do not seem all that appetizing to me, they are a canine's dream.
Your pooch will thank you for making these!
You may also read: Can Dogs Eat Limes?
From: HomeSteading.com
#44 Egg Freezies
These as uncomplicated as you get. Eggs bring a ton of nutritious perks to the table (dog food bowl?).
They are full of vitamins, minerals, proteins, iron, fatty acids the list goes on and on.
These can be a bit messy so take that into consideration before feeding them to Fido.
Get this, you can grind up the shells and feed them to your dog too for an almost complete food source!
From: ModernDogMagazine.com
#45 Frozen Water Puppy Pops
Ok, ok, these are ice cubes, not really a recipe but your pup will enjoy them all the same.
If you want to make it feel even more like a doggy treat, use fun-shaped molds!
Keep in mind that those with dental issues may have a higher risk of chipping/breaking teeth on the ice cubes.
Check Fun-shaped Silicon Molds on Amazon
You may also know: What Should You Feed Your Dachshund?
Bark Back At Us!
While all of these recipes are dog-friendly, every pup is different so you should always consult with your vet prior to offering your dog any new foods.
I am always up for trying new things, and so are the boys, if there are any recipes that your furbaby goes doggone crazy for, please share in the comments below!
I would also love to hear which one(s) he preferred and any he didn't care for.
Maybe you could let me know the next venture on the list, and we can compare notes!
We doggy lovers have to stick together!
Other Dog Food-Related Topics
1. Best Wet & Dry Dog Foods For Older – Senior Dogs
2. Best Dog Foods For Maltipoo
3. 21 Dog Food Recipes For Allergies
4. Best Dog Food To Reduce Pooping
5. What Are The Best Dog Food For American Bully?
6. Best Dog Food For Great Danes
7. How To Choose Best Dog Food For Pomeranians?
8. 19 Instant Pot Dog Food Recipes You Can Make Easily
9. Can Dogs Eat Chickpeas?
10. Best Dog Food For Dachshunds
11. Is Your Puppy Ready For Adult Dog Food?
We have partnered with HungryBark.com to offer the best deal on high quality dog food to our readers. If you click on the button below, we will take you to their exclusive discount page.