With our hectic, busy lives, it can be hard to do it all, all the time. This is especially true when it comes to our pets. You, of course, want the very best for them, but there is just not enough time in the day.
No worries, Sandra is here to save the day!
We have all heard about the newest doggy health craze  "Homemade" instant pot dog foods
It is so much better for your pup but it has to be time consuming right?
Nope!
All you need is the will (no, not the hubby), and something most households have, or should have, an instant pot!
These are super easy to make and I guarantee that even your picky eater pup will love them (Be sure to leave your favs in the comments below!)
Continue reading for the 19 quick and easy instant pot dog food recipes, that you can cook in an instant pot.
Related Reading: How To Find Best Tasting Foods For Picky Eater Dogs?
From: TheTastingBuds.com
#1 High Quality Homemade Dog Food – Tasty yet good for him too!
This homemade dog food recipe is not only nutritionally rich, but your dog will absolutely love it.
Super easy and fast (thanks to your instant pot!) to make, you can double the recipe to make it in bulk (I do! Freeze it, and defrost as needed!)
You can also substitute the spinach for broccoli but you'll need to add it to your cooker along with the carrots instead of after.
Save money and Fido's health, with this high-quality, yet simple and easy to make recipe.
From: TalesFromTheBackRoad.com
#2 Chicken and Brown Rice Spectacular Stew – Good enough for you to eat!
This recipe, like the prior one, is super healthy. However, this one takes it a bit further by switching out the white rice for brown.
Brown rice is rich in fiber (really good for doggies!) and white is not. All in all, this recipe is well worth the time and effort. It is healthy and well rounded.
By adding a calcium supplement or finely ground egg shells, it covers more bases nutritionally, than some of the others we've come across. This recipe makes about 4 ½ cups, with 308 calories per cup.
Learn : 20 Dog Food Recipes With Chicken That You Can Super Easily
#3 DIY Pork and Broccoli Casserole – For Dogs!
Whether using a slow cooker or your handy instant pot, this recipe is a favorite among doggies.
The pork is tender and the apple gives it a nice sweet touch. It is guaranteed your four-legged family member will absolutely love you for this.
While you should always consult your family veterinarian before changing your pups diet. Pork can be a great addition to your pet's diet as a whole.
As always get the all clear from a veterinarian when adding new ingredients to your dogs diet.
Readers also liked: How To Choose The Best Low Residue Dog Food?
From: 12Tomatoes.com
#4 Beefy Butternut Squash Stew – Bursting with Flavor!
This savory and scrumptious recipe will satisfy even the pickiest of dogs.
Once again incorporating healthy brown rice, giving a nice boost of fiber.
Now depending on the preference of your specific dog, you can add the vegetables later in the pressure cooking process to avoid them becoming mushy (My two like it mushy).
Cook the meat first and then add the vegetables 25-30 minutes into the cooking time.
If you don't mind the mushiness then you can throw it all in together and let it cook the entire 35-45 minutes.
from: Rover.com
#5 Chicken and Vegetable Instant Pot Dog Food
The chicken gets the perfect texture in this supplemental dog food.
Although it does not provide a complete nutritional profile so it should not be used a complete meal replacement.
Feel free to mix it in with a bit more well rounded recipe or commercial all natural brand.
You can also discuss supplemental options with your veterinarian as they will know your pups specific needs.
Once done cooking, do not forget to use the natural release. If you are using frozen vegetables you may need to tweak the timing a bit.
Popular reading: How To Choose The Right Food For Your Dog? (18 Super Tips)
From: AFork'sTale.com
#6 Easy, Homemade, Crockpot Dog Food Recipe – Or Instant Pot!
Alright, so since we are dealing with a slow cooker recipe we need to tweak the times and water measurement just a bit.
This recipe is really versatile, which is perfect for my household because I have one pooch who hates turkey and one who hates chicken but only if its ground, shredded is a ok, go figure.
Finely ground egg shells can be an excellent source of calcium but we cannot stress finely ground enough.
As stated above, brown rice is chock full of fiber but it can be a little 'ruff' (I am hilarious, here all night, folks) on your dogs tummy.
This recipe uses white rice as it tends to be better for sensitive stomach. Feel free to switch it up if your dog doesn't have digestive issues.
Related topic: 39 Grain Free Food Recipes For Your Lovely Dogs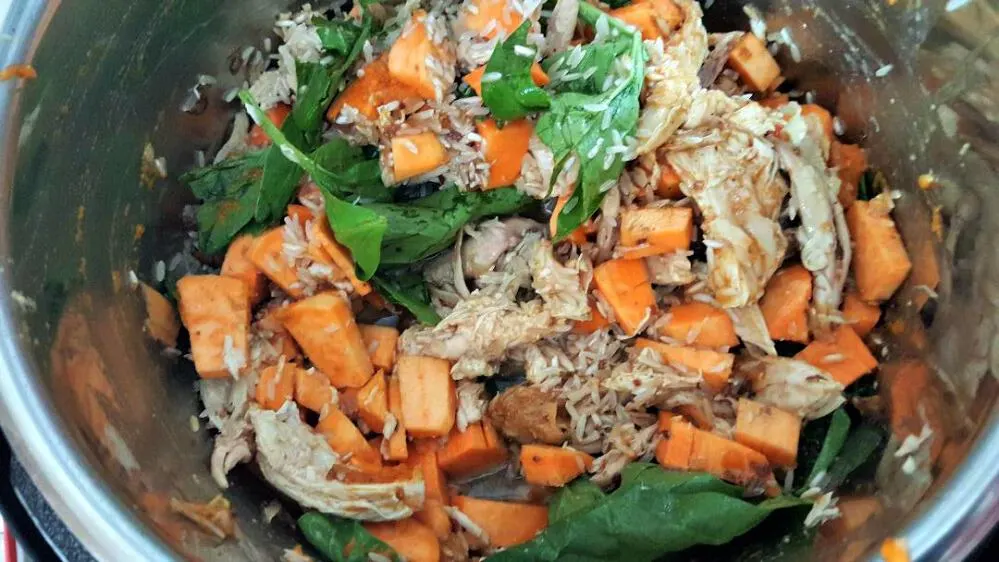 From: Mommy'sMemorandum.com
#7 Mommy's' Memorandum Instant Pot Dog Food – Dog approved!
This recipe is doglicious (see what I did there?).
However it does call for a whole chicken.
So, please be sure to remove all of the chicken bones while shredding, after it is done cooking.
One left behind sliver, even a teeny, tiny, one, can cause a lot of damage if accidently ingested.
This recipe is all around yummy and your furbaby is sure to love it.
You can freeze it for up to a month so you can make it in bulk to save even more money.
A calcium supplement of some form should always be added.
If you choose to use ground egg shells, rinse them, and bake them at 300 degrees for 10 minutes.
Using a grinder, mince the shells until they are almost a fine powder.
If you use a coffee grinder, please make sure that there are no traces of caffeine left as it can be harmful to your dog.
Shop Now Chicken Bones Shredder on Amazon
From: TraditionalCookingSchool.com
#8 Woof-tastic Homemade Dog Food – Out of the mouths of pups
This spectacular recipe is absolutely amazing.
It goes above and beyond in a few ways that make this one stand out from the rest.
From soaking the rice in apple cider vinegar prior to cooking, to including flax seed oil for those all important Omega 3's.
It also calls for beef or chicken livers which add fat-soluble vitamins, iron, and vitamin B. Coconut oil can be beneficial in theory anyway, it benefits humans with its antifungal/antibiotic qualities so it may have value in your dog's diet.
It has also been known to help with their digestion and give them a shiny, healthy looking coat.
The recipe makes about 16 cups.
Related : Best Dry Dog Food For Weight Gain
From: CopyMeThat.com
#9 Double Meat Delight Homemade Dog Food = Doggy Heaven
Your pup is going to fall head over heels (…err paws) for this delightful recipe that has both chicken and turkey.
Due to your dogs carnivorous nature, meat is always going to be a big part of his diet.
The recipe also highlights the benefits of flaxseed and coconut oil.
If you have a picky baby than this recipe is adaptable so you can substitute the turkey for something else if he doesn't care for it, for instance.
This recipe also introduces cottage cheese which can provide fats and protein.
Making this meal an even more well-rounded diet for your pooch. Makes 16 cups.
From: LanaUnderPressure.com
#10 Instant Pot Homemade Dog Treat Cake – Who doesn't love cake?
Is your buddy's birthday right around the corner?
No?
That's ok, this dog treat cake is great for every day furball celebrations, too!
Birthday or not your pooch is going to positively adore this unique doggy treat.
Peanut butter is a favored snack among canine companions, they absolutely love it, but you are going to want to be sure that it is all natural peanut butter.
Always read the labels. Stay away from sugar free or low sugar as it will likely contain xylitol which is dangerous for dogs.
Since this is a treat, it should obviously not be used as a replacement for dog food (homemade or commercial).
Learn about : Puppy Feeding Schedule: The Ultimate Guide
From: PurePressureCooking.com
#11 Bad to the Bone Healthy Peanut Butter Dog Treats – Scrumdidlyumptious
These adorable and delicious bone shaped dog biscuits include peanut butter so remember to check the label.
To make them into the cute shape  you will need a dog bone mold like this one, generally, silicone molds can withstand the temperatures of a pressure cooker but you should double check if that applies to your specific model.
These treats can also be baked in the oven however the texture was notably softer and chewier when cooked in the instant pot.
Please keep in mind that these are meant to be treats and are not a suitable replacement for dog food.
Check Silicone Baking Molds on Amazon
From: KindSay.com
#12 Instant Pot Peanut Butter Pumpkin Treats – Just one more ma!
Your dog is going to bonkers over these awesome dog treats.
Adding both peanut butter and pumpkin to the mix gives it that little something extra.
You already know all about being cautious with peanut butter.
But pumpkin puree is actually pretty good for him as a sometimes treat as it known to help with urinary incontinence, is a great source of fiber, and has low calories in case your dog is 'big boned'.
Once again, these are only a treat and should not be given daily or in place of a regular diet.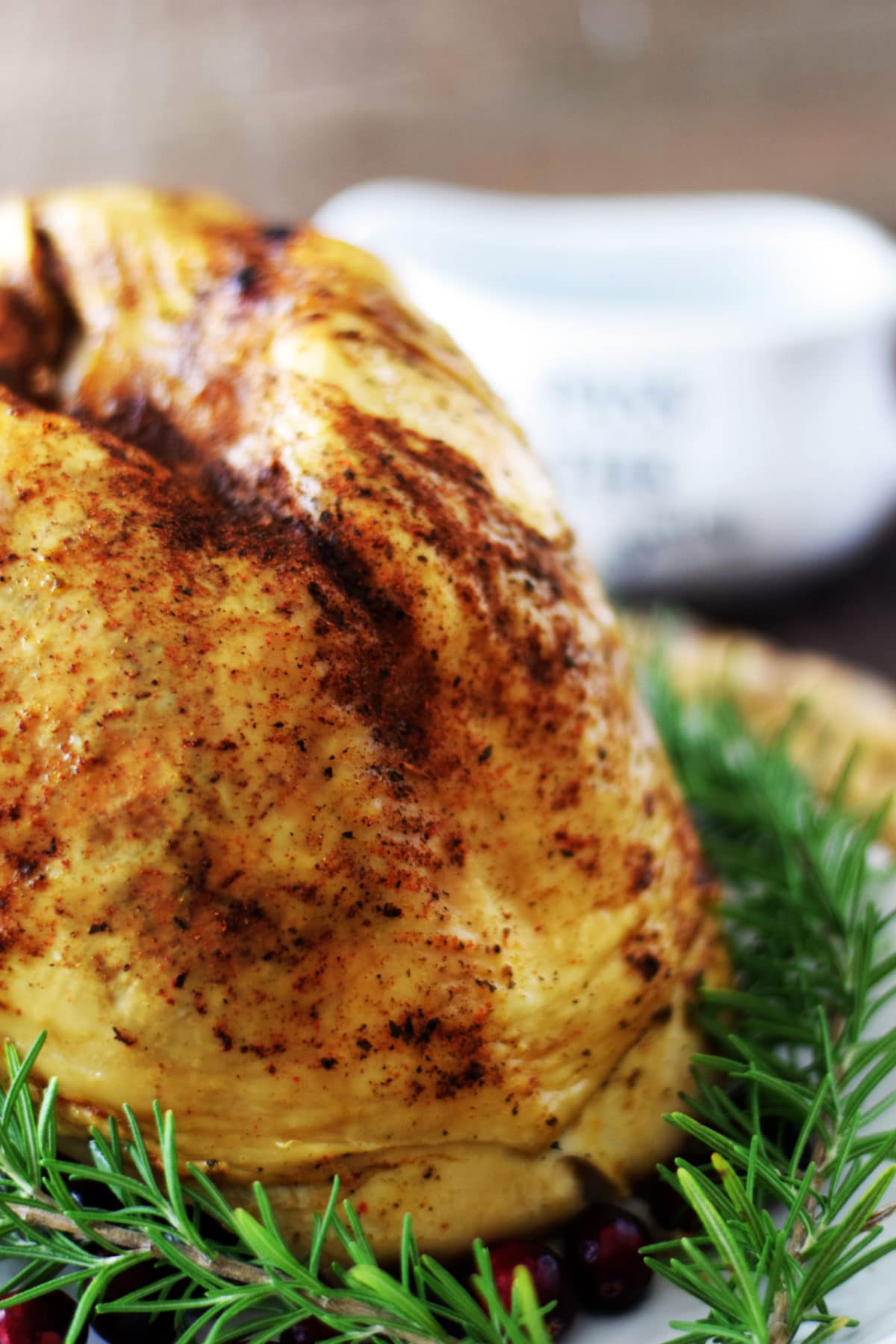 From: SoulfullyMade.com
#13 Mouth Watering Turkey Breast – with a twist
Ok so this recipe isn't technically for dogs, but with some tweaks and adjustments, it can be.
The biggest thing is to leave out all the fancy seasonings and extras. The seasoning is not good for your dog and the onion and garlic can be dangerous.
This is usually in large quantities but it is better to be safe than sorry. 
Celery is ok in limited amounts but for an added layer of safety I would leave those out as well.
Once you have cooked the turkey it can be given by itself as a snack or shredded and mixed into brown/white rice.
Be creative but also be sure to not give your dog anything he can't have. See list below.
From: NoshCity.com
#14 Delectable Chicken, Potato, and Pea Chow – as in chow down
So my favorite part of this recipe is the added chicken broth.
Now, I'm not licking the spoon in the kitchen or anything (well, not the dog food one anyway, shhh) but you can imagine the level of flavor that the broth adds to his dish.
He is going to worship the ground you walk on – even more than normal – when it was tested on a friends pup, he inhaled it.
Yea, like gone in sixty seconds, no lie.
This one is well-rounded and well-liked, so it is truly a no lose situation.
Check: Can A Dog Go Without Eating Or Drinking Water?
From: OmShantiPups.com
#15 Veggieful Chicken and Rice – He will actually want to eat his veggies
At first glance it may seem like your basic homemade dog food recipe but this one has a super healthy twist!
It throws in some sorghum grain.
It is gluten-free and whole grain, it is also rich in B1, niacin, zinc, iron, dietary fiber, and B2.
Why not a pinch of flax seed for a little omega 3?
Furrific recipe.
#16 Puppys Best Homemade Dog Food – with pork!
Ah, another lovely pork recipe. Really inspired from: KnoxVilleWeekend.com
My four-legged fur babies love pork, and with their big brown soulful eyes, I literally can't deny them.
This recipe asks specifically for a carnivore powder supplement.
The Balance IT brand is a really good one but there others on the market, just make sure to read the fine print on any canine supplement.
Take precautions of course, but extra vitamins and minerals are never a bad thing.
From: QuaintRevival.com
#17 Tartar Build Up Prevention DIY Dog Food – Keep that doggy smile pearly white!
Two things are better than one.
Now, most homemade dog foods can say the same thing.
Generally commercial dog food tends to cause tartar build up.
By using all natural, organic ingredients we are preventing it one bowl-full at a time.
I do appreciate this recipe calling attention to one of the important reasons to switch from commercial to homemade.
Tooth decay can cause all kinds of issues with your pup.
Pain, decreased appetite, aggression.
It is important to keep dental hygiene in check, and switching to homemade dog food is at least a step in the right direction.
From: Rover.com
#18 Instant Pot Bone Broth for Dogs
Bone broth is the latest trend that puppy parents are raving about.
While it has been around for a very long time, many are only now truly realizing its many benefits.
Typically made from beef bones and pigs feet, it provides an abundance of nutrients like iron, protein, collagen, gelatin, healthy fats, amino acids, and minerals.
This is one trend I can definitely get on board with, and I think my dogs (and yours!) will too.
Learn More: Can You Feed Your Dog Rice?
From: TidBits-Marci.com
#19 Doggy Corn Dog Muffins – Doggone Delicious!
The name gives you a hint just how much your dog is going to like these muffins.
While these should not be an every day treat, they will not hurt your dog.
They are almost the equivalent of a mini corn dog, and taste even better.
These can be enjoyed by dogs and puppy parents alike.
These are actually made for human consumption, but sneaking one to Fido will only make him love you more!
If he is on the chunky side, this might be one recipe you may want to skip.
Buy Now Mini Muffin Cupcake Baking Pan on Amazon
Never feed your dog
Raisins
Onions
Garlic
Macadamia nuts
Yeast
Xylitol
Alcohol (This shouldn't have to be said..)
The list includes coconut oil however in small amounts it can be beneficial  
What's the puppy verdict?
I simply love to make my furballs happy. Between them, and my precocious little princess, I am always trying something new.
As I said, I kept hearing horror stories about dog food recalls and it spooked me, so I started to research homemade diets for my pups.  They've never been healthier or happier.
My little one and I have tried making a handful of these for our favorite furry family members, which ones did your pup like? Are there any that he refused to eat?
I would love to hear your pet stories and if you made any substitutions, or have any recipe ideas that I missed, please leave them in the comments!
Other Dog Food-Related Topics
1. Can Dogs Eat Hummus?
2. Best Dog Food For Golden Retriever
3. Top Foods For Maltese With Tear Stains
4. Best Dog Food For Beagles
5. Best Dog Food For American Bully
6. Best Dog Food For Great Danes
7. How To Select Dog Foods For Shih Tzu?
8. Can Dogs Eat Edamame?
9. Best Dog Water Fountains & Dispensers (For Indoors & Outdoors!)
10. Can Dogs Eat Sunflower Seeds?
11. Can Dogs Eat All Types Of Radishes? What You Need To Know!
We have partnered with HungryBark.com to offer the best deal on high quality dog food to our readers. If you click on the button below, we will take you to their exclusive discount page.