You want the best for your pup, and that includes the best food possible to help them grow healthy and strong.
You've bought organic, grain-free, premium puppy food but find yourself wondering, is there something more I can add to my fur baby's diet?
One surefire way to add valuable nutrition is through salmon, a rich source of omega-3 fatty acids, protein, B vitamins, potassium, selenium, and antioxidants, proven to help fight heart disease and control weight.
Try some of these delicious dog food recipes with salmon that we've collected for you and watch your puppy thrive!
from: DrMartyPets.com
Recipe 1: Savoury Salmon Buddha Bowl
This powerhouse recipe has broccoli, squash, potatoes and carrots, ensuring your pup gets plenty of the necessary vitamins and minerals necessary for a glossy coat and strong bones and teeth.
The Omega-3 fatty acids in salmon (docosahexaenoic acid, or DHA, and eicosapentaenoic acid, or EPA) are very beneficial for your pup's heart, brain, tissues and circulation.
In fact, this recipe is so tasty and healthy, you may sneak a bite for yourself.
from: TopDogTips.com
Recipe 2: Salmon, Sweet Potato, and Broccoli Bowl
Salmon doesn't just promote glossy hair and healthy skin in your growing pup.
It is also one of the most anti-inflammatory foods and can help with muscle soreness from rapid growth and robust playing.
You can increase salmon's anti-inflammatory effects when you mix it with sweet potato and broccoli.
Both of these veggies also boast high doses of fiber and vitamin C, key for building collagen and helping cuts and wounds heal.
from: RachaelRay.com
Recipe 3: Spinach Salmon Scramble
Another superfood that packs a nutritional punch with high amounts of calcium, iron, magnesium, potassium, and folate is spinach.
This low-calorie leafy green, cooked in a simple scramble with salmon and eggs (hello protein!), makes for a perfect treat for your beloved pup, and for you as well!
Popular Read: What Human Foods Are Good And Bad For Dogs To Eat?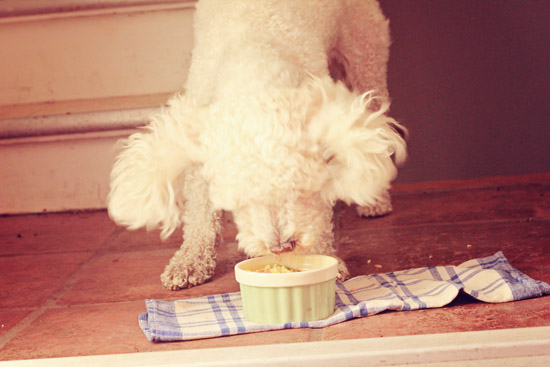 from: Pawsh-Magazine.com
Recipe 4: Mini Salmon Omelettes
This recipe also combines salmon with nutrient-rich eggs, that are full of protein, vitamins and minerals, with the yolk also containing good cholesterol and essential fatty acids.
Made in small portions, you can freeze the omelettes for up to 3 months, and pull out and heat anytime for a quick and healthy treat for your dog.
Although the recipe calls for green peppers, you can switch it up with other ingredients such as tomato, ham, or bacon for a treat that is sure to please.
from: GardenGirlRecipes.com
Recipe 5: Easy Salmon Jerky
This easy recipe has only one ingredient, thinly sliced salmon dried at a low temperature to make a delicious homemade jerky.
The strips will last up to 3 months in the refrigerator and up to 6 months in the freezer, and are a good on-the-go treat when you're out and about with your best friend.
Buy Now Salmon Jerkey on Amazon
from: PawsomeOldies.com
Recipe 6: Salmon Turmeric Treats
As a loving pet parent, we want to protect our dogs as much as possible from disease.
Many dogs today (some reports say up to half!) will get cancer, and turmeric, a key ingredient in this recipe, has been proven in thousands of peer-reviewed scientific studies to prevent and fight cancer.
Learn: Is Rice Good For Dogs Everyday?
from: KolchakPuggle.com
Recipe 7: Quinoa Salmon Crisps
Your dog will love these grain-, gluten- and egg-free quinoa crackers. Quinoa is a seed packed so many nutritional benefits that NASA has speculated about growing it in space.
They make great  crackers, and these smell and taste extra sweet thanks to the addition of rosemary, an herb used for thousands of years due to its unique taste, fragrance, and potent health effects, such as improving memory, concentration, and digestion.
from: DalmatianDIY.com
Recipe 8: Salmon Training Treats
These rice flour-based treats are quick and easy to make, and guaranteed to please.
Try to keep them 1/2 to 3/4 cm thick if you want the treats to be crunchy, you can also leave them to dry and cool in the still-warm oven, or put them in a dehydrator, like the next recipe.
Recipe 9: Salmon Snack Dehydrator Dog Treats
This recipe is similar to the jerky in recipe 5, with the added suggestion of maple syrup and soy sauce that will make your (dog's) mouth water.
Don't worry if you don't own a dehydrator, just use your oven on a low setting 60°C – 70°C / 140°F – 160°F.
People Also Liked: Feeding Considerations Of Yorkies
Recipe 10: Salmon "Brownies"
This treat, soft and moist in texture, is like a brownie for dogs – but more savoury and nutritious than your average brownie.
Made with coconut flour and oil, as well as an entire sweet potato, this gluten-free baked good will make your dog happy.
You can store these in the fridge or freezer, and you can also dehydrate them for a crunchy treat.
Shop Now Organic Coconut Flour
from: KolchakPuggle.com
Recipe 11: Sweet Potato & Salmon Bites
These bites are gluten-free (using chickpea flour) and egg-free (if you use flax), and can also be soft or hard depending on how you bake them.
Sweet potatoes are a nutritional powerhouse, and if you feed them regularly to your dog (and your family) you all may enjoy a longer life.
The people of Okinawa, Japan have long had some of the longest life spans on Earth and they get more than half of their calories from sweet potatoes.
from: Tasty-Yummies.com
Recipe 12: Grain-free Salmon Pumpkin Treat
These crunchy dog treats look like store-bought ones, and the recipe makes 60 biscuits, so they would be a great gift idea for other pet parents.
They are grain-free, gluten-free, dairy-free, nut-free, paleo… and, most importantly, delicious!
You could make them after halloween and actually use some of those decorative pumpkins, also.
Check Now Pumpkins for Dog on Amazon
from: SugarTheGoldenRetriever.com
Recipe 13: Salmon Carrot Oat Treats
The oats in this yummy recipe will add a bit more sweetness, as well as a ton of fiber, antioxidants, and many important vitamins and minerals such as manganese and phosphorus.
And the half cup of carrots will help protect your dog's eye health due to high quantities of vitamin A.
from: Heavy.com
Recipe 14: Homemade Salmon Dinner
Intake of Omega-3-rich salmon can also help with eye health, since it prevents macular degeneration and chronic dry eye, as well as prevents against cancer and inflammation.
This well-balanced fish dinner can be modified with different grain and veggie options depending on what you have available or what your dog can tolerate, so don't be afraid to try grains other than rice, such as quinoa, millet, oat, or lentil.
Recipe 15: Salmon and Sardine Chow
In this grain-free recipe, sardines, which are very high in vitamin B12, omega-3's, and bone-building vitamin D, are added to salmon and nutritious veggies like kale and green beans, to provide even more benefits for your growing pup.
Check The Full Recipe Here
Learn How To: Make Super Healthy Grain-free Dog Food
Recipe 16: Homemade Salmon Medley
This recipe includes superfood cauliflower, which contains some of pretty much every vitamin and mineral we, and dogs, need to live.
In particular, cauliflower contains choline, which has important functions in the body, such as synthesizing DNA and supporting brain development, and sulforaphane, an extensively-studied antioxidant that has powerful cancer-fighting properties.
Check The Full Recipe Here
Recipe 17: Salmon Loaf
This salmon meatloaf is made with celery, carrot, and cottage cheese.
Be careful to start with small quantities of cottage cheese since some dogs have trouble with dairy.
However, if your pup tolerates it well, it is mild, and a good source of calcium and protein.
Check The Full Recipe Here
Buy Now Bakeware Aluminized Steel Loaf Pan on Amazon
from: GourmetSleuth.com
Recipe 18: Salmon Patties
This yummy recipe is a special treat, with fried cornmeal patties of potato, carrot, celery and salmon.
Feeding your pup lots of healthy oils such as those found in salmon helps keep their skin and fur healthy, and can improve skin irritation and allergies, strengthen immune function, and improve brain function.
Popular Read: What Are The Best Dog Food For Golden Retriever?
from: Rover.com
Recipe 19: Homemade Salmon Swirls
Thanks to piping pureed salmon with oats and eggs, these tasty-looking swirls look almost like salmon meringues.
If you don't have a piping bag with a variety of tips, you can make your own using a cone of parchment paper, or cut a hole in a corner of a plastic bag.
Check Now Non-Stick Parchment Paper on Amazon
from: KeepTheTailWagging.com
Recipe 20: Easy Raw Dog Food Recipe Rabbit, Ground Salmon, and Beef Organ Blend
This food, made with raw rabbit, organ blend, and fermented vegetables, will be sure to get your pup salivating.
Just remember, be very careful when you feed your dog raw fish, as they can get very sick due to a possible microorganism in the food that is harmless when cooked.
You can freeze raw salmon for a week before you use it to kill possibly harmful bacteria.
from: PawCulture.com
Recipe 21: Salmon, Quinoa, and Kale Loaf
This quinoa loaf is so gourmet you could serve it to your Fido. Make sure your kale is chopped into very small pieces, and you may need extra water to moisten the dough.
The recipe uses a hard-boiled egg, but you could try with a raw egg as it would bind the ingredients together more.
from: LifeHack.org
Recipe 22: Fish Dinner
These patties, which you make with carrot, potato and celery, are so tasty, you may want to cook a couple of extra ones for your whole family!
Since raw potatoes are not good for dogs, make sure your potatoes are fully cooked.
from: TheBark.com
Recipe 23: Fish Meatballs
These amazing meatballs, made with salmon, a fish like mackerel or whiting, beef liver, eggs, veggies, pumpkin seeds – an easy source of omega-3 and omega-6 fatty acids, antioxidants, and fibre – turmeric and kelp, are a complete and very nutritious meal for your dog.
from: FavorableThings.com
Recipe 24: Fish Patty with Veggies
For this recipe, salmon, flour and egg are fried into tasty patties and then veggies such as carrot, potato and celery are stir fried and served alongside for a tasty dinner fit for a doggie king.
You can sprinkle a little salt on the food if you like, but only very little. Like humans, dogs' bodies need a certain amount of sodium to function properly, but only very low levels
Read To Learn: How Can I Get My Dog To Eat Low Sodium?
from: DogsAholic.com
Recipe 25: Raw Fish Dinner
As I mentioned before, raw salmon and other fish who swim upstream can have the potential to cause salmon poisoning in dogs, coyotes and wolves, so be sure to freeze your raw fish for a week before feeding it to your dog.
Freezing will kill off any unwanted organisms and your dog can enjoy all the nutritional benefits of eating meat in its raw form.
from: PetHelpful.com
Recipe 26: Salmon Cookies
These cookies are simple and quick, but make sure you follow the recipe's instructions and keep all the liquid from the salmon can, and make sure you add flour in small amounts until you have the right consistency.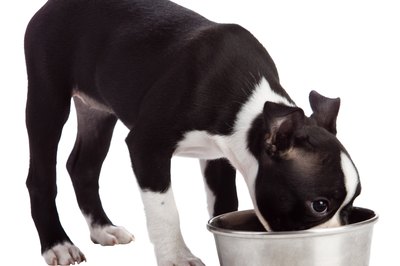 from: TheNest.com
Recipe 27: Salmon Panko Patties
Your dog will thank you for these delicious patties that you make with salmon, panko bread crumbs, eggs, shredded carrots, and parsley.
These patties freeze well so you can make a bunch to have at the ready.
Be careful not to overfeed your puppy and to check the appropriate amount of food for your dog's breed and size.
Shop Now Panko Bread Crumbs on Amazon
from: Tasty-LowCarb.com
Recipe 28: Salmon and Tuna Dog Treats
These yummy salmon and tuna treats are simple to make and will be a sure favourite with your pup.
They make the excellent suggestion to freeze each treat in an ice cube, and this way your pup gets extra hydration by licking the ice cube to get to the tasty treat in the centre.
Check: 45 Easy Frozen Dog Treat
from: HubPages.com
Recipe 29: Salmon Dog Roll
This variation on the salmon patty has you roll the salmon, egg and cornmeal mix in more cornmeal and then fry that in oil, and then you mix this with boiled vegetables.
Cornmeal is a suitable gluten-free alternative to regular flour since some dogs are sensitive to wheat flour.
from: Azestfor.com
Recipe 30: Recipe For Homemade Dog Food
Quinoa has been eaten for thousands of years in South America, and contains high amounts of two flavonoids called quercetin and kaempferol.
These important molecules have been shown to have anti-inflammatory, anti-viral, anti-cancer and anti-depressant effects in animal studies.
This recipe combines salmon and quinoa with half a cup of dog vitamins and broccoli for a powerful nutritional punch.
from: SavvyNana.com
Recipe 31: Salmon & Dill Dog Food Topper
Dill is a favourite herb for flavouring salmon, and it has lots of vitamin C, an important antioxidant that helps your pup's body to resist infection.
It is also a good source of fibre, folate (important for cell division and production of DNA), calcium for healthy bones, riboflavin for cell function and development, manganese, and iron.
Fresh dill with salmon, squash, broth, and olive oil combine in this food topper than you can spread over your pup's kibble to make it extra appetizing.
from: WagTheDogUk.com
Recipe 32: Tasty Peach Salmon
With dill, yogurt, and a sweet fruit such as peach, this dish will have a mix of savoury and sweet that your puppy will enjoy, and would make a good topper over kibble, also.
Just remember, some fruits, like banana, pear, mango and pineapple, are fine for dogs to eat whereas others like plums, cherries and tomatoes are not recommended, so be sure to know which fruits and vegetable dogs should not eat.
Popular Reading: How Your Dogs Can Eat Lobsters?
Recipe 33: Homemade Dog Food For Post Surgery Recovery
This recipe is meant to be very healing and gentle on the stomach for a dog who has just had an ordeal such as surgery.
It has blueberries, which are extremely high in antioxidants that will benefit your dog's cells, heart, brain and lungs.
This meal freezes well for up to three months, which can be useful to make ahead of a planned surgery date.
Check Now Ziploc Freezer Bags on Amazon
Which Are Your Favorites?
Feeding your dog salmon is an important investment in their health that gives them valuable nutrients, which enhance the health of every part of your precious pup's system, inside and out.
Which recipe are you most excited to try? Have you tried any of these recipes?
Which will you try next? We want to hear your comments!
Please share these tasty recipes on your channels for your friends to try, and let me know if you have any others you'd love to see added to this list, or any other type of list you'd like to read about.
Ciao for now!
Other Dog Food-Related Topics
1. Can Dogs Eat Edamame?
2. Can Dogs Eat Sunflower Seeds?
3. Best Dog Foods For Maltipoo
4. How To Choose Best Dog Food For American Bulldogs?
5. Best Dog Food For Dachshunds
6. Top Dog Food For Beagles
7. Best Low Sodium Dog Food Brands
8. Best Dog Food For Cane Corso Dogs
9. How Long Can A Dog Go Without Eating Or Drinking Water?
10. Best Dog Foods For Maltese With Tear Stains
11. Best Dog Food For Chihuahuas
We have partnered with HungryBark.com to offer the best deal on high quality dog food to our readers. If you click on the button below, we will take you to their exclusive discount page.