Harry Potter was known for having been housed in a cupboard under the stairs.
Your dog with his few needs might not mind it and it's a good out of the way place for Fido to make his den
Maybe you can store Fido's toys and other supplies. Perhaps you can decorate with a plaque that says "Live, Laugh, Lick".
Let's see how some people have done it!
From: TheDiyMommy.com
#1 Rustic/Scandanavian Meets Comic Book Villain
Some people think the secondary colors of purple and green have a cool tranquility with just a hint of zip.
Some people can't look at it without thinking about comic book villains.
The distressed wood shelving is convenient for storing leashes and bath supplies.
You May Also Know: 6 Reasons To Get Dog Beds For Your Great Dane
From: Doowaggle.com
#2 Judgement Day in Early Victorian
The wooden plaque says "Bad to the bone" and the wrought iron bars say "bad neighborhood".
Please don't sue us, Mr. Thorogood! The interior needs a few toys to keep it from looking like a prison cell.
From: Doowaggle.com
#3 Bohemian Minimalism on a Budget
Rescue makes do with what space he has. The neutrals of the bolstered bed make the splashes of purple and blue really stand out.
Still, someone needs to get a spirit level and fix Rescue's portrait.
From: NextLuxury.com
#4 East Meets West Meets Gothic Revival
The framework gives the illusion that Fido lives in a miniature Cape Cod house.
The mandala wall hanging in the back gives the illusion of a rose window.
The homey inspirational plaques make it a great place for Fido to chill with stuffed buddies.
Popular Read: 3 Amazing Benefits Of Buying A Chew Proof Dog Bed
From: NextLuxury.com
#5 Marriott for the Mutt
The artificial tree (a real house plant wouldn't look that nice under a staircase), ambient lighting and cool neutrals make this look like something out of a luxury hotel.
The canine silhouettes are very classy.
From: NextLuxury.com
#6 Rustic Craftsman Meets Masterpiece Theatre
Poochie here looks cozy on her plush and fluffy bed. The natural wood presents a cool, rustic atmosphere.
The doors look like they could offer some privacy, but Poochie looks ready to welcome you to the library.
From: NextLuxury.com
#7 Bless this Mess
Honestly, it looks more blessed than messed. The teal walls bring on a cool, postmodern aesthetic.
The impressionistic painting of a Chihuahua brings the whole room together.
From: KorrectKritters.com
#8 When Your Irish Setter is More of a Sitter
You'd think caged canaries would be a better motiff for a cat but the hearts are for everyone.
Sometimes all you need is a few puffy pillows to nap on.
Learn: 10 Tips Before Buying Dog Beds For Your Irish Wolfhound
From: KorrectKritters.com
#9 Fire in the Smoke
The name "Hagan" means "Little Fire" in Old Irish. It's fitting, for the burnt orange pillow surrounded by a cool gray.
Little Hagan has a happy home.
From: KorrectKritters.com
#10 Hidey Hole
This dog rooms with a mallard and a crocodile. No word on whether crocoduck has shown up!
The silver food and water station adds a touch of elegance.
#11 Faux Rustic with a Touch of Shabby Chic
The owner of this little Dachshund admitted to using wood effect wallpaper to make the cupboard under the stairs look more like a traditional dog house.
Little Schnitzel doesn't seem to mind.
From: KorrectKritters.com
#12 Where does a dog named Kilo Sleep?
Anywhere he wants!
Well, this Kilo looks like he's got his own little house.
However, he's still a big baby at heart!
A blue butterfly on the baby gate watches over him while he sleeps.
You May Also Know: 6 Things To Look For In A Great Pyrenees Bed 
From: KorrectKritters.com
#13 Anchors Aweigh, My Boy
Some salty sea dogs like a light and breezy nautical style.
Little sailor even made his bed with hospital corners!
The nautical themes employ cool colors, but is still warm and relaxing.
From: KorrectKritters.com
#14 The Magic Slide
Sometimes, the baby gate is just too cumbersome.
This sliding door takes away that folding jumble.
Just slide the wooden door when you need Fido to stay in one place for awhile.
From: KorrectKritters.com
#15 Modern Mediterranean Mutt
A pair of faux doric columns frame the entrance to this little pit bull's home.
The yellow walls bring on a feeling of warmth not often seen in Mediterranean decor.
He winks to let us know he's happy!
From: Shareably.net
#16 You Say Spoiled Like Its a Bad Thing
The pooch patterned accent wall and the doormat along with all the stuffies let us know this Westie gets everything.
That furry rug really does tie the whole room together.
You may also like: 2 Awesome Benefits Of Beds For Adult Dogs And Puppies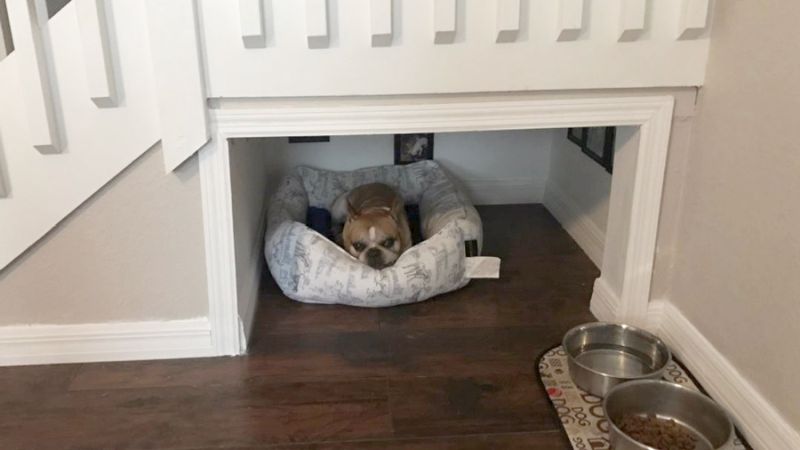 From: HomeCrux.com
#17 Hey, Bulldog!
Here's one bulldog that's not standing in the rain!
This dog does live a life of simple minimalism with a few framed pictures and an eggshell bolstered bed.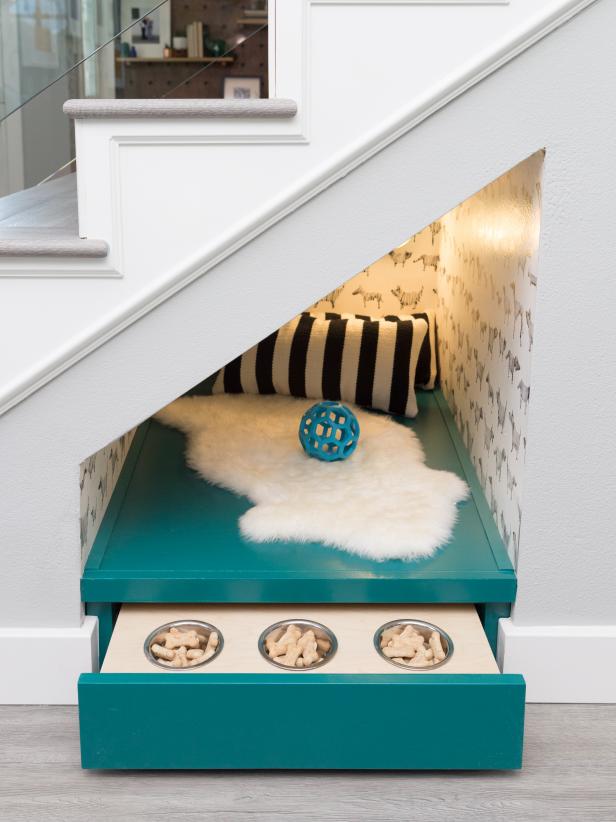 From: HGTV.com
#18 Perfection becomes me, n'est ce pas?
You can just imagine a pampered pup lounging on this furry throw while eating dog biscuits (Grapes give them kidney infections, peeled or not).
Teal seems popular, though your dog will see it as cool, smokey grey.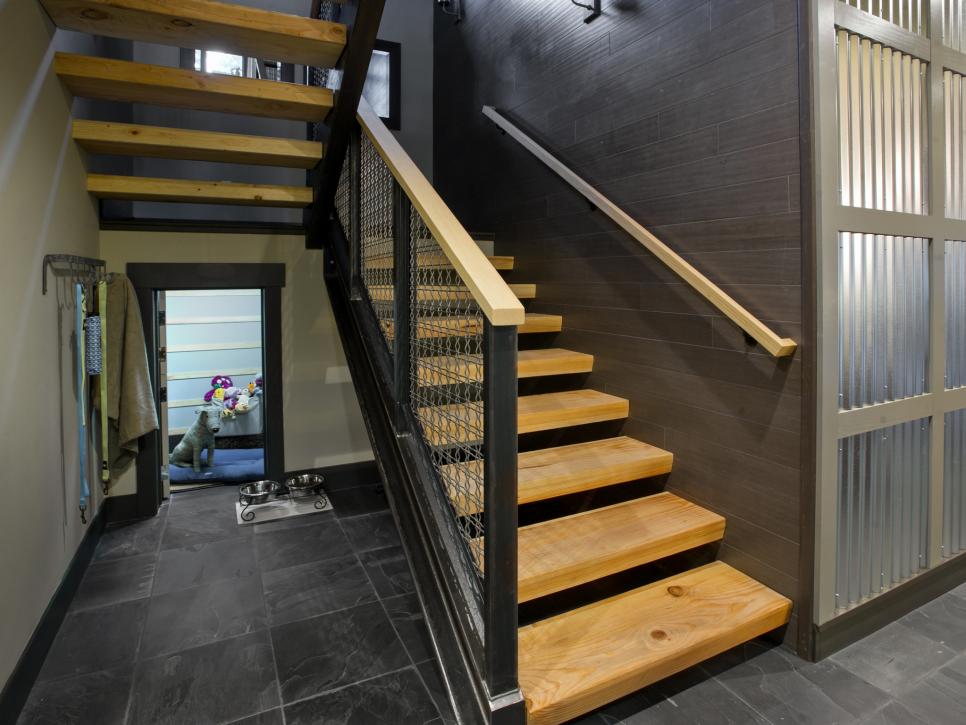 From: HGTV.com
#19 Welcome Home Davey….
That stuffed toy (I think it's a stuffed toy) looks a lot like Goliath from those corny old Davey and Goliath cartoons.
It looks like a nice out of the way place to store toys and leashes.
From: RestonNow.com
#20 To The Max!
Want one of those old fashioned dog houses seen in Snoopy and Pluto cartoons with your dog's name above the door?
Your dog is an inside dog? No problem, as Max's owner shows us!
Dat crawfish good, I gare-rawn-tee!
Know: What Kind Of Beds Are Suitable For Dobermans?
From: QueenBeeOfHoneyDos.com
#21 The Hills Are Alive (Sort of)
Here's a little alcove decorated with a backdrop of a peaceful bucolic setting.
The saturated pinks and yellows are perfect for a cheerful and bright little Fifi.
From: AwesomeInventions.com
#22 Rustic Minimalism Brings More Power
Here's another doggie room made in the style of the old fashioned dog house made for the indoor dog.
The size and proximity to the door hints that this is likely an indoor/outdoor dog.
From: BobVila.com
#23 G'Night, Mate!
Like the name suggests, an Australian Cattle Dog was made to drive cattle over the rough and tumble Outback.
This one's ready for a kip! Nearby storage space is very convenient.
From: Art&Home.net
#24 Dog Tired
Sometimes, you don't want anything fancy. All you want is to just plop down on a pillow and snooze like this old gal.
Let's not disturb her.
Check: 5 Questions To Ask Before Buying A Dog Bed For Your Dachshund
From: Matchness.com
#25 Stay on Your Side!
Otis and Gizmo are two dogs that live together but have a wall between their rooms.
Going by the caricature portrait in Gizmo's room, Otis is likely a pug who doesn't need so much headroom.
From: Bryleehome.Trendingposts.ru
#26 Wipe Your Feet
This little spaniel has her own little welcome mat in front of her room.
She's also got pillows with cute sayings (too bad dogs can't read) and some Christmas lights so she's never in the dark.
From: Bryleehome.Trendingposts.ru
#27 Henry the Dog I Am!
It's traditional to put your pet's name on their property.
Henry gets his own little room with dog print wallpaper, a cozy blanket and looks like some matting.
From: Bryleehome.Trendingposts.ru
#28 Modern Victorian with a Touch of Seventies Shag
Another furry rug really ties the room together. Are dogs getting royal cyphers now?
Does that needlepoint CR stand for Canine Regina?
Related Readings: What Size Should A Corgi Bed Be?
From: Bryleehome.Trendingposts.ru
#29 Lounging on the Patio
This little Westie decided he needed some fresh air.
And brought his little furry bed out to just lie around and see what's going on.
From: Aufloria55.ru
#30 Entertaining Company
This little woofer has room not only for some artwork, but a young visitor.
With a company like this, the little pooch probably doesn't mind having a mop and broom as roommates.
From: Aufloria55.ru
#31 Sunshine on the Sea
A little sign says "You are my sunshine" is surrounded by some mounted photography and the teal walls provide cool relaxation.
I'm sure this pooch makes everyone happy.
From: Aufloria55.ru
#32 Here I Go Again!
Little Mia gets a room worthy of a Hollywood diva complete with a lamp and pink fainting couch.
She's got her food, her box of toys and some artwork. My my, how can I resist you.
You May Also Know: Why Bernese Mountain Dogs Need A Specific Bed?
From: Aufloria55.ru
#33 The Inner Sanctum
This colonial minimalism is uncluttered and restful.
The dim ambient lighting may be a bit gloomy at first glance but may prove useful for a restful sleep.
From: Aufloria55.ru
#34 Room For One More
Chevrons are snazzy and jazzy and pizzazzy and other things that end in "azzy".
This little black-and-tan has two beds.
Must have a roommate.
From: Glamdecoor.com
#35 A Space for a GSD
 The polka dot look was all the rage in the Fifties.
But this fun and energetic look is making a comeback as you can tell from this little pooch's bed.
From: Dogkennel.ioplaygame.com
#36 Send the Butler in Later With My Bone
The silhouette of the butler dog is both amusing and creative.
The three portraits create an interesting sense of rhythm.
The mini chandelier adds class to the whimsy.
Read: 6 Benefits Of Having A Good Bed For Your Pug
From: Sewbrightcreations.com
#37 Eclectic Electric, Seeing Stars, I Can't Believe My Eyes!
Fido won't be losing sleep counting stars here!
With the mountain pillows and stenciled pine trees, he can pretend he's camping in the great outdoors.
That rug really tied the room together.
Which of these dog bed ideas did you like the most?
I liked the one in the library but I thought the one with the Chihuahua painting was cute too.
Have you tried anything similar to these styles? Would you like to?
Please feel free to reply in the comments below and share this article if you liked it.
If you have any recommendations, we'd love to hear them!
Other Puppy Adoption Related Topics
1. Orthopedic Dog Beds For Small, Medium & Large Pups
2. Best Dog Beds For French Bulldogs
3. Top Dog Beds For Border Collies
4. Best Dog Beds For German Shepherds
5. 32 Dog Bed Made From Barrel
6. How To Pick Best Dog Beds For Chihuahuas?