Your pup is a loyal and steadfast companion. Naturally, you want them to be as happy and comfortable as possible.
By sourcing the best dog beds for German Shepherd pups, you can give them a restful, quality sleep.
There is no better way to show your love than giving them a cozy place where they can rest and rejuvenate.
In this article, we're going to review the following dog beds for German Shepherds:
What Types Of Dog Beds For German Shepherds Are Best?
Ultimately, the best bed for your pup is the one that they find comfortable.
You want to find something that is safe and accommodates your dog's unique personality as best as possible.
Consider your pup's sleep preferences. Does he use a pillow? Does the dog toss and turn?
These give you helpful hints like whether you need bolstering and how large the bed should be.
Of course, keep your eye on the comfort prize. Choose something designed for large breeds with sufficient room so they can find the perfect spot to sleep.
When you balance comfort with function, you can easily identify the best dog beds for your beloved pup.
Learn How To: Adopt A Dog From A To Z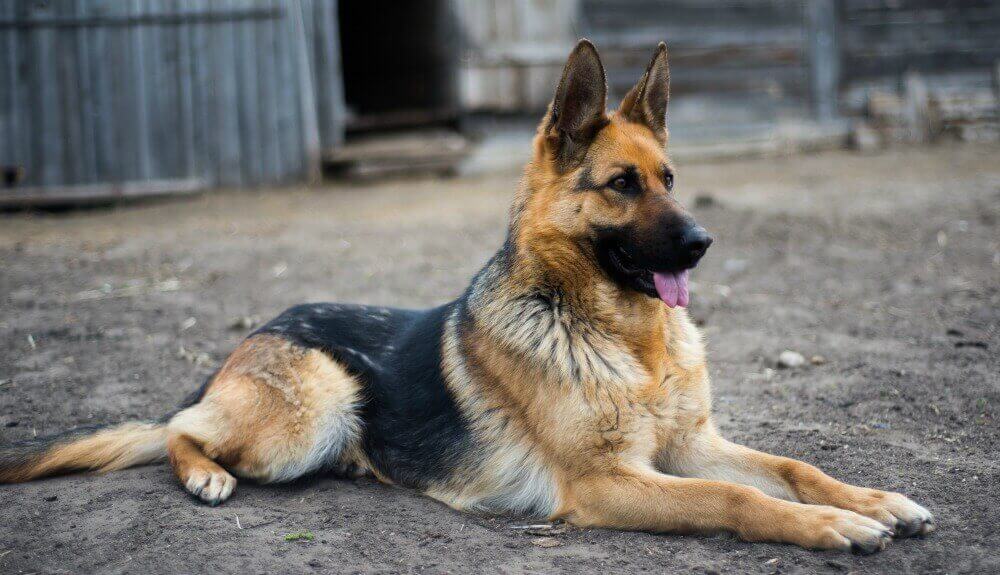 From: Insidedogsworld.com
Things To Consider When Choosing A German Shepherd Dog Bed
There are a few things to keep in mind when choosing the dog bed for your pup. 
Ranging from sleep position to size, comfort to durability, it all comes down to what fits your dog best.
Dog's Sleeping Habits
You know your pup better than anyone. So, to find the best bed, consider their sleeping habits.
Are they frequent nappers or does the pup sleep soundly through the night? Does the Shepherd toss and turn a whole bunch or stay like a statue during rest?
Depending on your answers, you will need a bed with sufficient size that is highly durable.
Keep your eye out for these traits when making your pick. 
Bed Style & Shape
When it comes to dog beds, there are no shortage of options. Depending on how your dog sleeps, you will want either a round or rectangular model.
Consider what fits best in your living room. Some styles come off the floor for temperature control.
While this is great for some, if your dog has aching joints, the climb won't exactly help.
Take a second to identify what style you like best. Your pup will love the comfort, so factoring in your decor never hurts. It's best when both you and the pup are happy. 
Proper Bed Size
While it may seem novel to get a bed with more than enough room, there are also some downsides.
Curious pups take this as a chance to explore. Constantly shifting positions in pursuit of greener grass on the other side doesn't help sleep.
On the other hand, beds that are too small are restrictive and compromise comfort. 
Aim for something that has a few inches give on either end. In the spirit of goldilocks, you want a size that's just right.
Check: What Size Should A Corgi Dog Bed Be?
Dog's Typical Sleeping Position
If your Shepherd is prone to curling up in a ball to sleep, a round option may suit best.
However, if your dog seems to want to sprawl everywhere, a box shape is more ideal.
Since they need enough room to find the right position and to stretch out, it is best to choose a bed that is contoured to how the dog shapes his form.
Just observe your pup when napping to get an idea of their comfort zone. 
Ease Of Cleaning and Maintenance
Your dog gives you tonnes of love – also spills and drools and chew marks. When you opt for the right bed, think about the demand for cleaning.
You probably won't want something that you have to hand wash and hang dry. 
Selecting options that have removable (and ideally waterproof) covers is a good place to start.
From there, opt for something that resists chewing and has a sturdy zipper – it pays off in the long run. 
Level Of Comfort And Support
German Shepherds are notoriously active dogs. This means that, at the end of the day, they will have aching bones and sore muscles.
When you get a bed with proper support, and ideally orthopedic benefits as well, the pup has a good chance to heal.
Choose something with a sufficient level of plush that balances with adequate firmness. Balance is everything – especially when it comes to beds for your dog. 
Learn: Why Warm And Comfortable Bed Is Necessary For Boxer Dog?
Warranty & Durability
In my experience, the warranty on an item gives you a good idea of how long it will last.
As with all dog beds, you want to make sure that the material is solid. Does it resist spills well enough?
If your pup scratches the lining, will the bed survive? These are all critical factors to keep in mind to get real value out of your investment.
High-quality beds are meant to weather even the rowdiest pups, so opting for solid materials is always a good choice. 
Consider A Few Miscellaneous Things
It's important to keep the small things in mind when making any purchase. When it comes to dog beds, there are a few key considerations.
Factor in things like bolstering, hypoallergenic materials, and the fit in your home. 
Consider also your dog's weight and age. Is the bed going to support their weight?
Is your puppy going to outgrow the item in the near future? Explore all your options to make the best choice. 
Best Dog Beds For Adult German Shepherds
If you are looking for some seriously cushy comfort for your german shepherd, this is a great direction to take.
Raised off the ground over half a foot, this plush mattress will surely get your dog those valuable zzzs.
It won't go flat over time so this bed is sure to last. Since it is microfiber, it is both safe on the skin and soft to the touch making it great for these pups. 
Highlighted Features:
Comes with a 10 year warranty

Comfortable foam interior 

Provides orthopedic support

Handcrafted bed for large dogs

 
Pros:
Ideal size for Shepherds

Handmade 

Microfiber exterior

 
Cons:
No bolstering

Tricky to wash

High price point
Sometimes, all you need is a piece of the whole to make the picture perfect.
If you have a dog bed that you love but want to improve its performance, a new cover is a great solution.
While this option contours specifically to the KOPEKS bed design, it also fits over different mattresses. 
Since the cover is jumbo, it means that almost all beds work beneath it. Either stuff the liner with pillows or toss it over your existing bed to add to the shelf-life.
With soft fabric that's easy to clean, both you and your pup are sure to be happy. 
Highlighted Features:
Large mattress cover fits over most beds

Dimensions of 50 x 34 x 7 inches

Works with beds with extra pillow top covering

Soft fabric that enhances comfort

 
Pros:
Breathable material

Highly durable

Attractive look

 
Cons:
Lacks support structure

Works best with large mattresses

Doesn't resist chewing
Looking to jazz up your living room while helping your pup relax in style? This bed suits even the pickiest pups.
A great blend between a round bed and rectangular one, this sofa-style sleeper keeps your dog nice and comfy.
Available in multiple sizes, you have the advantage of giving your dog the ideal amount of sleeping space.
With orthopedic foam and a careful design, this bed is chic and comfy. 
Highlighted Features:
Orthopedic foam interior for supporting achy joints

Comes in several different sizes for big dogs like shepherds

Multiple different color and pattern options for exterior

Easy to clean with machine washable cover that dries quickly

 
Pros: 
Great for large dogs

Features bolstering

Ergonomic design

 
Cons:
Doesn't resist teething

Only the cover is washable

Plush top can wear down
Remember how we talked about size earlier? It is definitely one of the biggest considerations for this breed of dog.
Since they have such diverse personalities (and sleep habits) it helps to find a quality bed with lots of options.
This bed is compact and easy to store and tow and comes in lots of different sizes.
Most shepherds prefer the larger ones, while younger dogs like the coziness of those in the middle.
No matter the preference, there is a suitable size for your dog. 
Highlighted Features:
Sleek design and muted color schemes work in all rooms

Fits inside of dog crates for comfortable travelling

Simple to upkeep with a machine washable and dryable mattress

Low to the ground for dogs with joint issues and arthritis

 
Pros: 
Comfortable mattress

Plush interior for coziness

Supports up to 110 pounds

Easy to clean and maintain

 
Cons:
Lacks bolstering for support

Wears down over time

Subject to shrinking in dryers

If you are looking to make the most out of memory foam, this is a great direction to take.
It stays cool naturally and gives your dog sufficient support for all ages.
With a machine washable cover, no matter what life stage your pup is at, this gives them the comfort they need.
Ideal for pups with joint dysplasia or those recovering from surgery, this helps your shepherd get the rest needed to heal. 
Highlighted Features:
Sleek rectangular design suited to large dogs like German Shepherds

Comes in multiple different colors and patterns and soft fabrics

Sturdy mattress with memory foam interior that won't wear down

Easy maintenance requirements with machine wash and dryable cover

 
Pros: 
Ideal size for large pups

Firm interior for good support

Soft liner that cleans easily

 
Cons:
Relatively high price

Lacks bolstering

High off ground

Does your dog always hop onto the bed with you then slowly steal away the pillows? I can definitely relate.
I used to think that my dog coveted my big comfy mattress, but soon realized that he was after my pillows.
Instead of getting drool all over my throws, I prefer getting my pup pillows of his own. This bed really would have helped save my sleep.
It is a massive pillow that doubles as a mattress and comes in all sorts of fun styles and patterns.
With it, both you and your pup get the best possible nights sleep. 
Highlighted Features:
Mattress that looks and feels like a pillow

Different choices for fabrics with bold styles

Comes in different sizes to match your pup's needs

Entire mattress is machine washable and easy to dry

 
Pros: 
Comfortable for picky pups

Plush interior for coziness

Soft outer lining

 
Cons:
Can't go in machines with agitators

Plush wears down over time

Doesn't resist chewing or scratching
Has your pup always been one to clamor onto the couch during movie night? With this bed, they get a great option that gives you the space you seek.
Since the mattress is set up like a sofa, your shepherd will get all the benefits of easy sleeping and cozy pillows.
The bed itself comes in lots of different colors and patterns so it fits well into any room of your choosing. 
Highlighted Features:
Sofa-style appearance for comfort

Provides orthopedic support

Simple to clean and maintain

Comes in a wide range of size options

 
Pros:
Machine washable cover

Durable design

Attractive appearance

 
Cons:
Can flatten with time

Doesn't resist scratches

Won't hold up to chewing
Do you prioritize easy maintenance when choosing your ideal mattress?
With increasingly busy lives, I feel proud when I can keep up with my shepherd on runs.
Adding complicated mattress upkeep to my already lengthy chore list just isn't appealing. 
Thankfully, this pad is more than easy to clean. It is soft to the touch and stays that way even after going through my washer and dryer. 
Highlighted Features:
Firm grip on the ground to prevent slips and falls

Comes in multiple different sizes suited to shepherds

Works on dog beds and in crates for added versatility

Smooth fabric great for allergies or sensitive skin

 
Pros:
Quality material 

Designed to last

Works on all surfaces

Large size

 
Cons:
Lacks support of mattress

Can't withstand bleach

Vulnerable to scratching
If your German Shepherd is anything like mine, they are a little bit clumsy. Whether it's an excess of energy or just not paying attention, my pup frequently slips.
Since this definitely is not conducive to sleep, I keep my eye out for beds with traction where they meet the ground.
With sufficient plush to provide support, this bed holds steadily to the ground. This way, my pup can easily climb into and out of bed. 
Highlighted Features:
Multiple sizes as large as 42" long

Works both on the floor and in a dog crate

Lightweight and easy to travel with 

Comfortable design with a plush interior

 
Pros:
Holds up to wear and tear

Easy to maintain for a long time

Sufficient space for large breeds

Non-slip base for safety

 
Cons:
Lacks bolstering 

Wears down over time

No removable cover
All dogs (and people for that matter) are vulnerable to anxiety. Who doesn't benefit from an extra dose of daily comfort?
To provide my dogs with added reassurance, I gear towards this bed with raised sides.
Your pup will find comfort and have an easier time tackling anxiety with edges that hug the pup during sleep.
Doubling as bolstering, this comfy bed provides everything from neck to emotional support. 
Highlighted Features:
Total dimensions of 35.4 x 27.6 x 6.7 inches

Orthopedic design to accomodate sore joints

Features bolstering for suitable neck support

Unique design that reduces pup anxiety

Comes in both bright colors and muted options

 
Pros:
Easy to clean

Lightweight design

Plush interior

 
Cons:
Doesn't resist chewing

Can be tricky to enter/exit

German Shepherds might not be the biggest dogs at the park, but they are not exactly lightweight.
In order to accommodate their inherent heaviness, this bed fits as much as 100 pounds.
Your dog will adore the soft exterior and get great relaxing benefits from the orthopedic support.
The designers considered a lot of nuances with this mattress. It's the ideal size and features bolstering while also preventing slipping on the floor.
No matter what your dog's sleep preferences are, this bed is a great solution. 
Highlighted Features:
Removable cover you can machine wash and dry

Works for dogs with aches due to arthritis and joint dysplasia

Provides neck support with a plush interior that withstands heavy weight

Soft fabric suited to even sensitive skin or those with allergies

 
Pros:
High quality manufacturing

Safety features built-in

Easy maintenance

 
Cons:
Doesn't resist chewing

Fabric can tear when scratched

Bolstering makes it hard to stretch out
If your shepherd is anything like my dogs, they love to stretch.
I can't count the amount of times I've woken in the morning to a dog foot in my face and a pup sprawled beside me.
Since a key part of relaxation is getting tension out of the body, a bed that accommodates the habit is key.
This flat top design has all the orthopedic benefits of memory foam without restricting their stretching movements.
Now, you won't have to contend for your own mattress space. 
Highlighted Feature:
Orthopedic support with memory foam interior

Waterproof liner for spill and drool protection

Available in multiple sizes for large breeds

Easy to clean with a machine washable cover

Hypoallergenic material great for sensitive pups

 
Pros:
Solid yet comfy mattress

Lets dogs choose sleep position

Zippered cover for easy upkeep

 
Cons:
Limited bolstering

Can't wash interior

Doesn't resist chewing

Okay, so your pup is not a fan of sleeping on the floor. Who can blame them, really?
If your shepherd always springs up onto your mattress or the couch (or even other furniture), this is a good choice.
With it, you can let your dog keep his favorite pillows and blankets while still being raised from the floor.
The bed itself is sturdy and designed to withstand the weight of even the heaviest german shepherds. 
Highlighted Features:
Cot-style bed suited to large dog breeds

Withstands up to 150 pounds of weight

Sturdy design great for high energy dogs

Suitable for dogs resting both inside and outdoors

 
Pros:
Slip resistance for safety

Breathable fabric for heat control

Strong and durable material

 
Cons:
No orthopedic support

Lacks bolstering

Hard to travel with
Looking to give your dog the indulgent sense of five star luxury?
While it might be a bit tricky to get them to the Ritz, you can still give them ritzy style with this sleek sleeper.
With a soft and smooth exterior, this bed is large enough to fit even the biggest german shepherds.
One of the best parts is that you don't have to sacrifice space for function. It has bolstered ends for neck support yet still allows the dog to stretch out when needed. 
Highlighted features:
Memory foam interior for orthopedic support of achy muscles and joints

Waterproof cover and internal liner for durability that resists chews and scratches

Simple to clean with removable cover that's machine washable and dryable

Fits dogs as heavy as 200 pounds so your other pets can join in the fun

 
Pros:
Supports heavy dogs

Durable and long-lasting

Waterproof exterior

 
Cons:
Fairly high price

Lacks slip resistance
Are you one who favors the function of simplicity? Especially if your dog is already a great sleeper, you probably gear towards options that are sleek and effective.
Even though this bed lacks the bells and whistles, it works perfectly. With a faux fur exterior, your pup gets the benefits of softness throughout their sleep.
It provides a cushioned interior to help sore joints while also giving neck support on all sides.
Great for flopping onto after a long run, your pup will adore this dog bed. 
Highlighted Feature:
Rectangular design with bolstering on all sides

Simple maintenance (the whole thing is machine washable)

Provides plush support and sufficient bolstering

Works as a standalone or in a dog crate

 
Pros:
Relatively low cost

Easy to upkeep

Quality materials

Soft exterior

 
Cons:
Vulnerable to heat

Doesn't resist chewing

Lacks slip resistance
Ergonomic designs aren't just for handheld items and humans  – they benefit our beloved canines as well.
This bed exemplifies those values perfectly with an orthopedic interior and smooth, supportive design.
Coming in a wide variety of options, you can opt for cooling gel interior or memory foam (depending on pup preference).
The bed itself lets your dog hold his head high while still keeping rear paws raised.
Improving spine health while adding comfort is easy with this bed's design. It offers relief to often sore places and let's your dog sleep easily through the night. 
Highlighted Features:
Various size options as large as 42 x 58 x 9 inches

Comes in multiple different colors and patterns

Provides a supportive interior to soothe aches

Helps with spinal alignment and neck support

 
Pros:
Large size

Elevates the head

Promotes relaxation

Easy to clean

 
Cons:
Doesn't resist chewing

Fairly high price point

Some styles wear down
From: AKC.org
Best Dog Beds For German Shepherd Puppies
You've got a new puppy and are eager and ready to splurge on accessories. If this describes your situation, then you will love this classic dog bed.
Fitting nicely with any style of decor, this setup shows your dog how much you care.
It is the perfect balance between comfort and function since it is both plush and well bolstered.
With an easy entrance, even clumsy puppies can clamor on for a good night's sleep (or quality nap).
It may be a bit pricier than other options, but it definitely has all the bells and whistles. 
Highlighted Features:
Microsuede material great for sensitive skin

Eco-friendly designed with recycled interior

Ideal dimensions for large breed puppies

Removable outer cover that's machine washable

 
Pros:
Easy to maintain

Durable design

Soft exterior

Plush interior

 
Cons:
Lacks slip resistance

Higher price point

No orthopedic support
When it comes to puppies, there are tonnes of added considerations.
For one, if you have a large breed like a german shepherd, you know they will outgrow the unit soon.
This means durability is less of a concern. On the other hand, there pups are more prone to anxiety.
That is why I adore this option. With a circular design that has high bolstered edges, this adds comfort by hugging your pup all night long.
The soft interior adds support while letting them relax into easy comfort. 
Highlighted Features:
Pup can nestle comfortably within raised walls

Round design ideal for young puppies

Soft exterior adds coziness and is safe on skin

Attractive design that works with all decor

 
Pros:
Lightweight and movable

Works inside all types of crates

Easy to clean in washing machine

Soothes nervous pups

 
Cons:
Vulnerable to chewing

Not waterproof 

Lacks slip resistance
Perhaps your puppy is one who favors napping? If so, then you want a way to quell any anxiety and keep the daylight at bay.
Since pups do most of their growing during sleep, this bed is an optimal design.
The tent top gives a sense of protection while also providing a cool, dark place to rest.
Coming in a wide variety of styles, you can easily select the option that suits your decor.
It gives our beloved pups the chance to feel safe whether or not we are in their line of sight.
Highlighted Features:
Dimensions of 16 x 16 x 14 (ideal for German Shepherd pups)

Provides a sense of reassurance and protection

Soft exterior and plush interior for relaxing sleep

Easy to maintain with machine washable design

 
Pros:
Durable structure built to last

Avoids stretching and warping

Helps abate nerves

Relatively low cost

 
Cons:
No slip resistance

Not waterproof

Lacks bolstering
With a classic appearance and comforting features, both you and your puppy are sure to like this bed.
Coming in two different sizes, you can easily select the perfect one for your pup's shape.
The raised edges stop your pup from pulling out of bed during sleep and help reduce anxiety.
As an added benefit (for the pup parent), the entire unit is machine wash and fast drying.
It helps keep your mind at ease since you know your pup is calm through the night. 
Highlighted Features:
28 x 18 x 5.9 inches in size (ideal for large breed puppies)

Simple to clean and maintain with machine washable design

Plush interior adds support to the growing puppies

Bolstered edges keep your dog safe through the night

 
Pros:
Good for sensitive skin

Raised edges for support

Low price point for all budgets

Neutral appearance

 
Cons:
Can't machine dry

Lacks slip resistance
One of the reasons I adore this bed is that it is so easy to transport. I take it from the crate to on top of my bed.
This helps the pup feel a sense of reassurance through familiarity in all new surroundings.
Since it stays consistent, it also helps establish boundaries and feelings of responsibility.
Thanks to the soft and luxurious fabric, pups drift off easily.
With an easy machine washable design, us pup-parents get the benefit of simple maintenance while the dogs get the rest they need. 
Highlighted Features:
Circular design with raised edges that stop dog from rolling out

Provides a plush surface for sleep so your pup can relax

Machine washable and quick drying for simple maintenance

Designed for cuddly sleepers who tend to ball up for rest

 
Pros:
Low price point for 

Easy to upkeep and durable

Soft exterior for comfort

Plush base for quality sleep

 
Cons:
Lacks slip resistance

Can't machine dry

Vulnerable to chewing
Did You Find Your Dog Beds For German Shepherd Today?
Now that you've perused through the best dog beds for German Shepherd pups of all ages, did you find what you were after?
For me, the clear winner of the roundup is the Furhaven Pet Dog Therapeutic Bed.
At the end of the day, it all comes down to comfort and support.
This bed offers the chance at a good night's rest so your dog is ready to face the new day. 
Our dogs do so much for us – when you get your Shepherd a quality dog bed, it gives you the chance to show how much you care.
Further Readings
Other Puppy Adoption Related Topics
1. How To Stop Puppies From Chasing Cats?
2. Best Dog Beds For French Bulldogs
3. Top Dog Beds For Border Collies
4. Orthopedic Dog Beds For Small, Medium & Large Pups
5. Best Waterproof Dog Beds For Puppies & Older Incontinent Dogs [That Pee]
6. What Are The Best Dog Beds For Chihuahuas?