If you are in a hurry and just want to find out the one from all the best dog beds for Small, Medium or Large dogs we reviewed, then we recommend the Furhaven Pet Dog Bed With Cover as the best one.
When you're on the hunt for orthopedic dog beds, the first thing you want to keep in mind is your pup's comfort. Whether they need the bed because of soreness after an intense workout or arthritis due to age, a good sleep in a cozy bed goes a long way.
That's why we've scoured the internet for the best orthopedic dog beds for all sizes of dog: small, medium and large. Comfortable canine sleeping has never been easier.
In this article, we're going to review the following dog beds for Orthopedic
Best Orthopedic Dog Beds For Large Or Giant Dogs
Large dogs are definitely bulkier than smaller breeds; and, as such, have specific needs when it comes to getting an orthopedic bed. If your large dog is anything like mine, he is a bit clunky and clumsy (we love them anyways, of course).
Because of this, I try to select a heavier bed that suits their big forms well and doesn't toss around the floor every time they get on and off the mattress.
When these are your priorities, this is an excellent direction for your orthopedic mattress.
Highlighted Features:
Weighs in at 4.5 lbs

Medical grade memory foam

Orthopedic design with bolstering

Safe materials for sensitive dog

Removable microfiber cloth
Pros:
Dark color hides fur well

Zipper system resists chewing

Comes in multiple different large sizes
Cons:
Difficult to store and tow

Doesn't go well with some decor

Let's say that you are looking for a simple and straightforward solution for your orthopedic dog bed. Your dog isn't picky and just wants to flop down for a sleep in comfort and ease.
This is probably one of the reasons that the standard human-style mattress is a regular rectangle.
If your dog wants to crawl into your bed with you, this serves as a cozy and comfy replacement to keep them sleeping independently without sacrificing ergonomic and orthopedic support.
Highlighted Features:
Presents like a normal flat mattress

Perk of toy included

Comes in multiple sizes

Features a washable cover
Pros:
Waterproof lining

Memory foam interior

Soft exterior fabric
Cons:
Lacks bolstering support

No slip resistance

Hard to store and tow
If what you are looking for is a simple way for your pup to enter the bed itself, without having to strain his joints or add soreness to the bones, this is a great direction.
Featuring an opening designed just for achey dogs, this bed also features bolstering for neck support (a great value for seniors). 
It has a comfortable interior fabric that adds a soothing experience for the pup. A tough base stays sturdy against the force played by large dogs, meaning it is sure to stand up to the elements and last through the ages. 
Highlighted Features:
Easy entrance yet bolstered sides

Includes memory foam for comfort

Simple maintenance with removable top

Internal liner with water resistance
Pros:
Hidden zipper to resist chewing

Bottom resists water 

Comfortable fabric
Cons:
Can be tricky to find the right size

Wears down after multiple washes
It's no secret that not all large dogs are the same size. 
Sometimes, your large pup is just overweight and other times they have a smaller than normal stature for a big breed. Since this bed comes in multiple different sizes (all suited for large dogs), this is a great direction to take.
Coming in multiple colors, this sofa style bed is a great choice to add to your living room since it works with almost all home layouts. Add style and flair to your home while keeping your pup nice and comfy. 
Highlighted features:
Multiple size options 

Either gray or dark

Looks like couch for style

Memory foam base
Pros:
Removable washable cover

Skid proof bottom

Fits anywhere
Cons:
Relatively high off the ground

Softer than average bolstering

When your bed is prone to anxiety and overall nervousness, it can be tricky to find a suitable solution to keep them calm during the night. Sometimes, the power of well-designed textiles will do the trick wonderfully..
The fuzzy exterior that lines this mattress is a great solution to soothe your pup's senses and make them easily rest throughout the sleepy period. 
Avoid getting woken up during the evening (whether due to nerves or aches) with this bed suited to high-maintenance pups.
Highlighted Features:
Works for all sizes of large dogs

Fuzzy exterior offers a calming experience

Comes in multiple different colors 

Plush interior for joint support
Pros:
Works well in any room

Machine washable

Stylish and chic
Cons:
Must machine dry only

No slip resistant features
Let's say you are looking for a boxy design that has a few more bells and whistles than a simple mattress. This bed is a great direction for those seeking bolstering, since all sides are raised higher for bigger dogs.
Not only that, this bed fits into a crate or stands on its own seamlessly meaning it is great for both travel and training.
The memory foam reduces overall pain and the removable liner means that it is meant to stand the test of time.
Highlighted Features:
Rectangular, boxy design

All sides raised for neck support

Fits in a crate or independently
Pros:
Removable, waterproof liner

Can go in the washer and dryer

Features memory foam technology
Cons:
Not able to resist chewing and scratching

Can't cover the bed
Sometimes, you want to spring for the fancier solutions to keep that beloved pup of yours as comfortable as possible. If you are looking to splurge on a fantastic solution that will both keep your dog cozy and stand the test of time, this is an ideal direction to take. 
With a top-tier foam interior, this bed also features a non-slip bottom that makes finding the ideal sleeping position a breeze – even for picky dogs.
It is an obscure shape – somewhere between a circle and a rectangle meaning it has all the benefits of both.
Highlighted Features:
Foam interior for orthopedic support

Non-slip bottom for safety

Offers a snuggly sleeping space

Removable and washable cover
Pros:
Unique, coy shape

Sufficient neck support

Easy to wash and dry
Cons:
Significantly higher cost

Light color shows shedding
If luxury is what you (and your large dog) are after, then be sure to keep your eye on this awesome mattress solution. Great for heavier dogs, this is a thick mattress that provides sufficient support for heavy dogs of all sizes.
The suede material offers a soft and soothing experience while fitting in seamlessly with all furniture and decor. Featuring a high-grade polyester filler, this is a unique approach to orthopedic support.
The non slip base means that your dog is safe and the interior gives incomparable comfort. 
Highlighted Features:
Sleek and chic suede exterior

Extremely thick mattress

Polyester blend filling for support

Comfortable bed for all types of sleeper
Pros:
Orthopedic support

Durable design 

High-quality materials

Slip resistant base
Cons: 
Doesn't include memory foam

Includes metal zipper (bad for allergies)
If your dog is a particularly picky sleeper, this is a great direction for a bed solution. Sometimes, when there is joint aching involved, it can be tricky for the dog to find an ideal position to get that much-needed REM.
Thankfully, this mattress gives them a quality sleep with sufficient room to afford position switches throughout the night.
The rectangular shape offers a spacious sleep area so your dog can move to its heart's content. 
Highlighted Features:
Easy entrance for large dogs

Made of sleek suede material

Bolstered sides and rectangular shape

Dual covers to promote longevity
Pros:
Two removable covers

Easy to wipe down

Can machine wash and dry
Cons:
Only fits ogs up to 75 pounds

Lacks sufficient slip resistance
If your dog is gigantic with a form that rivals Goliath, then be sure to take a look at this sleep solution. Coming in a massive size for your gargantuan dog, this hypoallergenic bed features antimicrobial fabric – ideal for surgical recovery.
Make life easier and safer on your beloved pup  by giving them a bed that naturally resists dander and germs and promotes the overall surgical healing process.
Don't worry, once they get well, the bed will be just as good. 
Highlighted Features:
Extremely large sze for big dogs

Resists slipping and tripping

Waterproof and stain resistant

Antimicrobial and hypoallergenic
Pros:
Comes in an easy packaging

Breathable and healthy material

Works for all weights
Cons:
No bolstering features

Heavy to haul around

Fairly plain design
Best Orthopedic dog Beds For Medium Sized Dogs
When you want a go-to solution with all the bells and whistles for your medium sized breed dog, this is a great direction to pursue.
Featuring a washable, removable cover that withstands the rigor of your washer and dryer machines, this bed offers everything from comfort to orthopedic support. 
Coming in either a gel or orthopedic interior, you can choose what your pet will like best from this comfy, round bed.
Highlighted Features:
Great for nervous dogs

Provides multiple options

Easy to clean and maintain
Pros:
Good support and relief

Relatively low cost

Great for medium dogs

Cons:
Lacks strong bolstering

Prone to slipping and skidding
If you seek a bedding solution that is both stylish for you and comfortable for your dog, this is an ideal solution. 
Coming in deep colors that offer contrast in the home, these beds are available in multiple different sizes and feature comprehensive orthopedic support.
Ideal for arthritic conditions and joint dysplasia, your senior dog will be able to sleep solidly while avoiding pain. 
Highlighted Features:
Bold colors and rectangular design

Excellent orthopedic support

Easy entrance for senior dogs

Waterproof features for longevity
Pros:
Ideal for dogs with poor mobility

Rectangular shape with easy entrance

Low Easy to clean and maintain
Cons:
Low level bolstering

High on the pricing spectrum
If your pup is prone to climbing up on the couch, finding that circular throw pillow, and making it their own, you will want to take a look at this bed. 
Coming in a unique round design, the circular feature makes it familiar while the soft exterior adds plush comfort and warmth.
For sleepers that like to nestle in for a long nap, this bed gives the perfect opportunity for comfort and orthopedic support. 
Highlighted Features:
Bright colors and stylish design

Easy on the joints with great support

Simple to clean by hand

Lightweight and easy to move
Pros:
Low on the pricing spectrum

Provides cozy sleeping arrangement

Sufficient relief for sore joints
Cons:
Furry exterior can get damaged in the wash

Not suited for dogs who teeth and chew
Medium dogs are some of the most common pups in the world. This dog size is great for apartments and farm living, meaning they are diverse (and have needs to match).
Usually, medium breeds are fairly high energy and need to get their rest to avoid attitude issues. This high quality cotton model is made out of organic material and uses a cotton stuffing to keep shape over time.
This offers orthopedic support which is only improved with the rimmed edges for bolstering.
Highlighted Features:
Top-tier cotton material (exterior and interior)

Keeps shape well over time

Edges raise naturally for bolstering

Presents as a classic dog bed
Pros:
Hand sewn claw imprint

Significant safety features

Whole thing is machine washable
Cons:
Lacks memory foam

Not suitable for scratching and teething
Just like big breeds, medium sized dogs are not one size fits all. That means that you need a bed solution that accommodates your pups unique form. This is a great option since it comes in multiple different sizes, each made to suit a different breed.
For best results, whip out that measuring tape and get an idea of how large your dog is at present.
Leave some extra room for them to wiggle and wriggle during sleep and select the size from there. Fret not for orthopedic support, this bed covers it all. 
Highlighted Features:
Comes in many different sizes to accommodate your pup

Rectangle shape with raised edges for neck support

Offers skid resistance for safety of your dog
Pros:
Waterproof, removable cover for machine washing

Sherpa interior for comfortable fit

Works on all ages of pups (of medium build)
Cons:
Subject to wear and tear from cleaning

Doesn't resist chewing or scratching

Maybe you live in a cold climate or perhaps you reside in a basement suite. It could even be that your floors are concrete and absorb the cold. 
While this would not otherwise be an issue, if your pup is slim or recovering from surgery, this self-warming bed is incredibly helpful.
Great for dogs with immune issues (like those after an operation), it offers an incomparable warming experience featured naturally through the fabric.
Highlighted Features:
Self warming materials make sleep easy

The whole unit goes in the washer and dryer

Features a stylish design to enhance decor
Pros:
Easy to maintain

Fits small and medium breeds

Adds warmth to your pup
Cons:
Can be challenging to enter/exit

Limited orthopedic support
Best Orthopedic Dog Beds For Small Dogs
Small dogs are nothing if not energetic. To account for this need to move around, this bed offers a strong frame and sufficient space.
It allows you the liberty of placing your puppy's favorite pillows and blankets for orthopedic support.
The firm backing enables a lack of give that is friendly towards sore or stiff dogs.
Highlighted Features:
Waterproof base that is easy to clean

Aluminum frame resists damage from chewing

Great for antsy pups or dogs with extra energy
Pros:
Chew and scratch proof

Easy to maintain and simple to clean

Raised from the ground to avoid cold
Cons:
Lacks built-in orthopedic support

Difficult to get on and off for seniors

If your dog has a thick coat, then this is a great direction thanks to the incredibly breathable and lightweight material. 
Well-suited to elderly dogs prone to arthritis, there is a lot of orthopedic support thanks to the memory foam material.
Ringing in at an impressive 3 inches of thick support, this is great for small pups.
Highlighted Features:
Thick memory foam mattress for support

Removable microsuede cover 

Ideal for older dogs with joint damage
Pros:
Easy to maintain the cover

Provides a soft surface for sleeping

Well-suited to teacup breeds
Cons:
May not be enough space for some dogs

Actual mattress isn't washable

Cover may shrink with high heat drying

If you want to get your pup a really high quality bed yet remain frugal, this is an ideal choice.
Very cost-effective yet boasting orthopedic features and a unique design, this fun-forward sleeping set lets your dog live in luxury while keeping you well within budget.
Get all the advantages of orthopedic excellence without breaking the bank with this innovative sleeping setup.
Highlighted Features:
Works in all climates with micro mink fabric

Provides a good, nestled sleep for small dogs

High-quality filling for orthopedic support
Pros:
Cool in summer, warm in winter

You can machine wash the whole bed

Soft, soothing fabric

Low price point
Cons:
Doesn't have a non-slip bottom

Subject to wear and tear (shorter shelf-life)
This bed which comes in all different sizes is particularly well-suited to small stature, achy pups. The memory foam interior works to relieve pressure in the joints and helps fight aching bones.
Given it is made of a sturdy material, it avoids damage from scratching while still having a soft microfiber exterior.
Highlighted Features:
Prevents damage from scratching thanks to touch exterior

Tough and tear resistant for high energy pups

Has sufficient material to add orthopedic support
Pros:
Machine washable cover that resists water

You can easily dry this on a low heat

Features extra material for added support
Cons:
Can prove too spacious for teacup breeds

Doesn't stand up to chewing damage
Featuring the classic square design, this bed fits seamlessly into most rooms of your house and offers the ideal sleeping arrangement for small dogs.
It has an easy-to-use entrance and offers bolstered neck support on three of its sides. This is great for high-energy, clumsy pups (like mine).
Highlighted Features:
Soft material with an attractive design

Works both indoors and outdoors

Comfortable and highly portable
Pros:
Sufficient orthopedic support

Great for dogs to rest outdoors

Machine washable and dryable
Cons:
No non-slip safety features

Can't be bleached or dry cleaned
Why Your Dog Needs An Orthopedic Bed?
Depending on the breed and situation, your pup may be in need of extra orthopedic support.
Sometimes, it is a matter of relief after exercise or to soothe nerves. Other times, it is to speed the healing process after surgery or support the bones of a skinny dog.
It may even be a matter of arthritis due to age. Whatever the reason, there is a lot of demand for orthopedic support. 
Popular Read: 7 Correct Way To Bathe Your Dog
Comfort
Some dogs just aren't the best sleepers. It could be because your pup gets tired after that long excursion to the dog park.
It may be due to stress and anxiety. In any event, the orthopedic support provided by a quality bed can help them slip into a deep sleep more easily.
This works both to handle their aches with added time to heal as well as to let the stress and nerves roll away with some extra, quality zzzs. 
Relief From Surgery
Dogs have surgery for a wide variety of different reasons. 
I know that when my pup went under the knife, I was a nervous wreck and wanted to do whatever I could to lend help and support. One of the best things to do, as I discovered, is to give the dog an orthopedic bed.
Especially one that is antimicrobial and hypoallergenic (to avoid post-operative infections), these beds are helpful to providing pain relief and speeding up the after surgery healing process. Your pup is bound to feel tired and worn out after the process and this is a great way to show that you care.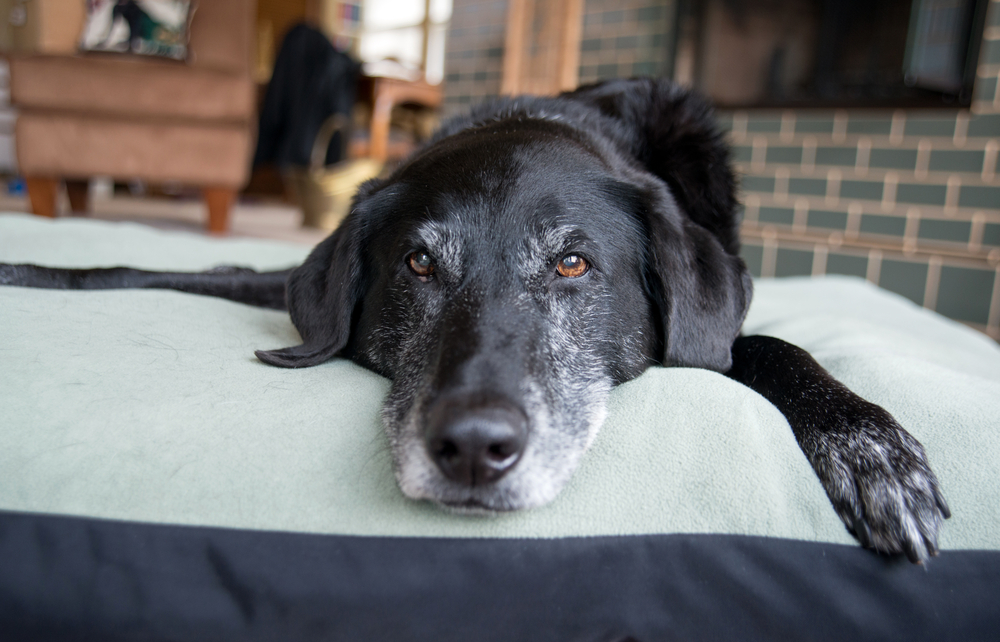 From: Greymuzzle.org
Great For Senior Dogs
Whether it is arthritis or hip dysplasia, senior and elderly dogs are far more prone to joint damage. Of course, we do what we can in terms of diet, but what else can us pup parents really bring to the table?
The easy solution is an orthopedic dog bed. Usually made out of memory foam, these beds offer significant support to the joints and assist in soothing pain and aches.
When you find a model suited best to your dog's size, you give the the advantage of an easier sleep and more comfortable resting area. 
Support For Slim Dogs
Whether it is due to a health concern or just the way your dog was born, some pups are just slimmer than others. It can be a matter of breed or metabolism, but nonetheless it means there are some extra things to consider.
Without a layer of fat and muscle protecting their frame, bones get sore – quickly. This means that simply laying on a mat or hard surface will add pain and put your pup into a bad mood (not to mention potential orthopedic damage).
Avoid this by choosing a bed with sufficient support for your dog's size (and weight).
From: Sciencemag.org
Important Factors To Consider While Buying Orthopedic Dog Beds
Whenever you invest into a product, you want to understand what you need from the item to get the best bang for your buck. The parameters are diverse, ranging from size to filling, waterproof features to ease of maintenance.
For best results, identify what your values are and proceed from there.
Read: What To Watch Out For In A Great Pyrenees Bed?
Bed Size 
If you have a Greyhound, you don't want the same size of bed as a Chihuahua. It sounds pretty simple, right?
That said, often pet parents want to either keep their dog cozy in a smaller than necessary bed or give enough room for movement in a bed too large for their dog. 
In truth, when you find the properly sized bed, your dog has an easier time finding comfort and gets to sleep faster. Identify whether your dog is small, medium, or large, and choose a bed accordingly. 
Bed's Height
Depending on your reason for the orthopedic dog bed, you want to make sure it is sufficiently low to the ground. Pups who are recovering from surgery or have serious joint damage especially benefit from this consideration.
Instead of having to leverage themselves in and out of bed every time they have to move (or eat and drink), it is easier to enter and exit the area.
This prevents adding to joint damage and hurting the pup's spirit. 
Bed's Thickness
Especially when it comes to slimmer dogs, the bed's thickness really counts for a lot. Skinny dogs need the extra plush to support their joints, and the best way you can offer them this is with a thicker mattress.
As for dogs with joint damage, it is less of a matter of thickness and more of an issue with filler quality. Of course, if you have a large dog, make sure the bed is sufficiently thick so that when they lay down, they don't just sink down to the floor.
For medium sized dogs, this is somewhat less of an issue. 
People Also Liked: 25 Smart Ways To Make Dog Beds By Using Tires
Filling Materials 
When it comes to filling materials, quality and purpose are everything. Chances are you are getting the pup bed for comfort, so to make that easier to reach, find a filler to suit your needs.
These range from polyester blends to straight cotton to various different types of memory foam.
The last on the list is a crowd favorite, because it is better at withstanding wear and tear and has proven to stand the test of time. Also, it is famous for the orthopedic support it offers to your much loved dog. 
Durable And Long Lasting
You want the bed you choose to withstand the elements. Yes, that means chewing and scratching – especially if your dog is prone to these habits. This means sourcing a durable liner and a zipper that they can't get too mangled, even when they try.
Long lasting means that, even when it gets cleaned and moved and stepped on, the bed holds up to the elements.
Choose options that are made of quality materials and suit your individual dogs for the best results in your pursuit. 
Waterproof
Especially when you have an elderly dog, or one who has just started the surgical recovery process, you want to spring for the waterproof features. 
Often, this looks like a removable cover that resists spills (and urine). It means that, whether there is slobber or spills, you can easily wash the bed, get it dried and return it to your pup in one piece.
It also adds to their comfort – no creature likes to lay down on a damp surface, and waterproof beds prevent any wetness from seeping into the interior.
Learn More: Why You Should Buy An Outdoor Dog Bed For Your Dog?
Ease of Clean and Maintenance 
This feature (of course) will matter more to you than to the dog. Nonetheless, they will appreciate the clean and fresh experience of the bed each time they lay in it. To make your life easy, choose an option that can easily get wiped down between washes.
Select something with a removable cover that you can toss into the washing machine and dryer (without risking shrinkage).
Sometimes, there are even options that let you throw the whole bed into the washing machine for the ultimate experience of ease.
Did You Find Your Dog's Orthopedic Bed Today?
Now that you know what to look for in an orthopedic dog bed, you can easily keep your pup comfy while keeping your decor stylish and chic. 
Of course, these were all good options, but the clear winner is the Furhaven Pet Dog Bed With Cover It all comes back to getting that key level of support that our beloved puppy pals need.
That said, your dog has unique needs and the best thing you can do is keep that in mind when you seek out their perfect sleeping situation.
Further Readings
Other Puppy Adoption Related Topics
1. 66 Tips For New Puppy Owners
2. Buying Guide For French Bulldog Dog Beds
3. Best Dog Beds For Border Collies
4. Waterproof Dog Beds For Puppies & Older Incontinent Dogs [That Pee]
5. Top Dog Beds For Boston Terriers
6. Choose Dog Beds For Anxiety