If you are in a hurry and just want to find out what the best dog bed for Doberman Pinscher is, then we recommend the Furhaven Pet – Plush Cradle Orthopedic Dog Bed as the best one.
The Doberman Pinscher is a good dog with a bad reputation. People are reluctant to adopt them and other black furred dogs because they look "scary". The truth is, they are no more aggressive than any other breed and fur color is only so much melanin that has nothing to do with behavior.
The breed's background doesn't help their reputation. They were bred by a German tax collector looking for an animal for protection.
In World War II the U.S. Marines were accompanied by Dobies in the Pacific theater where they were admired for both courage and loyalty.
The truth is, Dobies are an affectionate, playful and intelligent breed. They can be a bit sensitive to less than ideal situations, however they are easy to train and eager to please. They are not vicious by nature but will steadfastly defend what is there.
They are a hefty breed and will need lots of exercise but they are very easy to groom with their smooth coats that shed minimally. The traditional cropped ears and docked tail are falling out of fashion due to being recognized as unnecessarily cruel and is even illegal in some places.
Dog beds for a Doberman have to be large and comfortable. Here are some of the better models plus some important information.
In this article, we're going to review the following beds for Doberman Pinscher dogs:
Furhaven Pet – Plush Cradle Orthopedic Bed (Overall Best Dog Bed For Dobermans)
Bagel Pet Bed By Majestic Pet Products (Best Dog Bed For Doberman Puppies)
Big Barker 7″ Pillow Top Orthopedic Bed (Best Premium Bedding For Dobermans)
Best Friends By Sheri Calming Shag Donut Cuddler (Best Bed For Senior Dobermans)
MidWest Homes For Pets Deluxe Super Plush Bed (Best Doberman Beds For Crates)
PetFusion Ultimate Dog Bed With Orthopedic Memory Foam (Best For Dobermans With Joint Problems)
BarksBar Gray Orthopedic Dog Bed (

Best Affordable Orthopedic Bed For Dobermans

)
Aspen Pet Self Warming Beds By Petmate (Another Best Bed For A Doberman Puppy)
Petmate Aspen Oval Dog Bed With Bone Applique (Best Budget Bed For Doberman Pups)
From: StopMyDogShedding.com
What sort of beds do Dobermans like?
The Doberman is an active breed, but even active dogs like to sleep sometimes. They are big dogs, so logically you will need a big bed, even if Fritz likes to curl up to sleep.
This active breed may toss around in their sleep so a non skid bottom is a real plus. They tend to exercise their chompers and some have a "nesting" instinct so you will want something chew proof.
Dobermans are easy to train. But little puppies have accidents and older ones might have control issues so you may want to look into waterproofing if Fritz has some bladder control issues.
Read: Why Does My Dog Lick Bed?
What kinds of beds are best suited to Doberman Dogs?
Get the extra large size. Fritz is a hefty boy weighing between eighty-eight and ninety-nine pounds. His sister Gretchen is no pixie herself. She can weigh anywhere from seventy-one to seventy-seven pounds.
If your Dobie is just a puppy, you want something he can grow into. The extra large bed should be somewhere in the neighborhood of thirty-five inches by forty-five inches.
These breeds tend to develop joint problems so something like memory foam would make a good material.
What should you consider while purchasing a bed for a Doberman?
When buying a bed for any dog there are many factors to consider. Dogs in general are slight sleepers but that is especially true of the alert Dobie. They need something very comfortable. Dobies like to stretch out when they sleep, so you'll need a big bed.
If your dog likes to nest or chew you'll need something durable. Will it need to be in a crate? Do you need something easy to clean? Will getting in or out of the bed be an issue? If you know of a pet supply store that allows pets inside, bring Fritz along to pick out a bed.
The Age of Your Dog
How old is your dog? Do you have a puppy, a senior or something in between. Puppy beds must have room to grow into but the walls must be low enough for the puppy to climb into bed.
Since Pupper is still being potty trained, it must be both waterproof and washable. Some will have a little pocket you can tuck a ticking clock in to comfort Pupper. Older dogs don't like drafts so they might like a raised bed.
Learn To Read: At What Age Do Puppies Grow The Most?
Your Dog's Sleeping Style
If your dog likes to sleep on his back, he's probably trying to cool off to get comfortable enough to sleep. Dogs will only take such a position if they feel completely safe and comfortable, so good on you for providing a healthy environment.
Dogs that prefer to curl up might feel more secure with a lounge bed with sides.
Level of Activity of Your Dog
A Doberman is a very active dog. Fritz may be tired from running around, chasing sticks and squirrels all day and is ready to just collapse into bed. 
Dogs don't make a habit of showering before bed so you might want something with a removable and washable cover so you can clean the bed easily.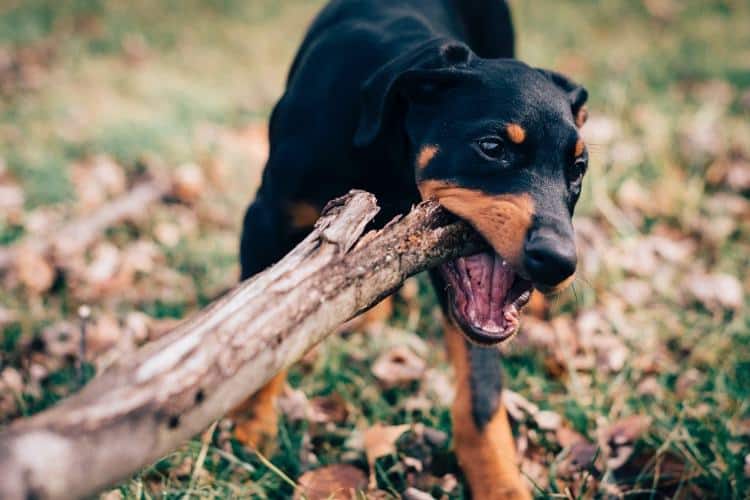 From: PetLifeToday.com
Look For Chew Proof Material
Puppies that are still teething and dogs that are frustrated or anxious may do a lot of chewing. Dobermans are well known for their sharp teeth and powerful jaws. A well adjusted one will rarely turn these on a person, but they may gnaw on something to relieve nervous energy. 
There are beds made with chew resistant materials so you won't come home to see foam tossed all over the place.
And Memory Foam Filling
These big breeds have a tendency towards joint problems such as hip dysplasia and arthritis. Memory foam can be very soothing to the joints.
Memory foam was invented by NASA so astronauts could sleep well. It was then used for people in hospitals with muscle problems so your dog is sure to love it. It provides good support with superb pressure relief.
Plus a Non-Skid Bottom
Dobermans are very active dogs that might have some trouble getting comfortable enough to wind down and get to sleep. 
Your Doberman may even toss around in his sleep. (Perhaps he's dreaming of chasing rabbits.) If your floors are not carpeted, the bed may skid around if it does not have a non-skid bottom.
What Qualities Should You Seek Out to Find the Best Bed For Your Dobermans?
It can be difficult to find much of a variety of good quality dog beds for large breeds than it would be for smaller dogs. Many of the better ones are thick and made out of memory foam in order to offer your dog a sufficient amount of cushioning against a hard floor.
There are other factors you want to consider when in the market for a bed for a Doberman. Let's explore them.
Your Dog's Body Size
Size is of the utmost importance. If the bed is the wrong size, nothing else matters. Measure your dog's size and add four to six inches to get a good idea of the minimum size of your dog's bed.
If the bed is the right size your dog will feel secure and cozy enough to sleep in it.
Odor Resistant Material
There are some issues that might come up when you have a dog. Handling an overwhelming odor is definitely one of them. The worst thing about having a doggy smell in your home is that you get used to it after a while.
A popular air freshener commercial describes this phenomenon as "nose blindness". When someone comes into your house and asks about a strange odor, it can be embarrassing.
Anti-Allergy Material
Dogs can have allergies and skin sensitivities just like people. Seasonal allergies can occur during spring or summer and can be the result of mildew, dust mites and mold spores.
Regular dog beds can exacerbate the situation as they tend to house those allergy causing agents. Consider a dog bed made with hypoallergenic material for an allergy free environment.
Check: How Can I Help My Dog From Allergies?
Features for Cooling Down
Even though a Doberman's coat tends to be dark, it is also rather short, dense and smooth. They don't have much of an undercoat and their body tends to be leanly muscled with little fat.
They handle heat better than they handle hold, however they have their limits. If Fritz sleeps on his back a lot, he feels overheated.
Memory foam is not only comfortable, it does not overheat.
Waterproof Material
Dobermans are smart and eager to please so it's fairly easy to get them potty trained. However, little puppies who are still learning can have accidents.
Senior dogs might be incontinent. Some poor dogs have psychological or physical problems that give them incontinence problems. If your dog can't really control his bladder, you need something made with waterproof material.
This will make the bed more hygienic and it will last longer.
Resistant to Hair Build Up
A Doberman does not shed much. However, regular brushing is necessary to keep the coat shiny and healthy. 
They do shed some in very hot weather. The dog spends a lot of time lying in their beds, so this is where most shed fur is going to go.
Easy to Clean
You of course want a bed that's easy to clean. Whether that means taking it out back and turning on the hose or better yet just stuff it in the washing machine you want this chore taken care of easily.
Cozy and Comfortable
And last, but not least, the bed must be cozy and comfortable. If your dog would rather have the shipping box than the bed it came in, it's a waste of money.
A Dobie needs a bed that's big and soft. Some like bolsters and some don't. Just make sure it's something Fritz would like to spend the night plus the odd nap in.
Best Dog Beds For Adult & Senior Doberman Pinschers
Here are the fifteen best beds for adult and senior Doberman.
Treat your best friend well with the Furhaven Ultra Plush Faux Fur Ergonomic Luxe Lounger Cradle Pet Dog Bed! It has both form and function that any dog would find inviting.
The bed's contoured design offers the best in maximum orthopedic support for the hips and back. Your pet will be cradled in ultimate ergonomic comfort and ameliorating physical strain.
The open design offers your pup enough room to stretch out and snooze. The contoured form factor enhances their sleeping comfort. The surface is plush and soft. The solid orthopedic foam base is thick and dense, delivering both insulation and sturdy comfort.
It comes in twelve colors that should suit any decor. The bed cover is machine washable.
Pros:
It is easy to clean.

It has orthopedic support.

Should the worst happen, the covers are replaceable.
Cons:
It's not good for chewers.

It has a seventy-five pound limit. Might be fine for a petite female or senior who has lost a bit of weight.
>> Check Price Now <<
The Big Barker is not an ordinary pet bed, it is an extraordinary pet bed. Ordinary dog beds might look nice and they might even refer to themselves as "orthopedic" or tout that they have "memory foam" but they don't feel like you'd expect any bed to feel.
This is designed to keep dogs restful and healthy for years. An extra large is recommended for Dobies. It comes in four different colors. Foam will keep shape and won't flatten.
It is easy to clean. It is comfortable and provides joint relief and plenty of support.
Pros:
It is very sturdy and supportive.

The cover is easy to clean.

It keeps its shape for a very long time.
Cons:
Puppies might find it too stiff. This is for big dogs.

It is not durable enough for diggers.
>> Check Price On Amazon <<
The Hero Dog brand is focused on offering the best quality pet products. Every pet parent knows what their pet needs and what kind of products are best for them.
This and every other product of Hero Dog has been put through more than five months of designing and testing. Treat your pet as one of the family and provide them with the best.
This large dog bed is slip resistant and durable. The orthopedic crate bed features durable plush fleece that is not easy to break. It is supportive and comfortable. The anti-slip, non-skid bottom prevents moving and shifting about on hardwood floors. 
It is machine washable. It is suitable for crate use. It comes in dark shades of red, grey, blue and brown.
Pros:
The velour coating makes a soft texture.

It is easy to clean.

It is portable.
Cons:
It's a bit on the thin side.

There is no bolstering
>> Check Price On Amazon <<
If you want to spoil your Dobie buddy, this plush, tufted and fully stuffed QuiteTime Deluxe Ombré Swirl Pet Bed by MidWest Homes for Pets is the ultimate in pet comfort.
This pet bed is available in multiple sizes that are ideally suitable for just about any breed of dog. Either the forty-two or forty-eight inch model would be good for a Doberman.
It is ultra soft and suitable for use in a crate. The neutral gray goes with everything. It is machine washable. The thick, tufted cushion comes with a non-skid bottom so that it is both comfortable and stays in one place.
Pros:
It is fabricated from very soft polyester fiber with a tufted fur-like outside covering.

It comes with a non-stick bottom.

The whole thing is completely machine washable.
Cons:
It goes flat easily.

It may have a hard time keeping shape after washing.
Who says shag is dead? This big, fluffy ring is a dog's dream. The jumbo size comes in a forty-five inch diameter and can hold pooches up to 150 pounds. It's soft, comfortable and secure. The faux fur provides a fluffy texture that Fritz can easily snuggle into. It's not only soft but durable enough for dogs who like to do a little nesting before they settle down.
It has a round shape with a raised rim to make your dog feel secure. It's soft and furry, great for burrowing. The zippered shell is removable. It is made with durable nylon and luxurious faux fur.
The backing is dirt and water resistant to keep your floors clean. It comes in frost white and taupe, whichever would suit your decor best.
Pros:
It is machine washable.

Great for dogs that like to sleep warm.

It's very cozy and comfortable.
Cons:
It's not good for chewers.

The center is not as cushiony as the rest.
For the past decade Utotol has produced pet beds and other accessories. High-Quality goods and an excellent customer experience is a trademark that Utotol continues to strive for. They do their very best to make every dog rest and sleep soundly and bring delight to their owners. 
The material is high quality PP cotton with extra filling cotton so that the large pet bed keeps shape over time.
The raised rim edges deliver strong support for dog heads like pillows. The faux plush fur is soft, warm and comfortable to rest on. The non-slip bottom keeps the pet bed in one place while protecting the floor.
Pros:
It is machine washable.

It looks nice.

It is warm and comfortable.
Cons:
It's a little on the small side.

It is not for chewers.
>> Check Price On Amazon <<
The PetFusion ultimate dog lounge was specially manufactured with a number of great features in mind with an aesthetic, up to date touch. That feels like it belongs in your home.
Optimum materials, top of the line construction and clever features set the Ultimate Dog Lounge apart from the rest and deliver supreme value for your money. A solid four inch memory foam base makes for supreme overall comfort, reduced joint pain and improved health, mobility, & energy.
The recycled 'green' support bolsters are filled generously. It is made from a durable and comfortable polyester and cotton twill. The base and bolsters provide premium support and security. It has a water resistant and tear resistant cover.
There is a non-skid bottom. It blends in easily with your home. Replacement covers are available separately.
Pros:
It is durable.

It is easy to clean.

It is water resistant.
Cons:
The bolster pillows are not washable.

The zipper is a bit faulty.
>> Check Price On Amazon <<
Here's an affordable orthopedic bed that is of great quality. It's cottony soft and the orthopedic foam is human grade so it's certainly good enough for your dog. The bolsters are thick and contoured perfectly for a dog's neck. Your dog may love this even more than your couch!
The Ultra Soft Polyester Cover has a luxurious quilted design. The four inches of Solid Orthopedic Foam base provides premium balance of comfort, reduced joint pain and improved health and mobility.
It has an extra comfy cotton padded rim cushion to perfectly contour to your pet's neck. The sleek and luxurious quilted design can be a credit to any family's home decor.
It features a built-in non slip rubber backing on the bottom side of the cover to prevent any sliding on uncarpeted floors.
Pros:
The zippered cover is removable and machine washable.

It can be easily vacuumed for spot cleaning.

It is soft and comfortable.
Cons:
Some nesters have been able to claw through it.

The bolsters flatten easily.
>> Check Price On Amazon <<
This luxury premium Orthopedic Dog Bed features a thick ergonomic memory foam mattress and padded bolster pillows for head support. It was designed in London and manufactured with only the finest materials. The faux suede design is elegant enough to fit perfectly with any home decor.
The bed is made with high quality memory foam with thick padded bolsters. It is easy to keep clean and delivers protection for interior bedding from incontinence.
The inner bed is portable for taking on trips in the car. It is non skid and the zippers are all YKK plus it is rip resistant when fully assembled. It is suitable for dogs up to ninety-five pounds.
Pros:
It is easy to assemble.

It's great for dogs with joint problems.

The cushy material is high quality.
Cons:
It takes a while to lay out completely, about twelve hours.
>> Check Price On Amazon <<
Here is a good looking plush covered bed that lives up to its name. It is stable, made with top quality materials and treated with an antibacterial. The spacious sleeping platform and sturdy bolsters encourage a warm and comfortable sleep. It even comes with a bone shaped squeaky toy!
The solid Memory Foam base molds perfectly to your pet's body for ultimate comfort. The memory foam uses flame retardant material. The bottom material features a built-in non slip rubber backing. The inner cover is ideal for puppies and senior dogs with occasional accidents. The fabric provides superlative warmth and comfort.
The bolster is both big and fluffy which is not only relaxing but breathable with good resilience.
Pros:
It's soft and comfortable.

It is easy to clean.

It is made with top quality materials.
Cons:
The fluff sheds easily.

It is a bit on the pricey side.
Give your dog the lift he needs with this orthopedic support of a patented and comfortable chew proof dog bed. 
This is a bed made with a high strength, rustproof and lightweight aircraft grade aluminum that will withstand the roughest of dogs, be they indoors or out.
The aluminum frame is lightweight and chew proof. It is easy to clean. It comes in four different colors. It can hold up to 250 pounds of dog flesh.
Pros:
It is easy to assemble.

It is easy to clean.

It is absolutely chew proof.
Cons:
Some assembly required, but it isn't difficult.
>> Check Price On Amazon <<
This bed is not only comfortable but hard to tear and easy to clean. The Dogbed4less delivers the best material for comfort, durability and support as well as. It is very easy to clean cover that should fit right into your home. 
The stuffing is a mix of new premium poly-fill and shredded polyurethane foam for ultimate resilience. It features a breathable waterproof interior cover to secure the stuffing plus a hardy nylon fabric external cover in seal brown color along with extra stitching to lengthen the life of the bed.
The cover is removable and washable. The nylon cover is resistant to light scratching, water, hair, dirt, and odors. The six inch thick overstuffed insert will support your medium to large dog up to 80 pounds. The bottom is non skid.
Pros:
It has plenty of room to stretch out.

It is waterproof.

The memory foam is comfortable.
Cons:
It is not chew proof.

The interior is not easy to clean.
K9 Ballistics has built the Tough Rectangle Orthopedic Dog Bed to not only be chew resistant but scratch resistant and to be a remarkably durable orthopedic dog bed. 
The orthopedic mattress delivers support for arthritic dogs and for dogs who might experience joint problems later in life. It's also good for the dog who just deserves an incredibly supportive orthopedic foam dog bed.
It's an almost indestructible dog bed and is also machine washable. It comes in thirteen different colors. It uses CertiPUR-US foam which keeps its shape. It is comfortable and plush.
The fabric is machine washable and easy to clean. The dog bed cover is resistant to dirt, grime, and odors.
Pros:
It is very durable.

It is easy to clean.

It is waterproof.
Cons:
The cover is removable but does not come off easily.
This comfortable and easy to clean bed comes with a nice extra. In reference to the beloved Hans Christian Anderson tale "The Princess and the Pea", the bed comes with a green squeaky ball and a little paper crown. 
It's just what your little Sleeping Beauty needs! The therapeutic gel memory foam comforts your dog by easing body aches and pains. 
The zippered cover slides off easily for convenient cleaning. It comes as a vacuum packed bed in a box; you simply unzip it and let it inflate for up to seventy-two hours. The neutral grey color goes with anything. The mattress is memory foam.
It comes with two long bolster and two short bolsters.
Pros:
It is water repellant.

It is machine washable.

It is relatively chew proof.
Cons:
The largest size would only fit a Doberman on the smile side who likes to curl up.

It's durable, but not very soft. An active sleeper might make some noise turning over in it.
Your hard working dog needs a place to rest. This bed is fabricated out of the same durable material Carhartt uses on their jackets and bibs but with a broken in from the start.

It's well known that dogs get dirty which means their can beds get dirty too. This is why this particular bed has a washable shell that's very easy to remove. The exterior shell in twelve ounces of firm hand cotton duck canvas for durability plus a water repellent coating. The waffle constructed interior cushion allows the polyester fill to stay in place.
The washable shell has a fully removable polyester fiber filled cushion. The extra wide YKK zipper is hidden under the zipper flap.
Pros:
It is very durable. Even nesters can't break this.

It is water repellent.

It is easy to clean.
Cons:
Claw proof, but not chew proof, it seems.

Could use more padding.
>> Check Price On Amazon <<
Best Dog Bed For Doberman Pinschers Puppies
Beds for Doberman puppies can be a little small, but your puppy will likely outgrow it. A bed that is too big for a puppy may encourage wetting accidents.
It is very important that it be chew proof and waterproof until Pupper stops teething and learns some self control.
Comfort is the number one concern when taking care of dogs, no matter their age or size. A pet parent's greatest wish is for their dog to stay healthy and increase their longevity. And that's why Majestic Pet offers a super comfortable round pet bed that is not only comfortable but durable. It comes in seven different colors.
The base of round bagel bed is made out of waterproof 300/600 Denier. It is filled with a premium High Loft Polyester Fil and is fully machine washable.
The bolster on the pet beds lets dogs rest their head and helps them straighten their spines.
Pros:
The fiberfill helps the bed keep its shape.

There are nooks and crannies to cuddle in.

It's great for nesting and burrowing.
Cons:
Does not have the structure necessary for old joints.

The material is a bit noisy.
>> Check Price Now <<
Here is a bed that is not only comfortable and durable, but cute as well. There are many colors available, including baby pink and blue. If you get the gift box, it comes with a bone shaped pillow, a blanket and sweater to keep the Pupper extra warm and comfortable.
The medium bed holds up to eleven pounds. This lounge bed provide is designed like a sofa so that it is a cozy and soft place for your pet to rest and relax.
It is made with a thick microsuede fabric that is scratch resistant. It is completely filled with recyclable eco-friendly microfiber making it the perfect blend of comfort and durability.
The cover is removable and machine washable. The zippers are durable.
Pros:
It is very chew resistant.

It is plush yet firm.

Even the toy bone it comes with stands up to chewing.
Cons:
It is not easy to clean.

Hair gets trapped easily in it.
>> Check Price On Amazon <<
The Aspen Pet Bolster Orthopedic Pet Bed delivers comfort tailor made to small and medium pet breeds and elderly pets as well. The elevated pet bed's bolster suede walls are stuffed with recycled high-loft polyester for a cushiony comfort. 
What's more, the orthopedic foam sleep surface cushions joints and aids puppies in settling in for a cozy night's rest. The soft plush lining and bolster encourages pets to cuddle. The orthopedic foam allows for joint support for supreme comfort.
The exterior unzips for ease in machine washing. It comes in neutral colors to match any decor. It is filled with a lightweight poly fiberfill.
Pros:
It's a very comfortable bed with lots of cushioning..

The sides are sturdy.

It is lightweight and portable.
Cons:
The sides are a bit high. Clumsy puppies may trip over them. (The larger sizes have a lowered entrance.)

No memory foam.
>> Check Best Price Now <<
You will love the eleven unique patterns this bed comes in. Your pup will love the warmth and comfort one only gets from a mattress filled with gel infused memory foam and density foam.
You will also love that it's waterproof! It also holds up to chewing, nesting and digging. Perfect for active puppies. The completely cotton cover has decorative piping and a covered zipper.
Said cover is removable, pre-shrunk and machine washable. Replacement covers can be purchased separately.
Pros:
It is waterproof.

It is easy to clean.

It is very durable.
Cons:
The construction feels slipshod.
Yes, it's a pup tent. Let's get the puns out of the way. Little puppies who like to hide will particularly like this design. The interior is lined with ultra soft poly-foam.
The tents are fitted with a mega plush pillow plus the whole thing provides a cozy room that your pet will just love. It comes with soft poly-foam lining and sturdy fabric. The neutral colors fit any decor.
The tent is machine washable and will not stretch out of shape. It can be utilized as a soft crate. An anti-skid base will keep it in one place.
Pros:
The design is great for pups who like privacy.

It is durable enough to stand up to burrowing and nesting.

It is easy to clean.
Cons:
The stitching doesn't hold well after washing.
Purchasing a bed from Animal Planet not only helps your dog but lots of other animals too. A portion of proceeds from the sales of these items benefit R. O. A. R (Reach out. Act. Respond.) a charity dedicated to making the world a better place for animals.
This sofa style bed with a soft, supportive foam core will give your dog the restful sleep he needs. This pet bed is in a three-bolster design that lets your puppy sleep in a variety of positions that promote a deeper sleep.
There's ample headrest space plus cozy corners for nestlers to burrow into. The two inches of orthopedic memory foam conforms to your pet's shape. The removable cover is machine washable.
Pros:
It is very plush and comfortable.

It's easy to clean

The bolstered sides make the puppy feel secure.
Cons:
It's a little flimsy.

The fuzzy bits tend to shed easily.

Aspen Pet's Self-Warming Corduroy Pet Bed comes with heat-reflecting technology that helps your dog stay warm and cozy. It is designed with the same kind of material that is found in Mylar space blankets.
This heated pet bed reflects the dogs' body heat in order to radiate warmth with absolutely no electricity required. This large round dog bed comes with a Mylar interior layer that reflects dogs' body heat to offer comfort and warmth.
Non-skid bottom is ideal for tile and hardwood floors. The bed is lightweight. 
The comfortable faux lambswool pet bed for dogs is made specially with plush sides for pets who like to burrow. The exterior is sturdy corduroy.
Pros:
It is machine washable.

The interior is very soft and comfortable.

It will keep the puppy warm.
Cons:
The cushion makes a crinkly noise.

The bottom is slippery.
>> Check Best Price Now <<
This round orthopedic bed is totally padded and comes with an extra plushy surface and memory foam to aid in supporting their neck and head. This particular pet bed features a very stylish design and the plush walls make a cozy space for supreme comfort.
The high walls will help your pet feel safe and secure. The orthopedic memory foam chip cushion is very comfortable and will not flatten over time. The extra soft plush, the wraparound design and deep walls offer warmth, comfort, and support making it great for puppies with anxiety issues.
 The durable linen will last a long time. The materials are soft and nontoxic and machine washable.
Pros:
It's very cushioned and comfortable.

It is durable.

It is easy to clean.
Cons:
It's a bit small. A Doberman puppy will outgrow it rather quickly.
>> Check Price On Amazon <<
Some people equate beige with boring, but as it's a bed it may evoke feelings of calm restfulness. Dogs don't see colors the way people do so it hardly matters anyway. Your puppy will be much more entranced by the soft and fluffy texture of the interior. This model from Animals Favorite could surely help your puppy get the deep sleep she needs.
It has an anatomic design with a high and comfortable rim for puppies to rest their head. It is easy to clean with smooth fabric and plenty of filling on the bottom for the utmost support and comfort.
The raised sides aid in reducing drifting. It stimulates the nesting instinct many puppies have.
Pros:
It is very soft and comfortable.

It has a non skid bottom.

It is machine washable.
Cons:
It only comes in beige with a paw print and bone decoration.

Not for puppies heavier than twenty five pounds.
This bed promises a deep and luxurious sleep for your dog. The orthopedic memory foam aids in the relief of pressure points and two inches of high-density base foam delivers just the right amount of support.
This pet bed offers a soft and comfortable place for your little pal to rest and sleep. It comes with one inch of memory foam and two inches of supportive foam. The plush micro-sherpa top makes extra warmth and coziness for your pets to cuddle in. It is durable enough to survive chewing and clawing.
Non-slip rubber dots on the bottom make the dog sofa bed good and stable. It does not stain easily. The hidden zipper on the cover is engineered to better protect and clean the dog bed easily.
Pros:
The largest model can hold up to sixty pounds. One user claims a ninety pounder still uses it.

It is very soft and comfortable.

It keeps the dog warm.
Cons:
Some dogs find it a little too warm.
If you are tired of dull neutrals and want something truly unique, this is for you! You can personalize this mat with your puppy's name. Even after Gretchen outgrows it (if she does) you can still have a little reminder of her puppyhood days.
The largest size available is forty-two by twenty-eight inches and works well in a crate. This reversible bed is fabricated from high quality fleece and is stuffed with plenty of fill to offer a comfy sleeping spot.
The thick hand customized cushion is soft. A total polyester fill cushion delivers superior support beneath your pet's body and is particularly soothing for stiff joints.
Pros:
It is reasonably priced for something personalized.

It is lightweight for ease of travel.

It is machine washable.
Cons:
Personalization means no refunds.

It's not as durable as it could be.
You can keep your fuzzy little friend both content and comfortable with the AmazonBasics Self-Warming Pet Bed. It is perfect for dogs that are young and small. 
This bed delivers a luxurious feel and a subdued look that fits in seamlessly with your present home decor. It is made with similar technology to self-warming mylar "space blankets". It effectively holds in and reflects your dog's body heat.
The interior is coated in faux sherpa fleece and supple corduroy. It is like an electric blanket without electricity.
Pros:
It is well constructed.

It will keep your puppy warm.

The bed is soft and comfortable.
Cons:
The cover is not removable.
Here's something that looks like a cute little bassinet. If you want something soft and cute for your furry little baby this could be the very thing. This colorful little igloo comes in baby pink and baby blue or gender neutral stripes, post modern food themed graphics or bohemian pattern if you'd rather. 
It is made out of quality cotton fabric such as PV fleece and 7D PP cotton padding. It is soft, comfortable, warm and eco-friendly. The Oxford fabric affixed at the bottom creates an ideal non-slip and waterproof performance.
It is padded with 7D PP cotton, offering your dog a comfortable sleeping experience. The inner pad is easy to remove and wash.
Pros:
There are no metal bits.

It's very softly padded.

It is easy to clean.
Cons:
The lack of steel frame means it can take awhile for a new bed to take on the proper shape.

Only holds up to ten pounds. Only the smallest of Doberman puppies could use this.
Over ten years of experience in the pet industry and constantly listening to their customer's needs has aided Hollypet in designing this wonderful pet bed. 
This is recommended for use indoors or outdoors. It will deliver to your darling pets a cozy home and allow your puppy to enjoy the fun of a full day of play.
It comes in six color patterns. It is made with Terylene/Cotton fabric and high elastic foam making it very soft and warm. It is lightweight and portable. The plush fabric delivers optimal comfort for your pet. It is surface washable.
Pros:
It is durable.

It is breathable, yet warm.

It is soft and comfortable.
Cons:
There isn't much support.
This whimsical, overfilled QuietTime Reversible Paw Print Pet Bed by MidWest Homes for Pets could be the ideal pet bed for you and your pampered pooch. It features a blue top with fun paw prints and a cream colored faux-fur bottom to keep your fluffy pal extra happy.
The faux fur is extra soft. It is machine washable. It can be used to entice your dog to enter the crate. It comes in various sizes. The 42 or 48 inch is recommended for an adult Doberman. The 22 or 24 inch might suit puppies up to 25 pounds.
Pros:
It is very soft and comfortable.

It is easy to clean.

It can fit most standard crates.
Cons:
Not recommended for chewers.
Did You Find The best dog beds for dobermans Today?
It's a bit hard to choose one, but hopefully you could find the one for your Dobie. For me, the best dog bed is Furhaven Pet – Plush Cradle Orthopedic Canine Bed.
One more tip before we go. If your new pet bed smells a little weird. It was probably treated with a chemical to repel insects to keep them from nesting during transport.
If the smell is repellent to your dog as well, a cycle in the wash or a spritz of fabric freshener will fix that. Feel free to leave a question or comment below. Please share this article if you liked it.
Further Readings: