If you have ever perused the dog bed aisle at the pet store, you probably have noticed the large variety of dog beds to choose from. From simple designs to elaborate ones, to super soft beds to tough nylon beds, it can feel like a hard choice.
Then, when you add in the breed of dog you have into the choice making, there is a lot to consider! Certain beds are designed for specific breeds, even if the label doesn't tell you so. 
When it comes to finding the best indestructible dog bed for chewers, you have come to the right place. Let's take a look at some of the top ones!
In this article, we're going to review the following dog beds for Indestructible Chewers:
Which Dogs Need An Indestructible Dog Bed?
All dogs chew, but there are a select few who fall under the category of avid chewers.
Basset hounds, Terriers, Golden Retrievers, Bulldogs, Doberman Pinschers, Border Collies, and Australian Shepherds (just to name a few!) all love to tear, chew, and rip toys and beds apart.
While it is adorable to watch them go to town on a toy and throw stuffing everywhere, dog beds can be expensive and watching your pup chew them is horrifying!
It is like watching your money fly out of the window. This is why most dog will benefit from an indestructible dog bed.
Learn How To: Survive Puppy Teething
What Are the Benefits Of Buying A Chew Proof Dog Bed?
Chew proof dog beds are beneficial for a number of reasons. To start with, it will save you money in the long run, as you won't have to replace it often.
Also, your dog will enjoy chewing away on the bed while not destroying it and still have a place to rest every night!
Cleanliness
Typically, chew proof dog beds are crafted with tough material, such as ripstop nylon. Materials like this are easy to spot clean or machine wash, as the fabric almost acts like a water repellant.
If your pup is going to gnaw at their bed, you want to be able to wipe away saliva. A build-up of saliva means bacteria, and your dog deserves a nice, clean place to sleep.
Cost Effective
Purchasing inexpensive, destructible dog beds will run your pocket book dry sooner than later. An indestructible dog bed will save you money, as you won't have to replace it as quickly.
There are better ways to spend your money on your dog, such as with delicious treats and fun toys, than spending it on dog beds every month.
Proper For Puppies
Puppies love to chew anything…especially their beds! A tough, durable dog bed that will not succumb to razor sharp puppy teeth is key.
Chew proof dog beds are perfect for tiny puppies who see it as a jumbo toy, instead of a resting place. A great choice for puppies is a small to medium chew proof dog bed that they can grow into.
I always like to size up for puppies, if their breed is medium to large size. This way, you can save money and your puppy has a spacious bed!
Check: The Stages Of Puppy Growth
From: Dogtime.com
What Things To Consider Before Buying A Chew Resistant Dog Bed?
There are a few essential things to consider before buying a chew resistant dog bed. First things first, a water-resistant/chew resistant dog bed is ideal.
If your dog is gnawing at the bed for hours on hours, it is going to become soggy or lose shape.
Another consideration is finding a bed with either no zippers or hidden ones. This prevents any damage to the closures of the bed or risk of your dog swallowing a zipper.
Last, but not least, you should find a brand that has a great warranty, in case the bed is defective. Let's look at this in more depth!
Popular Read: Amazing Ways To Stop Your Dog From Destroying Their Bed
Durable Materials
Durable material is so important. If the material is not strong, it will not withstand chewing and tearing. Durable materials like ripstop nylon, mesh, and even natural fibers are great options.
The tag on the bed will always state what it is made with, so use your own judgement and read the label even if it states it is durable elsewhere on the bed.
Ballistic Nylon
Ballistic Nylon is designed for the highest of durability. This material is ideal because not only is it tough against sharp teeth, it is super easy to keep clean.
A fun fact about Ballistic Nylon that proves its strength is it was constructed during World War 2 to protect aircraft personnel from bullets and other ballistic impacts.
Canvas
Canvas is a light weight, heavy duty, and sturdy material. Beds made out of this material are also easy to spot clean, and can even be purchased in water-resistant models.
If you plan on using the dog bed outside where it can be damp, canvas is perfect because it can withstand water (if water proof).
Denim
Not only your blue jeans can be made out of denim… so can your dog's bed. Denim is more than just a popular fashion material.
Because of the woven nature of denim, it is almost impossible to destroy. Denim is not the most common material to find in pet stores, but it is out there – keep your eyes open!
Microfiber
Microfiber is a synthetic fiber that is tough and sturdy. This material can be found outside and inside the dog bed, providing maximum strength and support.
Microfiber is very easy to spot clean or machine wash, making this an ideal option for super chewers. Microfiber is very popular option that is easy to find in most pet stores.
Proper Size
A dog bed should never be too small or large, as this can be uncomfortable and also dangerous, in certain situations.
I always recommend sizing up but never more than one size. For example, if you own a small breed, try purchasing a medium size bed so that it offers a little more room.
A proper size dog bed will ensure that your dog is safe and supported while laying on it.
You May Also Learn: How To Choose Dog Bed For Boxer? 
Chew Proof Pillow And Memory Foam Beds
Pillows are comfy additions to dog beds, but they also pose as a high risk chewing hazard.
While this is fine, it is important that they are chew proof so that they last. Memory foam holds up very well to chewing, so it is an ideal option.
Moreover, it is soft and fluffy so it is gentle on your dog's teeth while he or she is gnawing away.
Your Dogs Sleeping Style 
Is your pup a side sleeper? Cuddler? Paws out?
Whatever their sleeping style is, it is important to consider it when finding a dog bed. There are many different shapes and sizes out there, and some are better suited for others.
Dogs who like to stretch out will benefit from a wider bed, while dogs who curl will benefit from a donut-style bed or round shape. Finding a bed that matches their sleeping style means a more rested slumber.
Easy To Clean 
Slobber, dirt, and food residue all end up on dog beds. The bed should be a clean and comfy place for your pup to sleep.
Therefore, purchasing a bed that is easy to clean is ideal. Fabric such as nylon, denim, and micro fiber are simple to spot clean or machine wash. This means, you can keep your pup's bed looking fresh and new no matter how much chewing he or she does.
Waterproof
Waterproof beds typically last longer and are easier to keep clean. If the bed itself is not waterproof and you love it, you can always purchase a waterproof cover to go over it.
Waterproof or water-resistant beds keep saliva from sinking deep into the material.
Not only that, if your pup gets overly excited when playing on their bed, sometimes pee accidents happen – this is where waterproof material is perfect!
People Also Liked: How Do I Train My Dog To Come When Called?
Warranty / Return Policies
Like with anything you buy, you should always look for a good warranty or return policy. This allows for you to buy with confidence, especially if the item is expensive. A high-quality dog bed will come with at least a 30 day to 1 year warranty or return policy.
Within this period of time, make sure your pup plays with it daily to see how it holds up.
On a side note, always read the return policy and warranty very carefully; you don't want to overlook any important details.
Best Dog Beds for Small Chewers
Created with super-strong rip-stop ballistic material, this bed is designed for light chewers. 
It is designed to stop gnawing, chewing, tearing, and poking. The donut shape of this product allows for different angles for your dog to chew. Additionally, your pup will find ultimate comfort and protection from the high bolster sides and pillow bottom.
This bed is perfect for cuddly dogs that enjoy to snuggle and curl while sleeping. When it gets dirty, simply toss it into the washing machine and it will come out looking brand new! 
Pros:
Made with durable rip-stop fabric

High quality design promotes safe chewing and maximum support for neck and spine

Contains no zippers for safety and comfort

Variety of sizes available for all kinds of breeds

 
Cons:
Expensive

Limited colors available
This adorable dog bed is perfect for light chewers. It is lined with soft faux Sherpa, which will keep your pup warm and cozy during slumber.
The front of the bed has a cute paw print embellishment. The exterior of the bed is tough suede; this is durable material to withstand gnawing and frequent biting.
Cute features combined with quality design make this bed a great option. 
Pros:
Very affordable

Comes in a variety of colors

Tough suede material protects against chewing

Filled with enough stuffing to provide a pillow-like bed

Machine washable

 
Cons:
Some dogs may find the Sherpa lining too warm, depending on the breed

Bolster support is not high
The Bark Box Memory Foam Cuddler Bed is perfect for small chewers. The inside is stuffed with therapeutic memory foam, providing support and relief to joints and muscles.
While the outside is crafted with durable fabric that is water repellant. Water repellent material means your small chewer can go to town on the fabric and you can easily clean it afterwards.
While this bed is not maximum chew resistant, it is ideal for weaker/smaller mouths that like to nibble at material rather than destroy it. 
Pros:
Affordable

Super comfy

Durable material is gentle on teeth but quite resistant to light chewing

30-day return policy on defective beds

Machine washable

 
Cons:
Crafted with durable canvas and stuffed with soft 100% cotton, this bed is an ideal option for light chewers. The canvas is water repellent which means easy clean up and no soggy messes.
What I like best about this Carhartt bed is it is comfy but sturdy, and comes with a quality design hidden zipper. This means, your pup won't be tempted to chew on a hazardous zipper. 
Pros:
Comes in a variety of sizes

Water repellant

Extremely durable

Comfy thanks to 100% cotton stuffing

 
Cons:
Slightly expensive

Limited color options
This ultra-soft dog bed is perfect for small pups who like to chew. It is constructed with micro-suede which works as a tough exterior, but still is soft to the touch.
Inside is lined with plush fill to promote a healthy and relaxing sleep. 
This company offers a 100% satisfaction guarantee on this product, which means you can be a confident buyer!
Pros:
Affordable

Comes in a variety of colors

Durable and easy to clean

Cradles your pup as they sleep

 
Cons:
Only available in size small

Bottom is not anti-slip
Let's face it – no matter how sweet our dogs are, they can get into mischief when left unattended.
Picture this, you buy a nice dog bed to go in a crate for your pup, and come home to find feathers everywhere with the bed in pieces. Heartbreaking, isn't it?
This ANWA bed is an extremely durable cushion that is stuffed with super soft cotton to make it 24 inches thick. The exterior of the bed is crafted with high-quality, hypo-allergenic materials. 
Pros:
Very affordable

Cozy but breathable

Low sides allow for easy exit and enter

Filled with soft cotton that is ideal for light chewers

Tested and won't lose shape in wash

 
Cons:
Not water resistant or waterproof
5-inch thick memory foam combined with water resistant features, makes for an ideal bed for medium chewers. The memory foam is soft around bones and joints, while still offering a breathable surface to lie on.
The bottom of the bed is durable and will not waiver no matter how much time is spent laying on it, nor how heavy the dog is who lies on it.
Another great feature is the non-slip bottom. 
Pros:
Relatively affordable

Double layer protection

Easy to machine wash

Tough exterior

 
Cons:
Only available in limited colors and sizes

Has one side bolster for a head rest
Best Indestructible Dog Beds for Medium Chewer Dogs
Created with durable microfiber, this K9 Ballistics dog bed has withheld vigorous testing in order to prove its durability. I would like to point out that while it is not chew resistant, it is strong enough for moderate chewers.
Moreover, it is the perfect rest spot for active dogs or ones with sore joints or bones, thanks to the microfiber textiles and 5-inch thick memory foam. 
Pros:
Variety of sizes

Wrap around bolsters for support of neck and spine

Thick memory foam protects against chewers

Machine washable

 
Cons:
Expensive

Not completely chew resistant, despite being a durable bed
If you have a small breed dog and are looking for a quick dog bed, why not try a DIY one?
This is perfect if you are travelling with your pup, or going camping and don't want to dirty their good bed. Simply take the DIY pillow that is oxford material and water proof, and place it over a queen size pillow.
Ta-da! A dog bed that is chew proof, water proof, and super comfy! This is an ideal choice for small breeds that don't mind the small nature of a queen size pillow. 
Pros:
Affordable

Strong material

Easy to assemble

Great backup bed

Can fill with other material than a pillow

 
Cons
Some dogs may not enjoy the stuffing that the owner fills it with

Finicky for owners who do not like DIY projects
Extreme comfort combined with superior durability is found in this bed. The exterior is fur and hair resistant and water resistant, while the bottom part is entirely non-slip resistant.
The mattress is extra thick, 13 inches to be exact, making it an ideal shield against over chewing. 
On a side note, this bed is perfect for sore bones, arthritic dogs, and active joints. 
Pros:
1-Year Warranty

Anti-tear cover

Human-grade mattress foam

Removable cover

High bolsters provide support

 
Cons:
Expensive

Neutral colors available only
Coohom's super soft plush dog bed is perfect for medium chewers. A thick cushion supports the body, while offering a durable exterior against sharp teeth and nails.
The fabric is breathable, lightweight, and easy to clean. Whether your pup wishes to sleep on the floor in this or with it in a crate, this pet bed withstands medium chewing.
This bed also comes with an anti-slip bottom. 
Pros:
Affordable

Machine washable

Plush fabric

Anti-slip bottom

Wide variety of sizes

 
Cons:
Not overly padded for arthritic bones
This K9 Ballistic Tough Dog Bed is ideal for medium chewers, scratchers, or diggers. The bed is thin enough that it is not overly bulky to lay on, but comfy enough that it won't leave your dog feeling sore.
The interior is filled with recycled poly-fill, a super soft material to lay on. This bed can be used on the floor alone or put into a crate.
Your pup can enjoy chewing away on this product without completely destroying it. 
Pros:
Affordable

Available in a variety of sizes and colors

120-Day Chew Proof Warranty

Durable rip-stop cover

 
Cons:
Not super puffy

Will not fit non-standard crates
The JoicyCo dog bed is stylish and long lasting. It is crafted with strong coral fleece and a durable rubber, non-slip base. This means, your pup can chew and push around their bed all they like, but they will have a tough time destroying it.
When it comes time to rest, they have a plush space to sleep on.
What I like best about this product is the easy remove zipper that allows the cover to be machine washed. 
Pros:
Very inexpensive

Tough during play

100% machine washable and hand washable

High density sponge is cooling in summer and warm during winter
Cons:
Takes 48 hours to inflate once unpackaged

Limited color availability
5" of thick memory foam creates a luxuriously comfortable, durable dog bed. The exterior of the bed is covered in strong canvas and a thick fleece pad.
If that doesn't sound great enough, the bed is 100% waterproof and will not allow water or urine to sink through.
The foam of the bed provides ultimate support and comfort no matter how long your pup lays on it. 
Pros:
1-Year Warranty

Super soft

Bolsters provide spine and neck support

Low front of the bed allows for easy enter and exit

 
Cons:
Expensive

Limited color availability (white and gray only)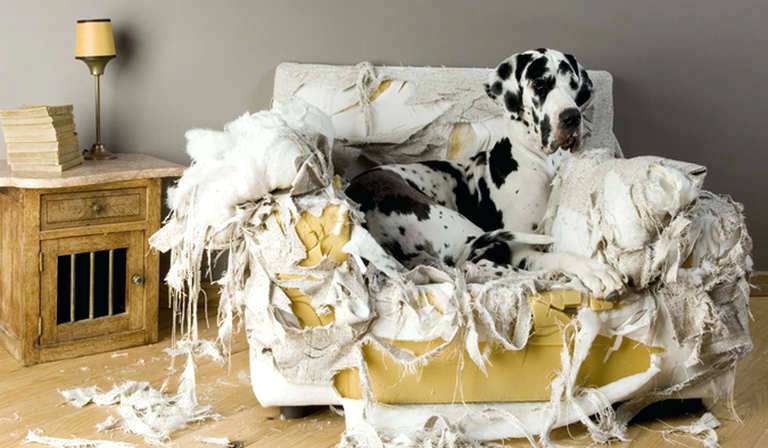 From: Devotedtodog.com
Best Indestructible Dog Beds for Large Chewer Dogs
This bed is crafted with durable rip-stop nylon and comforting orthopedic foam, this bed is perfect for pesky chewers. It is also chew resistant and contains no zippers or seams for your pup to get at.
This bed is machine washable because let's face it, dogs have accidents whether young or old.
What I love best about this product is that it is water resistant, to make those accidents even easier to deal with. 
Pros:
Relatively affordable

Backed by a 120-day chew proof warranty

Orthopedic foam for full body support

Nearly indestructible

Extensive color variety

 
Cons:
No side bolsters for neck support
This travel bed is made with a rip-stop liner, water resistant material, and a luxuriously soft poly-suede surface. Whether you bring this with on vacation or use it in a crate, this Chuckit!
Travel Dog Bed is an ideal option for avid chewers. When it becomes dirty, it is machine washable or spot cleaning friendly.
Overall, this is a lightweight and durable option. 
Pros:
Affordable

Super strong material

Thin texture but comfortable

Perfect for small to large breed chewers
Cons:
Limited color and size variety
The Majestic Pet Suede Dog Bed is ideal for tough chewers. The fabric is durable suede, while the interior is recyclable polyester fill. This means, your dog has a comfortable place to sleep while not being able to destroy his or her bed.
The wrap around bolster offers comfort to neck and spine, and also creates a soft barrier for your dog to sleep up against.
Pros:
Relatively affordable

Wide variety of neutral colors

Durable suede material

Machine washable

Water resistant

 
Cons:
Oversized bolsters may make it challenging for dogs to stretch out
This elevated dog bed by K9 Ballistics is a heavy duty, comfortable dog bed for strong chewers. 
In fact, this company has stated that this bed is indestructible. The legs are aluminum and the fabric is ripstop ballistic fabric.
Even avid chewers will have a hard time tearing apart this bed. K9 Ballistics offers a 120-day warranty on this product, so you can buy with confidence.
Pros:
Works with crates or stand alone

Can easily add more padding to it by using a blanket or sheet

Extremely durable

Arrives preassembled

 
Cons:
Not plush or padded

Limited color and size

Expensive
The Super Snoozer is not only meant for snoozing. In fact, it is able to withstand play that involves chewing and scratching, thanks to the durable materials it is made with.
The tough exterior is made out of polyester, and the inside is soft as a pillow.
If it gets dirty or full of saliva, simply toss it in the washing machine on a gentle cycle. 
Pros:
Affordable

Durable and light weight

Made out of chew resistant polyester

Super soft for delicate skin

 
Cons:
Limited color and size variety

Not water resistant
Yes, this certainly will be your dog's bed. This is a high quality, durable resting place for your pup.
Designed with tightly woven polyester Oxford fabric, as well as a waterproof exterior, this is a long-lasting bed. Moreover, the material is water-resistant and abrasion-resistant, meaning your dog can go to town chewing and scratching.
When your dog dirties it, simply throw it in the wash or vacuum it with ease. 
Pros:
Affordable

Durable and long lasting

Comfortable for active or sore joints and bones

Replacement covers are available

Indestructible fabric

 
Cons:
Limited color and size variety

No bolsters for neck or spine support
Veehoo has created a unique elevated dog bed that promotes restful sleep and safe chewing. In fact, due to the elevated nature of this bed, it may actually help your dog from not chewing its resting place.
The mesh fabric of the bed is comfortable and durable, while the aluminum legs are easy to keep sanitized. This bed will also keep your pup relaxed and cool in the hot summer months. 
Pros:
Affordable

Waterproof

Breathable

Non-skid bottom

Portable

 
Cons:
Did You Find Indestructible Dog Beds for Your Chewer Dog Today?
Now that we have covered a wide range of dog beds for light to strong chewers, it is time to announce the winner…the K9 Ballistics Tough Dog Bed! This one takes the gold medal for several reasons. First, it is crafted with durable rip-stop fabric, is breathable, and comes with a 120-day warranty.
When looking for an indestructible dog bed, these elements are a must. Not all dog beds are created equal, especially ones that are stated as indestructible.
I hope this article helped you make your decision more easily and confidently. Please let me know what dog bed you like best!
Other Puppy Adoption Related Topics
1. 32 Dog Beds Made From Barrels
2. Top Dog Beds For French Bulldogs
3. Best Dog Beds For Border Collies
4. Orthopedic Dog Beds For Small, Medium & Large Pups
5. 31 Amazing Dog Bed And Couch Ramp Ideas For 2020
6. Top Dog Beds For Chihuahuas