The Bernese Mountain Dog is of calm temperament, but he is not a lazy dog. He was bred to be a farmer's helper, herding goats in the mountains of Switzerland and even pulling little wagons full of cheese into the market.
Rocco is chummy even by dog standards. This can make it difficult to leave him alone for very long, but it makes him perfect for emotional therapy.
Beds for Bernese Mountain Dogs need to be very large. What else should be considered? 
In this article, we're going to review the following dog beds for Bernese Mountain Dogs:
What Type Of Bed Would A Bernese Mountain Dog Prefer?
First and foremost, the bed has to be big. Jumbo, in fact. Like a lot of large breeds, Rocco is prone to hip dysplasia so memory foam is a must.
The coat of the Bernese Mountain Dog is extra thick so they need to sleep cool. Rocco's thick coat sheds easily so his bed needs to be easy to clean.
Separation anxiety drives Rocco to chew and he has some pretty big chompers! The bed needs to be fairly chew proof as well.
Popular Read: 18 Awesome Tips For Puppy Dental Care
Why Does A Bernese Mountain Dog Need A Specific Bed?
As said before, Rocco is not lazy but he will plop down anywhere when he feels like sleeping. He's not fussy. However, you are.
You know what's best for him and what's best for your home. You want Rocco to have something soft to lay on, particularly in his old age.
He has a built-in blanket but you need some insulation anyway to keep things consistent. Your dog needs someplace where he feels comfortable and you need someplace where the shedding is all in one place.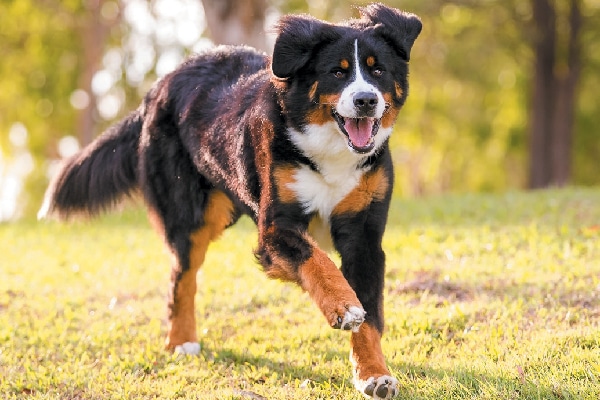 From: Dogster.com
What should you consider before choosing a bed for a Bernese Mountain Dog? 
The bed should be soft but not plush as Rocco likes to chew. Not only is a Bernese Mountain Dog a large dog to begin with but they have a tendency to stretch out while sleeping in order to stay cool.
Gel pads would be great for hot summer nights. Raised edges will make Rocco feel safe.
Measure your dog from nose to tail and add afoot. A dog bed that is twenty-eight by forty-eight inches is good. A circular bed should have a forty-eight-inch circumference. 
Activity of Your Dog
Maybe your Rocco doesn't spend his days herding goats and pulling cheese wagons as his ancestors did. But this big active dog does love to play outside, sometimes for hours on end.
A removable and washable cover will be the first thing you should look for. This will help you keep the bed neat and clean. 
Learn How To: Train Your Puppy Not To Bark?
Age of Dog 
Unfortunately, the Bernese Mountain dog is not a long-lived breed. They start feeling their oats when they're barely nine years old. The joints are the first thing to go.
You may want to think of an orthopedic bed with memory foam that would provide support for their joints and bones thus making it the perfect option for dogs who suffer from arthritis.
Few Important Things You May Want in A Quality Bed for Your Bernese Mountain Dog 
This big boy needs a big bed! And there are other details you should look into.
Rocco needs to be persuaded to rest sometimes. A nice comfy bed is a sure way to convince him that nap time is a good thing. 
Body Shape
Rocco just isn't going to like a bed if it's not the right size and shape for him. Remember to measure your dog in his favorite sleeping position and add four or six inches. 
Chew Proof
If Rocco isn't exercised enough, is away from his favorite people for too long, or just distressed by anything he may take up chewing on random objects in order to relieve stress.
Sometimes it just can't be helped, particularly in very young dogs. Make sure the bed for your Bernese Mountain dog is made of chew-proof material. 
Related Reading: How Can I Get My Dog To Stop Chewing His Bed?
Memory Foam Filling
Bernese Mountain Dogs are very likely to have muscle complaints along with stiff joints and hip problems.
An older dog may have trouble with arthritis. For these problems, nothing beats memory foam for cradling comfort. 
Dogs Sleeping Style
If Rocco likes to sleep on his side, you may want to get something with bolsters for him to lay his head-on.
Oval shaped beds are good for dogs who like to curl up because it makes them feel secure. You may want something claw resistant if Rocco likes nesting or burrowing. 
From: Canna-pet.com
Antigen Material
If you happen to have a Bernese Mountain Dog that has seasonal allergies you may want to get a hypoallergenic dog bed for him.
As ordinary dog beds have a tendency to implant the allergy-causing agents into the bed and aggravate the symptoms of allergies, this is something you may want to look into. 
Comfort Level
The bed of course must be very comfortable. If the bed isn't comfortable then Rocco just won't use it and it was a waste of money.
Make sure the bed is comfortable to start with. 
Easy to Clean
Between Rocco's rugged outdoor activities and his heavy shedding, his bed will get dirty very easily.
The only way to combat this is to have a dog bed that is easy to clean, preferably with removable, machine washable covers.
People Also Liked: 25 Smart Ways To Make Dog Beds By Using Tires
Best Dog Bed For Bernese Mountain Dog
Here are some beds that are recommended for your large and loveable Alpine beauty.
Every dog is different, of course, but one of these should suit your Bernese Mountain Dog. 
Treat your Berner well with the Furhaven Plush Faux Fur Ergonomic Luxe Lounger Dog Bed! It has both form and function that any dog would find inviting. The bed's contoured design offers the best in maximum orthopedic support for the hips and back. Your Bernese Mountain pup will be cradled in ultimate ergonomic comfort and ameliorating physical strain.
The open design offers your pup enough room to stretch out and snooze. The contoured form factor enhances their sleeping comfort.
The surface is plush and soft. The solid orthopedic foam base is thick and dense, delivering both insulation and sturdy comfort.
It comes in twelve colors that should suit any decor. The bed cover is machine washable.
Pros:
It is easy to clean.

It has orthopedic support.

Should the worst happen, the covers are replaceable.
Cons:
It's not good for chewers.
The Tough Rectangle Orthopedic Dog Bed is designed to not only chew resistant and scratch resistant but to be an awesomely durable orthopedic dog bed. It's a night indestructible dog bed and is also machine washable.
The orthopedic mattress delivers superlative support for dogs with joint problems or just a buddy who deserves a comfortable rest. 
It comes in thirteen different colors so there should be at least one that fits your decor. The Kevlar like the cover is strong and durable.
The dog bed fabric is machine washable, rip-proof, and easy to clean. The dog bed cover is resistant to dirt, grime, and noxious odors. 
The orthopedic dog bed mattress will not let your dog sink through to the floor. 
Pros:
The bed is comfortable.

It is chew resistant.

It comes with a 120-day warranty.

It comes in a myriad of different colors.
Cons:
It is not good for aggressive chewers.
Your pet could very well find both comfort and support in the American Kennel Club Deluxe Extra Large Memory Foam Pet Bed.
This memory foam sofa bed can aid your big doggie is having a very comfortable nap. It's soft, it's comfortable, it comes in neutral earth tones. The orthopedic memory foam adjusts to the dog's comfort and greatly improves your pet's sleep quality.
The total durable polyester is made with recycled Eco-friendly materials. The non-skid bottom prevents sliding on hardwood floors.
The comfortable rim serves as a dog bed pillow. This rectangular bed tucks away well in any corner of the room and will complement your home décor.
It is easy to clean and machine washable. 
Pros:
The bed is durable.

The cover is removable.

It is odor resistant.
Cons:
For the past two decades, Armarkat has been recognized all over the world as one of the most reliable brands that deliver quality plus endurance and style all at affordable prices.
They use only pet-friendly materials in their manufacturing process, granting products that are sure to make you and your furry friend happy. 
The bed is made with a heavy-duty canvas plus soft plush with a base that is both waterproof and skid-free. 
The zippered opening is for the easy removal of the cover. It has a waterproof lining for easy cleaning. 
Pros:
It has a durable and comfortable cover.

It is machine washable. 

The cover is waterproof.
Cons:
The filling is sub-par.

It doesn't have any bolsters.
Due to its total orthopedic-grade, hypoallergenic memory foam of the type commonly used in high-end mattresses.
This product not only delivers full support for a supremely restful sleep but it can even aid in soothing joint and muscle discomfort for pooches with arthritis, hip dysplasia, or other joint conditions.
It is made with hypoallergenic premium memory foam. The interior cover is made with a waterproof fabric with a zippered cover/ exterior cover.
It is a soft, plush suede that comes with an Ant-Slip bottom zippered cover.
Pros:
It comes with a bolster.

The cover is waterproof.

It has orthopedic memory foam.

The material is hypoallergenic.
Cons:
It is not good for aggressive chewers.
Better World Pets Bed is engineered with a modern design that seamlessly fits into any room without taking up too much space.
The deep neutral hues the beds come in complement nearly any decor. Best of all, it won't show dirt or pet hair. You'll love that and your dog will love the five inches of premium shredded memory foam.
The densely packed yet flexible premium shredded memory foam is five inches thick for superior comfort.
It includes a durable cover, waterproof lining, plus non-skid bottom for additional security. The sleek silhouette easily fits into tight spaces. 
Pros:
It is stuffed with shredded memory foam.

The product is durable.

The cover is waterproof.

It has a no-skid bottom.
Cons:
There is no bolster.

It is not hypoallergenic.
This pet sofa is engineered with high-quality materials so that your pet can live the most comfortable lounging experience he can.
This high-density memory foam bed is far better than anything made with cheap uncomfortable fillers that can often be less comfortable. Your pet may use the outer bolster as a pillow or nestle under it depending as they like. 
The bed stuffed with high-density memory foam offers support and soothes pressure points which aid in the reduction of joint pain and improve both health mobility and energy.
The bed cover is simple to remove and it is both water-resistant and machine washable. It is easy to spot clean and remove hair from. The replacement covers are sold separately.
Pros:
It is surrounded by bolsters.

It provides a cozy sleeping experience. 

It is odor resistant.

It is water-resistant.
Cons:
It is not good for sprawlers.



Here's an affordable orthopedic bed that is of great quality. It's cottony soft and the orthopedic foam is human grade so it's certainly good enough for your dog.
The bolsters are thick and contoured perfectly for a dog's neck. Your dog may love this even more than your couch! The Ultra Soft Polyester Cover has a luxurious quilted design.
The four inches of Solid Orthopedic Foam base provides a premium balance of comfort, reduced joint pain, and improved health and mobility.
It has an extra comfy cotton-padded rim cushion to perfectly contour to your pet's neck. The sleek and luxurious quilted design can be a credit to any family's home decor. 
It features a built-in non-slip rubber backing on the bottom side of the cover to prevent any sliding on uncarpeted floors.
Pros:
The zippered cover is removable and machine washable.

It can be easily vacuumed for spot cleaning.

It is soft and comfortable.
Cons:
Some nesters have been able to claw through it.

The bolsters flatten easily.
This bed is not only comfortable but hard to tear and easy to clean. The Dogbed4less delivers the best material for comfort, durability, and support as well as.
It is very easy to clean the cover that should fit right into your home. The stuffing is a mix of new premium poly-fill and shredded polyurethane foam for ultimate resilience.
It features a breathable waterproof interior cover to secure the stuffing plus a hardy nylon fabric external cover in seal brown color.
Along with extra stitching to lengthen the life of the bed. The cover is removable and washable. The nylon cover is resistant to light scratching, water, hair, dirt, and odors.
The six-inch thick overstuffed insert will support your medium to large dog up to 80 pounds. The bottom is non-skid.
Pros:
It has plenty of room to stretch out.

It is waterproof.

The memory foam is comfortable.
Cons:
It is not chew-proof.

The interior is not easy to clean.

The Sealy Dog Bed is a real trendsetter in the dog bed industry. With Quad Layer Technology, the Sealy Dog Bed is unsurpassed in the areas of design, craftsmanship, and durability.
This durable bed comes with Cooling Energy Gel to help your dog stay cool. What's more, it fully conforms to his body shape for additional comfort. For an extra plus, the make-up of this bed delivers odor control for not only freshness but comfort. 
This premium orthopedic dog bed features Quad Layered Foam for the greatest comfort and support. It is a high-quality therapeutic bed that offers support for dogs of all ages plus is very comfortable for dogs with arthritis, joint, or bone problems.
The cover is removable and machine washable. This Lux bed is made with a Pro-Charcoal base to aid in absorbing orders and keeping your dog bed fresh.
Pros:
The cover is waterproof.

The cooling gel is good for dogs that like to sleep cool.

The charcoal makes a great filler.
Cons:
The instructions are difficult.

Some dogs prefer to sleep warm.
Best Dog Beds For Bernese Mountain Puppies
Berner puppies are just the sweetest roly-poly little things. They are slow to mature. They don't reach their full maturity until they are about two are three years old, so they'll be puppies for quite some time.
This big breed has a lot of ground to cover so growth may be uneven. Just growing can be exhausting for an adolescent Berner so get him a nice bed. 
Also, that fur is still growing in and Pupper is accustomed to sleeping with Mama and a litter of brothers and sisters so you don't have to concern yourself too much with keeping him cool. 
He may prefer to sleep warm at this stage.
This warming bed is ideal for the pet owner who is on a tight budget. It comes with a heat-reflecting liner so that it will reflect your dog's body heat back to him while he's laying on it.
This bed can help your Berner stay cozy and toasty without needing to plug anything in.
The Mylar interior layer reflects the puppy's body heat in order to deliver comfort and warmth. The non-skid bottom is ideal for tile and hardwood floors.
The faux lambswool is soft, comfy, and good for puppies who like to burrow. 
Pros:
It has a non-slip base.

It is filled with heat-reflective Mylar.

The bed is travel-friendly.
Cons:
The Mylar fibers are hazardous if ingested.

The heated bed makes a noise because of the fibers.
The Petlo Orthopedic large dog bed is a superb, relaxing sofa for your puppy to recline in whenever he or she wants. It's surrounded by bolsters on all edges other than the entrance, which makes your dog feel like he's in a safe little nest. 
The couch offers support and soothes pressure points which aid in reducing joint pain and improves health.
The mattress is made from high-density memory foam. The bed cover is simple to remove and is both water-resistant and machine washable. It is easy to spot clean and remove hair from. 
Pros: 
It is water-resistant.

It is non-slip.

It comes with built-in pillows.
Cons:
The zipper breaks easily.
The bolsters surrounding this dog bed will not be barriers for them to cross but a supportive pillow for the head and neck. Your puppies need not experience the pain of overused joints but the pleasure of lying on luxuriously soft fur. 
It is designed for crate use. It comes with ultra-soft synthetic fur and comfortable padded polyester bolster cushions.
This product is completely machine washable and easy to clean and maintain. 
Pros:
The cover has a soft texture.

There are bolsters on all four sides to rest head on

It is portable enough for one-day outings.
Cons:
It is not suitable for chewers
Offer your dog a full night's sleep with this premium, durable orthopedic bed. The memory foam base is fit for a human baby.

What's more, it is known to deliver to your dog supreme comfort, even for dogs that have joint pain or arthritis. It comes in four different neutral colors sure to match any decor.
The cushioned poly-fill bolster offers your dog superlative comfort, even for dogs that have joint pain or arthritis. It has a water-resistant liner and human-grade mattress foam.
The small size holds up to thirty pounds. The soft, removable cover is not only durable but machine-washable.
The removable cover comes off with the durable YKK solid metal zippers. The bottom is non-skid and non-slip. The cover is fur and hair resistant. 
Pros:
It is easy to clean.

It is durable and will not tear easily.

It is comfy and cozy.

It is hair resistant.
Cons:
It is not waterproof. 

Not for pups that sleep warm. Save it for when the fur grows in.
It says so right on the side what this is! It's waterproof, so it's great for puppies who are still getting the hang of this whole potty training thing.
The memory foam is good for growing adolescent pups who may be experiencing some growing pains. The bolsters are a must for helping a little puppy feel more secure. 
It has a solid two inches of premium grade, high density, orthopedic memory foam over a sturdy two-inch base of high stability premium support foam.
This therapeutic bed is engineered to deliver relief, comfort, and preventative measures against joint pain. The removable covers are easy to wash, quick-drying, and come with a waterproof mattress protector.
Pros:
Faux fur is used for ultimate comfort

The dense foam provides joint relief. 

It has a machine washable cover.
Cons:
Did You Find Your Bernese Mountain Dog's Bed Today? 
The Berner is a dog that comes with his own blanket but you need to provide the bed and pillows. He likes to play hard so give him someplace to rest after a long day. What are your experiences with Berners and pet beds?
Feel free to ask any questions in the comment section below and remember to share this article if you liked it. 
Further Readings:
Other Puppy Adoption Related Topics
1. 32 Dog Beds Made From Barrels
2. Best Dog Beddings For French Bulldogs
3. Top Dog Beds For Border Collies
4. Orthopedic Dog Beds For Small, Medium & Large Pups
5. Waterproof Dog Beds For Puppies & Older Incontinent Dogs [That Pee]
6. Best Dog Beds For Chihuahuas
7. 35+ Great DIY Dog Bed Ideas Under Stairs