Recycling is the thing to do! I myself just recycled an old blouse into a couple of doll dresses.
Plastic bottles can be reused for emergency water storage.
Old newspapers and magazines can be used for papier mache and decoupage.
Can tires be reused? You can use them to make dog beds!
25 Dog Beds Ideas From Old Tires
From: PracticallyFunctional.com
#1 She's a Barbie Dog, Livin' in a Barbie Tire
Fawkes may not be blonde but she loves her pink tire bed anyway! This one looked fairly simple to put together.
All you need is the tire, paint, pillow and some felt pads.
Read: Amazing Reasons Why Dachshunds Need Cozy Beds
From: TownFairTire.com
#2 What Do You Mean It's Not a Powdered Donut?
Hank's bed is much like Fawkes' only painted stark white. The little French bulldog can sleep here and dream about giant powdered donuts.
Too much sugar can't hurt you in a dream.
#3 All I Want is a Tire Somewhere
Many dogs come into an animal shelter with nothing, not so much as a collar.
Amarildo Silva Filho makes sure these homeless animals at least have someplace to sleep.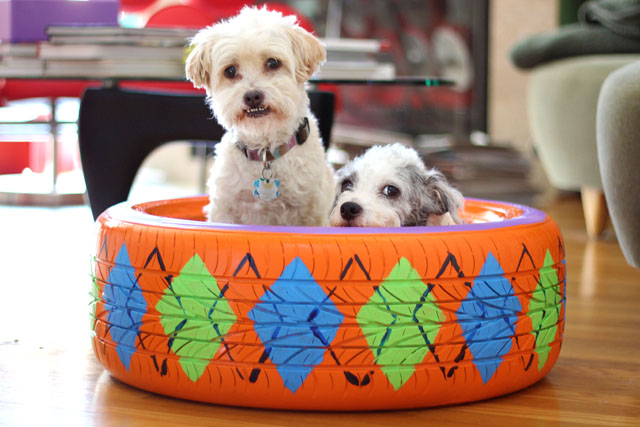 From: JonathanFongStyle.com
#4 Who Could Ask For Anything More?
Fosse and Gershwin might have names that are Broadway-inspired but their bed looks more like Southwestern Native inspired.
Who says you have to stick to a solid?
Know: What Is The Perfect Sized Bed For Corgi Dog? 
From: DIYsPins.com
#5 For the Ones Who Like to Burrow
Some dogs like Enzo like a bed they can burrow into.
If you're good with a sewing machine and want something out of the ordinary, here's the bed for you!
From: Instructables.com
#6 If It Fits I Sits
The model for this poofy bed is a cat, but a small dog with fastidious tastes might like it.
It's a bit involved to put together but worth it for that cute little frill.
From: TyreTreasures.com
#7 More Dreams of Food
This big buddy looks like he's wishing his dog bed was a giant bowl of Froot Loops.
Another bed offered up on this site is designed to look like a giant slice of watermelon. Yummy!
From: HerPetoLogistsLeague.com
#8 What the Micheline Man's Dog Sleeps On
Dogs like to chase cars. What would he do if he caught one? He probably dreams of something like this happening.
Doesn't he look comfortable?
Popular Reads: 2 Things To Consider When Getting Bed For Your Bernese Mountain Dog
From: HerPetoLogistsLeague.com
#9 TIREd From Chasing Cars? He's EXHAUSTed!
Some dogs love the bolster affect tire beds provide. But some dogs have a little trouble jumping into them.
This bed removed a section and added some colorful upholstery.
From: HerPetoLogistsLeague.com
#10 Taking a Stand, Uh, Lie Down?
Not feeling very crafty? Maybe you can use a tire just as a bed stands for your dog's bed.
It's the shabby side of shabby chic, the equivalent of the cinder block coffee table.
From: HerPetoLogistsLeague.com
#11 Smarties!
These circular beds look like Smarties, the candies that teachers sometimes would give their smart and well-behaved students. (Of course, I got lots of them.)
From: HerPetoLogistsLeague.com
#12 Do I Make You Hairy, Baby? Do I?
If you put a leopard print sheet on this boldly upholstered bed, it would look a lot like Austin Powers' revolving bed.
The cherry red with silver buttons is very Sixties.
People May Know: 8 Facts To Look For In A Dog Bed For Your Pugs
#13 It Was Red and Yellow and Green and Brown and Blue
From: JustSomething.co
Amarildo is still at it! Here are more beds for all the little doggies who really need them.
It just goes to show you what a difference one person can make.
From: ZoeForPets.com
#14 Yorkie in a White Chocolate Rolo
This sweet little Yorkie looks like she's the center of the sweetest bon bon of them all! Unfortunately, doggies can't have chocolate.
They're sweet enough!
From: HerPetoLogistsLeague.com
#15 Elegant yet Playful
The pink on black is very evocative of the Fifties. The deep ruggedness of a stark black tire contrasts with the delicate pink bows.
The white on pink polka dots are also a throwback to a more innocent time.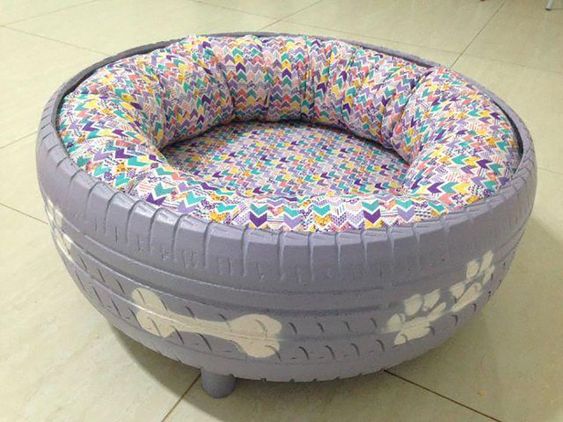 From: DecorTips.com
#16 Periwinkle Puppy Place
Some people think that chevrons are serious but this tessellation of pastel-colored chevrons rimmed by periwinkle is cute, sweet, and fun.
It looks comfy too!
You May Learn: 9 Facts You'll Find In A Anti-Anxiety Dog Bed
From: HNGN.com
#17 When You Have More Tires Than You Know What to Do With
Here's a couch that took at least eleven tires to put together. Here's one bit of furniture you won't mind too much sharing with Fido.
It's something that looks very involved.
From: HerPetoLogistsLeague.com
#18 Second Chance Bed
The tread on this particular tire has been worn smooth. A rubber rim makes a responsive bolster.
Even a worn-out tire has some use to it! It looks like Fido has some reading material…
#19 Twin Beds
Here are two tire beds. One is in baby pink and one is in baby blue. Just in case you have a Fido and a Fifi!
Looks like a stuffed turtle plushie is using one for right now.
From: KBLservAtlas.ru
#20 In the Bonnie, Bonnie Bank in the Backyard
Someone used a tire to make an ottoman style dog bed for their little Jack Russel terrier.
Some people think plaid is for Scotties but this hunter green color is good for a dog bred for chasing foxes.
You May Know: What You Need Specifically In A Boston Terrier Dog Bed?
From: KBLservAtlas.ru
#21 Bunk Beds
Three tires were stacked together and painted blue to make doggie bunk beds.
Sometimes a dog wants to hide away in a private den and sometimes they want to layout in the open air.
And sometimes the company shows up!
From: KBLservAtlas.ru
#22 Hey, Bulldog!
Doing it again? Bulldogs aren't known for being associated with fripperies like laces and bows.
They also tend to be either a bit pigeon-toed or duck-footed like this one, making climbing and jumping difficult.
An opening like this helps.
From: KBLservAtlas.ru
#23 Sometimes It's Easy Being Green
This looks a lot like one of Amarildo's works, or that of an admirer. It's got that bright monochromatic with the stenciled bone that are hallmarks of Amarildo.
Fido can use those polka dots to see if he's colorblind. (Sort of, not quite.)
From: KBLservAtlas.ru
#24 This Isn't Snoopy's Dog House
Many people think of a dog house as a miniature wooden Cape Cod with the dog's name just over the door.
This one is three tires stacked together and painted like a backward Oreo cookie. What a nice little home for a poochie!
Related Readings: 32 Ideas To Make Dog Bed Using Tire
From: DecorReal.com
#25 WHO Is Sleeping In This Bed?
The popular teal color is back and the owl pattern is cute.
This looks more like a temporary sitting space than a place to bed for the night, regardless of what the little owls would have you think.
Which Of These Tire Dog Beds Did You Like Most?
There were so many dog beds here! Some looked easy to put together and some are more involved projects.
I'm personally inspired by the efforts made by Senhor Amarildo Silva Filho.
He is an example of what can happen when you combine creativity with compassion and dedication.
His ecofriendly upcycling has not only given comfort to thousands of cats and dogs but prevented rubber tires from being consigned to a toxic spewing fire.
Incidentally, it can take anywhere from fifty to eighty years for rubber to decompose so get as much use out of a tire as you can.
Which of these did you like best? Which would you like to try?
Feel free to respond in the comments below and share this article if you liked it.
Other Puppy Adoption Related Topics
1. 18 [Super Awesome] Tips & Tricks For Puppy Dental Care
2. Why You Should Pick Dog Bed For French Bulldogs?
3. Top Dog Beds For Border Collies
4. How To Select Best Orthopedic Dog Beds?
5. Best Dog Beds For Irish Wolfhounds
6. How To Adopt A Dog From A To Z