A lot of products I've seen for sale on TV are of the "Too Incompetant to Operate a Blanket" variety.
Many of these products were probably invented with the elderly and handicapped in mind but are marketed towards the able bodied but lazy to make a buck. (Easy Feet, Snuggie, Listen Up, etc.) 
Products like Doggy Steps and Up and Under are no more or less than what they claim to be. They're for dogs with short legs or just don't have the agility to jump anymore.
With a little DIY spirit you can make your own dog ramp! Let's see what others have done.
Top 31 Dog Bed And Couch Ramp Ideas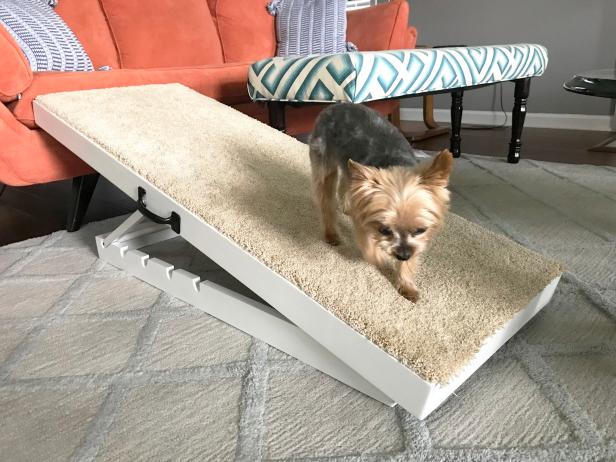 From: DIYNetWork.com
#1 How Very Handy!
This little Yorkie demonstrates how to use this adjustable dog ramp. The angle of the ramp can be changed or even laid flat for storage.
It even has a handle to make it more portable.
Check: 21 Tips To Keep Your Dog Cool In Summer
From: K9OfMine.com
#2 It's Not a Slip and Slide?
This mastiff seems a little confused as to just what this is. Maybe tilting it would give him a hint.
This one can be made with just some shelving and some carpeting.
From: K9OfMine.com
#3 Home Sweet Home
The ramps aren't just for beds and couches but sometimes those porch steps are a bit hard to navigate.
In this case, you will need to use carpeting and glue that will work outdoors.
#4 Louie, Louie, You Take Me Where Ya Gotta Go
Little Louie is getting on in years but isn't ready to just lay in one place all day. 
His owner is a crafty gal who made a ramp for him out of an old cabinet door.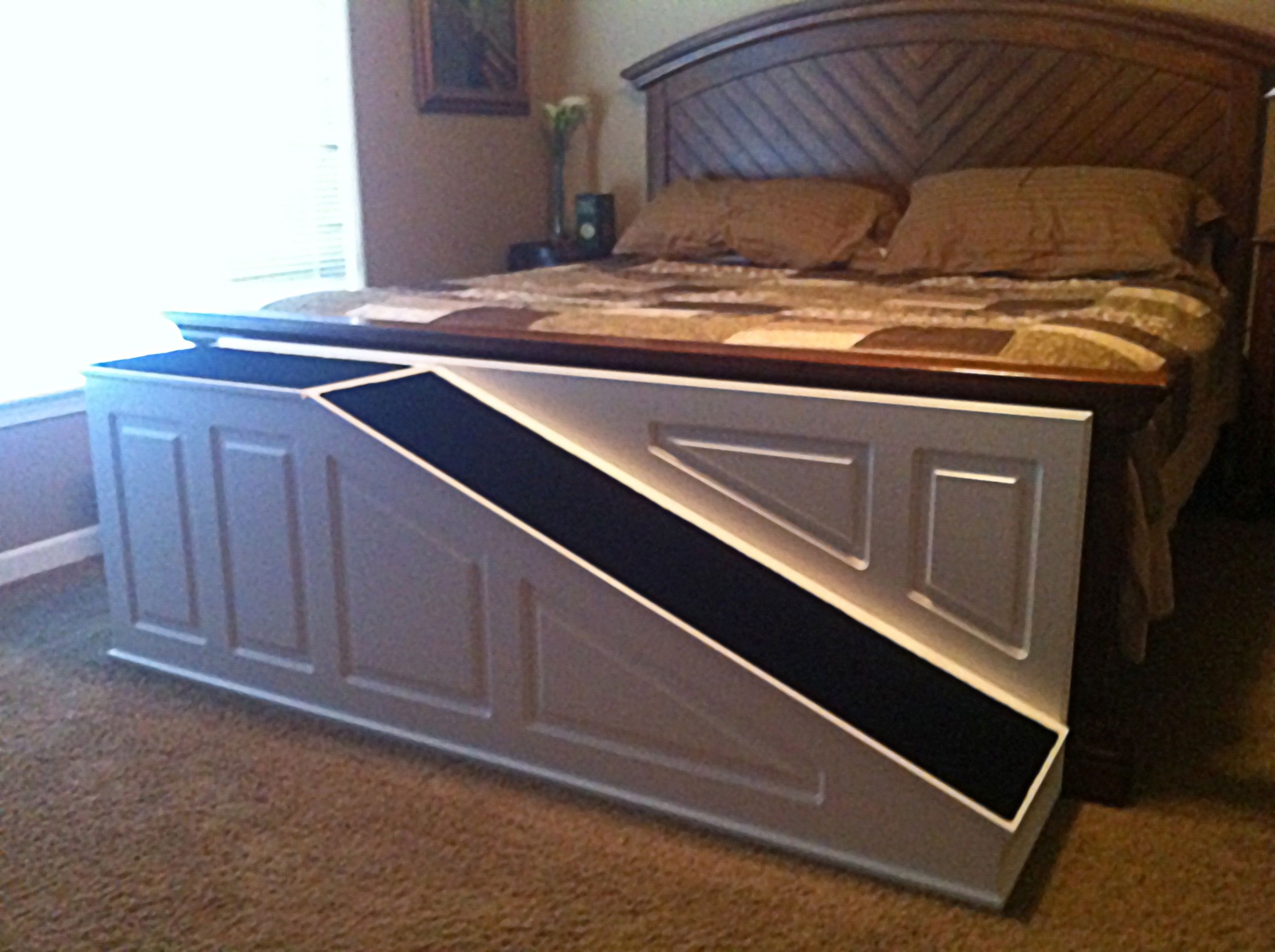 From: VisualHunt.com
#5 Going Up
Here's a little something to help Fido into bed. It looks like it's just part of the headboard and even has some storage space.
Of course, you'll have to have more than a little woodworking talent to make yours look like this!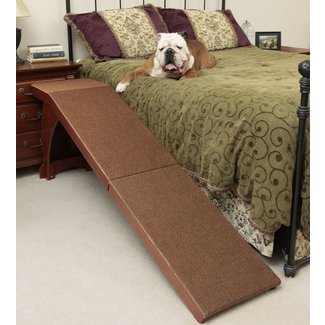 From: VisualHunt.com
#6 He's Not Heavy, He's My Bulldog
This portable indoor ramp can handle up to two hundred pounds.
A healthy weight for an adult bulldog is between forty and fifty pounds, with females on the small side, so this should handle one easily.
Learn How To : Select Orthopedic Dog Beds Small Pups?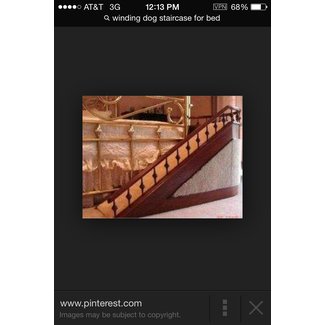 From: VisualHunt.com
#7 Professor Pooch in the Bedroom With the Bone
Here is a ramp that looks very much like a sophisticated Victorian staircase. 
The cherry wood with warm tinted finish is a lovely additive to any room.
#8 Get A Long, Little Doggie
Dachshunds like Weenz here are known for their short little legs. They were bred to dig holes and chase after badgers, not jump over hurdles!
A modern Dachshund would probably faint if he saw a badger so let's make getting into bed easier.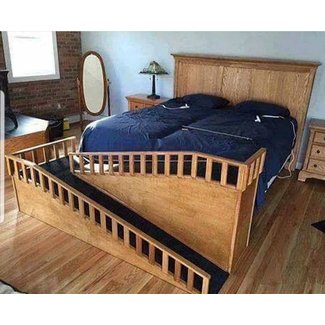 From: VisualHunt.com
#9 If M. C. Escher Had a Dog
The visual logic is admittedly more sound than the typical M. C. Escher etching but it has that familiar contrast of rhythms going on.
The ramp has become part of the bed.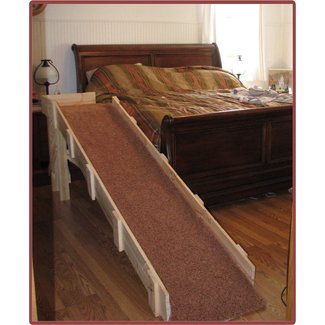 From: VisualHunt.com
#10 And She's Building a Stairway to Heaven
This is a simple but effective do it yourself project.
A lot of love went into this gently pitched ramp built by someone who just couldn't imagine a night without puppies snuggled up to them.
Learn: How To Select A Right Bed For Great Danes?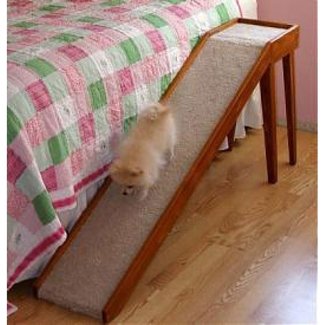 From: VisualHunt.com
#11 Baby Put Your Pom Poms Down for Me
This cute little pom might look ready to slide down, but the anti slip fabric will keep that from happening.
The finished wood and tapered legs make the ramp look like a genuine piece of furniture.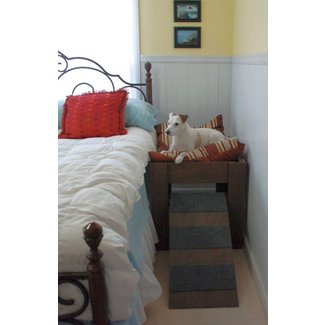 From: VisualHunt.com
#12 What's the Story, Wishbone?
Someone made a dog bed for their little Jack Russel Terrier out of a walnut nightstand.
Jack Russels are lively dogs but a ramp can help a sleepy one to bed. Don't you just want to read him a bedtime story?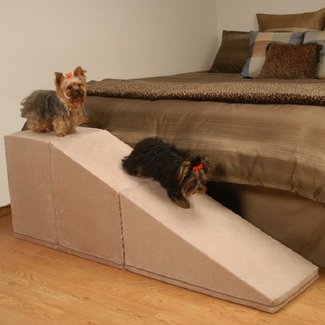 From: VisualHunt.com
#13 I'm the King of the Castle and You're a Dirty Rascal
These two little Yorkshire Terriers will have lots of fun finding out who's top dog on this ramp upholstered with microfiber fabric.
It's classy and easy on the claws. The ramp is in three pieces and can be rearranged.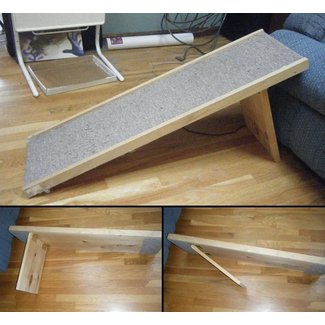 From: VisualHunt.com
#14 Simple Elegance
This simply built ramp is utilitarian yet elegant. It is portable and suited for small pets.
It is crafted from solid wood with a natural finish and grey anti slip carpeting.
#15 I Find Your Lack of a Ramp Disturbing 
Vader is a cute little black poodle who doesn't really fit his scary name. Like many poodles, Vader loves to play in water.
His owner built him a little ramp so he can get into the pool easily.
Learn About: Why Waterproof Dog Beds Are Best For Puppies & Older Dogs?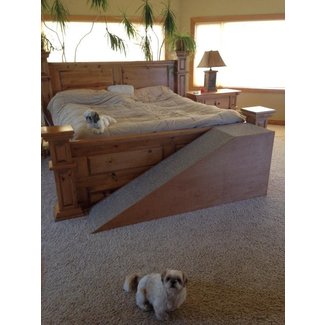 From: VisualHunt.com
#16 The Carpet Matches the Carpet
They look like Pekingeses with summer haircuts, unless I miss my guess.
The carpet on this ramp matches the room's carpet as does the unfinished wood match the bed. It blends in seamlessly. 
From: VisualHunt.com
#17 A Fine Piece of Ash
I need to stop coming up with borderline dirty names for these sections! This ramp was made with unadorned ash, it looks like.
Nothing wrong with simplicity, but that floral print sofa needs to get in the Delorean and go back to the Fifties where it belongs. 
From: VisualHunt.com
#18 The Angle is Right
This ramp is at a gently forty-five degree angle and covered with a fine textured carpeting.
The blonde toned wood makes a huge statement.
From: VisualHunt.com
#19 Dramatic Paws
The mirror polished black wood gives this piece an elegant and mature look.
The over sized paw print balance it out with cuteness and remind Fido where his little paws go.
Read: Why Puppy Pees On Your Bed?
From: VisualHunt.com
#20 Louie Louie You're Gonna Cry….
Gale Wilson, who built a ramp out of an old cabinet door, had to say good-bye to her little Louie in February of 2016.
The ramp was brought out of storage when she got a little puppy named Lulu Mae. 
#21 Learning From Your Mistake
Weenz didn't get his ramp right away. His owner's first attempt at making a ramp turned out to be just a little too steep for the Dachshund.
Some dogs may find a too steep ramp intimidating. 
From: PetLifeAcademy.com
#22 Ramps Got to Be Freestanding
Some ramps use the bed for support but this design is freestanding. This provides sturdy support but needs additional room.
It is vital to get the measurement of the bed's height and width if you want to get this right.
Popular Read: Why Healthy Sleeping Is Important For Border Collies?
From: Make-And-Build-Dog-Stuff.com
#23 Super Sweet!
This ramp belongs to a cute little brown poodle named Hershey. This ramp may look simple but surely Hershey thinks it's pretty sweet!
One advantage to building your own is you can make it match the decor.
From: ThisOldHouse.com
#24 This Old Dog
Senior dogs may have a little trouble hopping into bed. The people behind the famous home improvement show This Old House shows you how to build a ramp.
This one was painted to match the lime green rug.
From: DogsAholic.com
#25 When the Russell Can No Longer Hustle
A Jack Russell Terrier is a very active dog, but even they can get into situations where they have to take it easy.
Eli here sure seems happy with his ramp.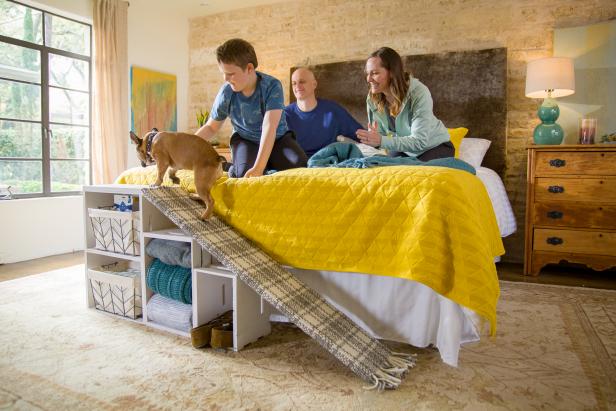 From: HGTV.com
#26 Family Togetherness
This little French bulldog wants to join his family on the bed.
This particular ramp comes with shelving so you can also use it to store items such as extra blankets.
Learn: Why Dogs Lick Blankets Before Sleep?
From: FamilyHandyMan.com
#27 Fold Away for Easy Storage
This particular dog ramp can be folded up and stored under the bed or in a closet.
The little spaniel in the video sure seems to like it.
From: IrresistiblePets.net
#28 Aye! Chihuahua!
Chihuahuas are small, but usually pretty good at jumping.
However, a little Chihuahua named Chuy has some back problems and isn't much for jumping. Ramp to the rescue!
From: Instructables.com
#29 Are You Kidding Me?
I get it, a DIY project is going to come with a few dry blueprints and "how to" instructions.
But could they at least show a finished product and its cute little user?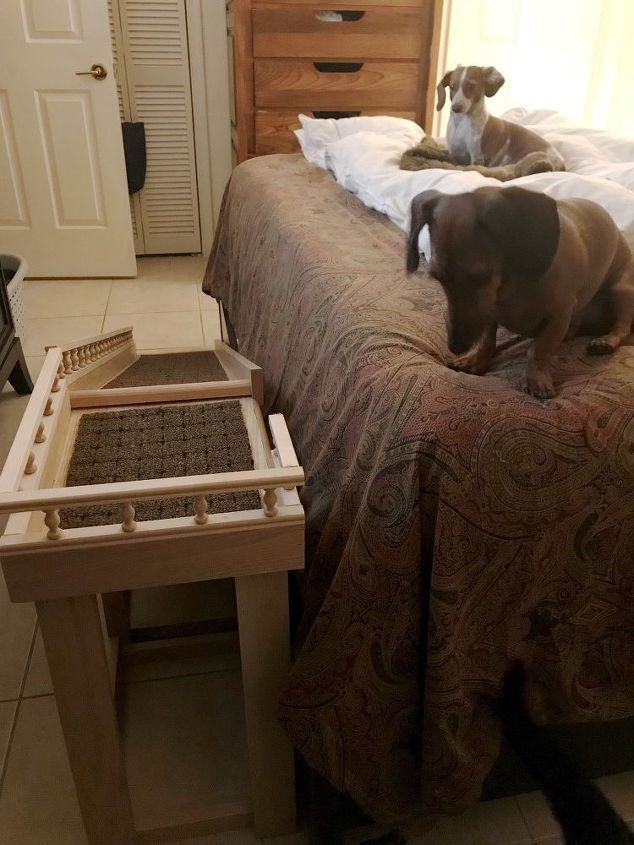 From: HomeTalk.com
#30 How Do We Get Back Down?
A little Dachshund named Sadie seems a little confused as to how she's supposed to get back down.
Her companion in the background seems amused by her confusion.
From: WikiHow.com
#31 How To Do It
WikiHow is really useful for showing as well as telling how to do things.
This diagram shows you how to put a ramp together with two by fours, carpeting and a staple gun.
Which Dog Ramps You Like Most?
Which of these ramps did you like best? Personally, I think I'd just as soon try one of these. although I'm not very handy.
Have you tried anything like this? What was your experience? 
Please reply in the comments and share this article if you liked it.
Other Dog Beds Related Topics
1. DIY Puppy Bed Ideas Using Tires: 25 Smart Ways To Make Your Dog Beddings
2. Try This 37 Superb Ideas For Your Dog Beds Under Stairs 
3. How To Pick A Dog Bed For Boston Terrier? 
4. Dog Beds Buying Guide For Anxiety 
5. What Bedding Options Are Available For Bernese Mountain Dogs?
6. Buying Guide For Corgis Bedding
7. What Type Of Dog Bed Are Best For Doberman Pinschers? 
8. How to Choose A Hypoallergenic Dog Bed?