We introduced you to some good places to bring your four legged friend in San Francisco, now here are some places in New Sacramento where you can bring Fido!
Related Reading: 24 Dog-friendly Restaurants In San Francisco, CA
#1 The Shack
Bring Fido here for a made from scratch lunch!
On the menu you'll find Cajun bacon blue burgers, tuna melts, reubens, fish and chips, and roasted turkey sandwiches.
#2 River City Brewing Company
This place has a patio great for relaxing with Fido.
You can have a salad or a beer while he has a chicken breast.
River City supplies water bowls for thirsty dogs.
#3 Capitol Garage
This place has a dog friendly patio and a little bit of everything on the menu.
You'll love the artisan chocolates and cheesecakes, Fido will love freshly cooked bacon.
#4 Shady Lady Saloon
Here's a place that offers superb al fresco dining for those with small dogs.
The menu caters to those with a taste for the Cajun so ask about spice and salt content first.
#5 Streets of London Pub
Here's a slice of London right in the middle of the capitol of California.
The back patio is a great place to have a smoke and fish and chips while Fido lounges in the shade.
#6 The Waterboy
For al fresco dining where your dog will be treated like royalty, come to The Waterboy.
Fido will get his water dish while you select from the wine list.
#7 Old Soul At The Weatherstone
This place located in historic downtown Sacramento provides charming and cozy sidewalk tables.
The coffee here is very popular with the locals.
#8 Piatti Restaurant & Bar
Here's a place to go if you crave a taste of the Italian countryside. Dogs love the tree filled courtyard.
People love pizza, wine and ambient music.
#9 Cafe Bernardo
You can go all around the world and back in some of these restaurants, but if you're in the mood for grilled Southwestern cuisine or something vegetarian, here's the place to be!
Fido will get his water bowl.
Popular Reading: 12 Awesome Benefits Of Sleeping With Your Dog
#10 Three Sisters
 Bringing a Chihuahua to a Mexican restaurant may seem a little too on the nose, but he can have something plain outdoors while you have a margarita.
#11 Bella Bru Cafe
The menu here has a little bit of everything from spinach and strawberry salad to meatloaf.
They serve all three meals and Fido will love the patio.
Address: 4680 Natomas Blvd, Sacramento, CA 95835
Tel: +1 (916) 928-1770
Website: BellaBruCafe.com
#12 Oak Park Brewing Company
Come for the Caribbean jerk short ribs and craft beer. Stay so Fido can have a made on site treat.
The live music and bustling patio is a great place to socialize.
#13 Burgers And Brew
Simple as that. You want a burger and you want a beer.
And you want your best friend. This place can give you that!
We don't recommend beer for dogs, but water and a plain burger is a good meal.
#14 LowBrau Bierhall
Come here early in the day as the food here is so popular with the locals it can get crowded at night, especially on weekends.
The raised patio and picnic tables are a great place to socialize.
#15 Ambrosia Cafe
 The garden patio has a fireplace your pup can curl up by while you kick back with calamari and chardonnay.
You can come here for both breakfast and lunch and choose from an extensive menu.
#16 Evan's Kitchen
Evan's Kitchen prides itself on being family owned and operated to better provide homestyle cooking.
And it's just not homestyle unless your doggie is there!
People Also Liked: 37 Amazing Health Benefits Of Owning A Dog
#17 Florez Bar and Grill
Here's a family style restaurant with a little Southwestern flavor and a dog friendly patio.
Not a lot of Mexican places serve breakfast, but this one offers such things as huevos rancheros and chorizo.
#18 Tapa the World
It's a crazy pun, but it works.
Did you know that the tapa was created to keep the wind from blowing debris into the sherry?
If you eat outside with your furry friend, you'll need it!
#19 Paesanos
Here is a lovely place to sit in the shade and have pizza or pasta with your four legged pal.
You can share if you ask them to cut the garlic and onions. They also provide water dishes.
#20 Revolution Wines
This the only winery in Sacramento that welcomes dogs on the patio.
While you taste your wine and beignets, Fido can have a bowl of water. (Quite balanced with a reticent touch of hollow notes….)
#21 Fox And Goose
Sounds like the kind of place fox hunters would take their hounds after a morning of chasing the fox.
The cuisine is British pub style.
Unfortunately, there is no goose on the menu but they do provide water dishes for dogs.
#22 Centro Cocina Mexicana
This is a calm and laid back place to have your tequila wall the dogs nap at your feet.
They have the standard tacos and burritos you'd expect but also real Mexican cuisine like Pescado a la Talla and Calamares a la Parrilla.
#23 Hook & Ladder Manufacturing Co.
This place offers good old fashioned American comfort food along with a few exotic choices in an industrial location.
The patio is a great place to relax with Fido and a cocktail.
#24 Thai Basil
Sometimes you crave the piquant spice of authentic Thai cuisine.
The luxurious outdoor patio is a great place to relax with Fido and some fried prawns.
#25 Danielle's Creperie
This place certainly has cute decor with umbrellaed al fresco seating.
Crepes are their biggest seller, but other menu options are available.
Little Fifi will be right at home.
#26 Iron Horse Tavern
The menu here is quite eclectic, including Italian, Asian fusion and good old fashioned American burgers.
It's also got a good old fashioned patio for Fido.
#27 Rick's Dessert Diner
Here's a sweet place with decor straight out of the Fifties along with made from scratch pies.
You and Fido can share a fresh fruit tart at the outdoor table.
#28 Zinfandel Grille 
If you like jazz and Mediterranean cuisine, this is the place to be.
Your fuzzy little pal can join you outdoors with a bowl of water.
The chicken club, tuna melt, reuben and turkey with mozzarella seem pup friendly.
#29 Joe's Crab Shack
Don't turn up your nose at chain restaurants!
The lively environment and top of the line seafood is sure to please anyone.
The one on Emerald Coast Parkway has picnic tables by the water.
Read: 30 Best Dog-Friendly Restaurants In Minneapolis, Minnesota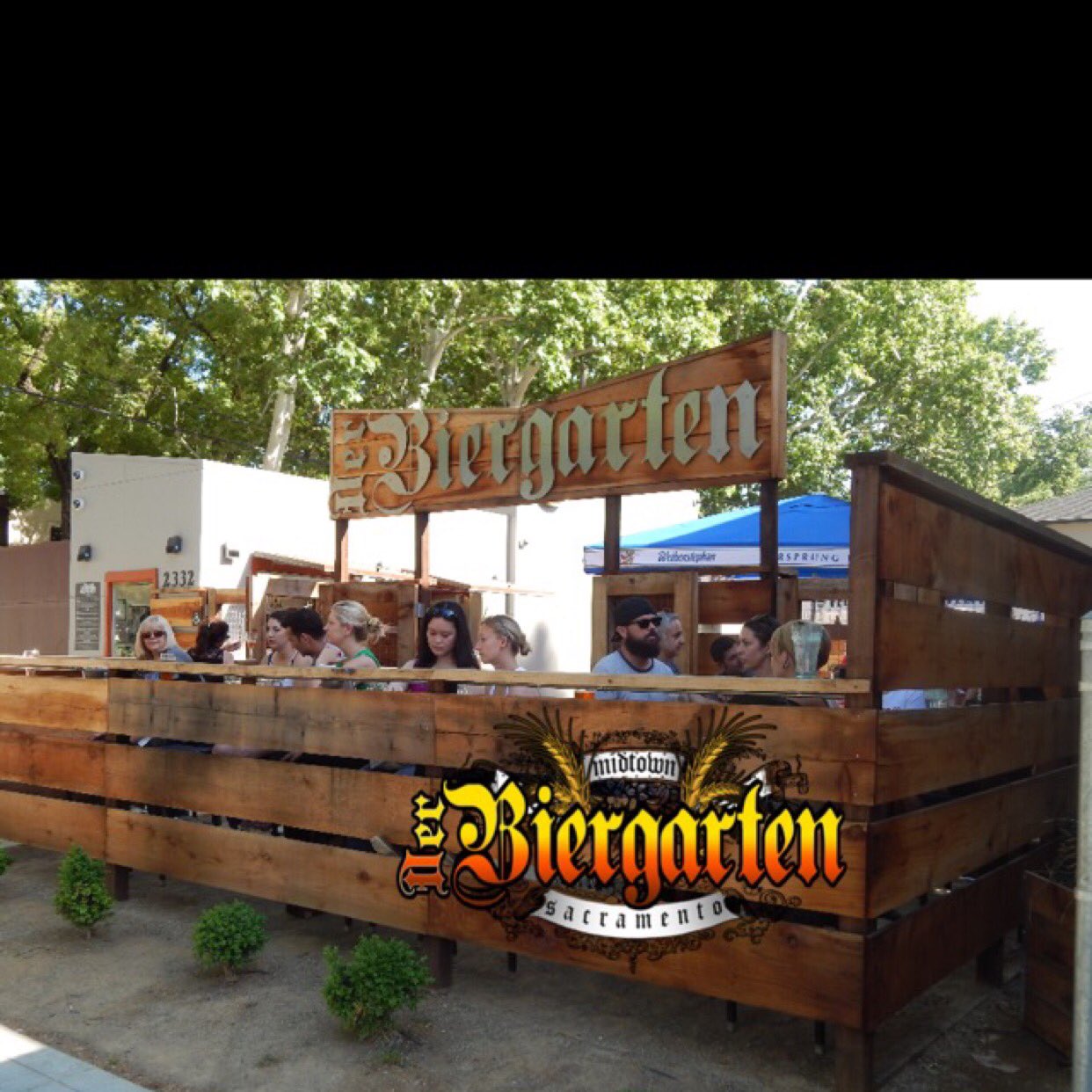 From: Twitter
#30 Der Biergarten
This casual German bar and eatery provides tasty cuisine and cold beer.
You and Fido might enjoy the Derfinater Dog, though you may ask them to remove the BBQ sauce, onions, garlic sauce and homemade hot sauce.
Which Restaurant You Wanna Visit With Your Dog in Sacramento, CA?
Have you been to any of these restaurants?
Would you like to? What is your experience with dog friendly restaurants?
Please reply in the comment section below. Don't forget to share this article if you liked it.
Other Puppy LifeStyle Related Topics
1. 77 Tips To Be A Responsible Dog Owner
2. Top 25 Careers For People Who Love Dogs
3. 34 Benefits Of Dog Owners While Walking And Exercising