If you have a passion and love for dogs, there are actually many careers for dog lovers out there that you can put this love towards. Everyone wants a career doing what they love for many years.
These jobs even range from a variety of mediums and requirements, some easier to get into than others.
However, each one of these careers allows you to be closer to what you love: dogs!
Popular Read: What Are The Responsibilities Of A Dog Owner?
Top 25 Careers For Dog Lovers
There are many different careers that you could jump into for dog lovers.
From entry to jobs that require some education, there are many opportunities you could start working towards. I'm listing 21 of these careers just for you.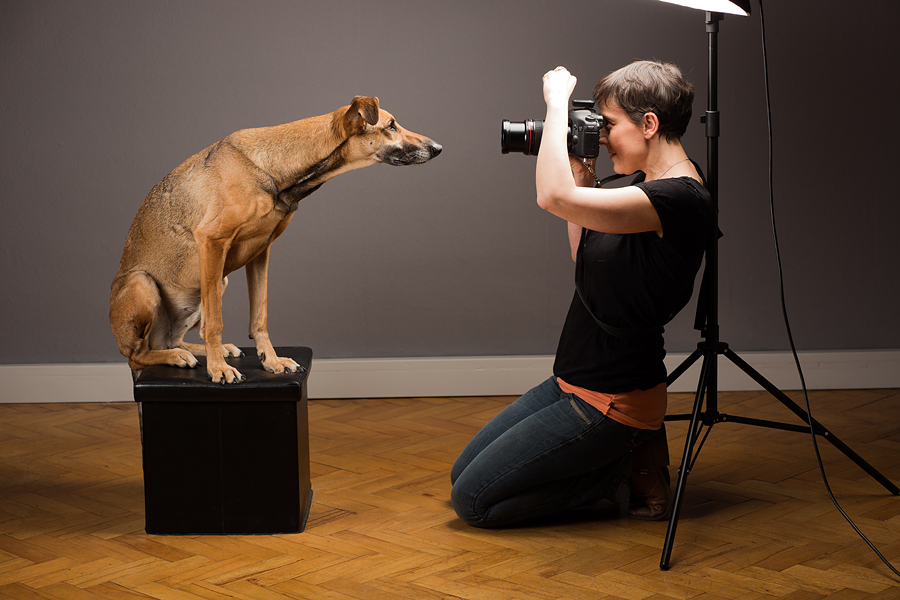 From: ISO.500px.com
#1 Photograph Dogs
If you have a good camera or phone and love taking pictures in general, this career is a great option for you.
You get to take pictures of many dogs for their owners, and you can even keep these to have an album of pups all your own.
Another great twist to this is you are able to work for shelters.
By taking pictures of shelter pups, you in turn help them have higher chances to get their forever home.
#2 Dog Behaviorist
If you have a knack for knowing dog behaviors and what the dog needs, becoming a dog behaviorist is for you.
You work with dogs that are displaying behaviors their owners are finding troublesome.
From here you are able to help the dog out by explaining to their owners exactly why the dog is acting a certain way.
In the end, everyone is happier with the work you can do as a behaviorist.
#3 Dog Groomer
If you are fascinated with the idea of grooming posh dogs as I am, being a groomer is for you.
As a groomer, you can style every pooch and pup, making them stylish as they leave your business.
You are also able to help dogs manage their hair when it gets in their eyes or matted.
Today, groomers are in high demand in bigger cities too.
#4 Train Service Dogs
As a service dog trainer, you are picking and training the best of the best for a very deserving individual.
You will be working personally with the dog for upwards of a few months, teaching them specific tasks needed for their job.
You will be setting this dog up for a loving home, and helping another person by giving them a helping paw for many years to come.
#5 Become A Veterinarian
I know when I was growing up with a strong love for animals, I always wanted to be a veterinarian.
If you were no different, this childhood dream is very achievable. You will be helping many animals including dogs.
From mending wounds, bringing new lives into the world, or saving lives, you will always be helping animals in this career.
It is a very rewarding career all in all, though it does take a bit of education and experience to get established.
People Also Liked: 30 Dog-friendly Restaurants In Sacramento, CA
#6 Fashion Clothes For Dogs
If you have always had a knack for stitching and sewing up different things, being a clothing designer for dogs could be a thing for you.
Personally, I have always loved seeing little pups rocking such adorable clothing year-round.
There is definitely a market for this career, and you can easily make a name for yourself online.
With sites like Etsy or even Amazon, you can sell your work all over the world.
You may even receive tons of pics of pups wearing your brand. How awesome is that?
#7 Make Nutritional Meals For Dogs
A chef for dogs isn't simply making food for any dog and getting paid by just their loves and wagging tails.
Being a chef for a furry client involves a lot of knowledge in the nutrition required for them.
You are also able to take this knowledge and help owners understand what should go into their pup's food.
It will improve their dog's diet and wellbeing in the long run.
Plus you get to know for sure, you helped that dog have a healthier diet compared to any store-bought brand.
#8 Plan Parties For Dogs
Planning parties for dogs is an actual career even if it sounds a little funny.
There are some dog owners with expendable cash that are willing to through a full-out bash for their pup's birthday.
You will be picking out decor, caterers, invitations, and anything the owner wants.
You are meant to make the dog you are planning around feel like an absolute star.
It may seem over the top, but you get to see the happy dogs having a blast with everything you picked out.
#9 Breed Dogs
Breeding dogs can actually become a really established career as long as you follow the laws in place for animal breeding.
The last thing you want to do as a dog lover is breeding so many pups, it is hard to keep up.
Though on the other side, breeding is very rewarding even if it takes time.
You get to spend the first eight weeks with the puppies and have that high energy around 24/7.
You also get to ensure these puppies are taken care of and head off to a good home at the end of the 8 weeks.
#10 Dog Walker
Dog walking has recently become a fit career for many people. It is no longer seen as a side job you do for a few bucks here and there.
You could easily make just as much as any other entry job while doing what you love; hanging out with dogs!
If you don't know where to get started, there are now apps such as Wag and Rover you could contract under for clients.
This takes out the waiting for flyers to be noticed and brings jobs to your fingertips.
You will be getting a workout with the pup, leaving both benefiting from the experience.
Not to mention the many pics you can capture along the way. I personally was a dog walker for quite a while, and it is quite a fun experience.
You May Like: Why Walking With Pets Is A Good Thing?
#11 Board And Babysit Dogs
Boarding and babysitting dogs have also become a legitimate career for people just as dog walking has.
You get to keep the dog at your place or the client for a specified time.
The care included is watching over the dog, feeding them, cleaning up after them, and giving them tons of love as their owner is away.
You are there to keep the dog happy, getting tons of love in turn.
Who wouldn't want to cuddle up with a dog and get all the love for just watching them for a few days?
#12 Animal Rights Lawyer
Being an animal rights lawyer means helping animals that do not have a voice.
You will be bringing their abusers to justice and even put them behind bars.
Your work will be very important to fight against the abuse and neglect of many animals.
This career will require some education in law and you will be seeing a lot of tear-jerking instances.
However, the reward comes from knowing the animal is now in a much better environment, thanks to you.
#13 Dog Show Handler
Dog show handlers are hired by owners of show dogs to walk their pups around the ring to be judged.
Working as one will let you be around the fanciest pups of today with the only task being is to walk them professionally.
To get a ton of information on just how to become a registered handler, you could check out the registered handler program of the AKC.
#14 Doggy Spa Owner
Being a doggy spa owner is basically bringing pampering services to the dogs living a luxury life.
Much of it includes the care we would want to have done at a spa; massages, grooming, mani/pedis, and more.
Your job would be is running the establishment and making sure every pup is as happy as can be and relaxed as they leave your business.
Another bonus you could do with a doggy spa is to add kennels and create a sanctuary any posh dog would love to stay at.
#15 Dog Artist
If you adore drawing or painting, and even consider animals one of your specialties, you could easily become an artist for dog owners.
You will be able to immortalize someone's dog in your style for the owner to cherish for years to pass.
Not only that, the traffic created from animal posts on social media will bring plenty of light to your amazing work.
A sweet bonus to this is, you can work at home at your own hours and pace. How cool is that?
#16 Dog Massage Therapist
Petting a dog is one of the best experiences am I right? Well, as a dog massage therapist, you will be able to pet and massage many aching pups.
By doing this, you are also helping them relax and feel a lot better than before they came to you.
This career does require some education for canine anatomy so you can give the best experience to your pooch client though.
However, helping a dog that is in pain is very rewarding in and of itself.
#17 Dog Yoga Instructor
Believe it or not, being a dog yoga instructor is very much a real job.
In this career, you are helping give dogs a gentle and light exercise or stretch session.
For dogs with aching joints, I can really see the benefit of this.
Your job will also include helping the owner know how to exercise their pup like this at home.
Even though it may sound like an odd concept, I can definitely see this taking off within the year.
#18 Work For BARK
BARK is a website for dog lovers and family alike.
Working for them will be a fantastic experience with pups and dog lovers almost all the time.
They have many available jobs you could jump into as well!
While they are based in new york, they have positions such as tech, marketing, writers, and more.
It would not be hard to find a place in this massive team of dog lovers.
#19 Doggy Day Care Worker
Doggy daycare is always a vibrant environment filled with happy pups playing and chilling the day away waiting for their owners.
As a worker there, you will be able to play with them and take care of them throughout the entire day.
I mean who wouldn't want to hang out with a pack of excited pups all day?
The only possible downside is the inevitable cleaning of the waste they leave behind. But the kisses make it all worth it.
#20 Test Pet Products
The market for pet products is massive, with families spending hundreds on their pets year-round.
And with such a large market, everything needs to be tested before it can be put out for the public.
This is where you come in. As a product tester, you will be working to find any faults in design or possible injury that could occur from anything.
You would be one of the standing forces keeping dogs safe from faulty toys or beyond.
A bonus to this job is that you could even come up with some products you see a need for.
From: AnimalTalk.net
#21 Pet Communicator
If you have an uncanny ability to understand what an animal needs or wants to convey, this is the job for you.
There is a large market for people you can understand what an animal is in need of believe it or not.
It may sound silly, but some people are very much in tune with animals that they could do this.
As a pet communicator, you will be helping out owners and pets alike for a much better life ahead.
A great benefit to this is you also get to know the animal on a more personal level.
#22 Public Service Dog Handler
Similar to training a service dog, a public handler gets to take them out into the world.
You will be able to prepare them for all the distractions going on so they may be able to avoid them during their job with their future owner.
This job will always have plenty of one on one time with the service dog.
#23 Therapy Dog Handler
When handling a therapy dog, you will get to take them where they are needed most.
Such therapy dogs that need handlers are those that go to nursing homes to bring some joy to the elderly.
Not only do you get to take a sweet dog around places, but you also get to see the joy they bring to those they are comforting.
It's a win-win situation if you ask me.
Read: 37 Amazing Health Benefits Of Owning A Dog
#24 Rescue Worker
Being a rescue worker is tough work, but you will be the one to care for the pooches as they come in as well as ensuring they are heading off to a good home in the end.
Plus if you are a dog lover like me, you can bring these poor dogs some joy daily by playing with them or even taking them on walks.
I honestly think the best part of this job is the part of finding them a forever home.
#25 Veterinary Technician
Often just called vet tech, you get to work personally under the head vet at the clinic.
This includes doing tasks such as preparing animals for surgery, doing check-ups, giving shots, or just checking clients in.
If you are scared of performing surgery or not sure if you want to be the one to break news to clients, being a vet tech gives you the benefits of being a vet without the heartache or difficult surgeries.
Which Career Interests You Most?
As dog lovers like myself, you want to know what you can do to work with them for a living.
I mean being surrounded by happy pups all day? Sign me up! Which career would you love best?
Have you tried any listed or have another career in mind to add to the list?
Let us know in the comments! Don't forget to share this with your dog-loving friends.
Further Readings
What Are Jobs for Dog Lovers Where You Work With Dogs?
How to Become a Dog Trainer
The 25 Best Jobs for Dog Lovers (and How Much They Pay)
Jobs Working With Animals: How to Make Your Dream Reality
10 Great Jobs for Dog Lovers
10 Dream Jobs For Dog Lovers
Other Puppy LifeStyle Related Topics
1. Should I Let My Dog Sleep With Me?
2. 30 Best Dog-Friendly Restaurants In Minneapolis, Minnesota
3. 24 Dog-friendly Restaurants You Must Want To Visit In San Francisco, CA