All dogs and puppies shed. It's a fact of life. But there are now many good dog shampoos for shedding on the market that can help control shedding.
Shedding occurs naturally when a dog's coat releases the old hair to replace it with new. This is a natural process and keeps the dog's skin healthy.
Puppies also experience shedding, as, at the seven-month-old mark, their puppy coat is replaced with their adult coat. All dogs and puppies go through a cycle of re-growing and shedding hair. Some breeds shed more and some less but ALL breeds shed to some degree.
Peoples Also Looking For: Why Having Pets Is A Good Thing?
In this article, we're going to review the following dog shampoos for shedding:
Best Dog Shampoos For De-Shedding
Some de-shedding shampoos seem more suited to longer haired dogs with heavy undercoats while others seem more suited to dogs that have short, silky coats.
Greyhounds have "eyelash" like fur and are prone to skin abrasions because of this, so take care when choosing a de-shedding shampoo is a must.

Best for itchy, dry, sensitive skin, and also as anti-dandruff. This is moisturizing, with Aloe Vera, cruelty-free, and for large and small breed dogs. It's not specifically for puppies, and a vet should be consulted.
PROS:
All natural, hypoallergenic, and anti-dandruff.  For large and small breeds.

 Has Aloe Vera which both smells clean, and moisturizes.

 It's cruelty-free so was not tested on animals. 

Oatmeal mixed with aloe gives it a good scent and deodorizes.

CONS:
Only one size bottle, and not the cheapest product. 

Not specifically for puppies.

 Although it's anti-dandruff, it does not provide flea control.

 It doesn't state how much de-shedding it helps with so heavy undercoated dogs may need a stronger product.
---

This is a combination shampoo and conditioner and quite frankly I liked this. My greyhounds sometimes can be oily, so I can choose to skip the moisturizer if I so wish. Other pet owners can also do this.
It gives a great choice for those with different dog breeds too. Not a "one size fits all" product but one you can customize for your own pets.
PROS:
All natural, with oatmeal and Aloe Vera.  

It's a bundle so you can shampoo and moisturize or simply shampoo.

 It's a great smell with the Vanilla and Almond. Almond also can condition and have Vitamin E.

 It's simply up to each owner how much cleansing and moisturizing they want for different animals.

CONS:
Must purchase the bundle, each product does not come separately.

Comes in one size only. 

Not specifically for puppies, so a vet should be consulted.

Does not state what type of testing was done.
---

This is a nice offering I thought. It's using buttermilk which is rarely seen and is therefore tearless and states CAN be used for puppies! The label also states dogs, so both can use it!
PROS:
Buttermilk is used so it states it is safe for puppies. 

It's also tearless. 

Can be used for dogs and puppies.

CONS:
It doesn't really come in a variety of scents and it doesn't state which scent it is. 

Can't really determine if other ingredients are used. 

Doesn't state "why" it's tearless.
---

This offering has the conditioner right in the shampoo. It's seems to be a good time saver and also does state that puppies can use this (checking with the vet is still recommended).
An older puppy definitely and then can be used on all ages if you want a product that is for older and younger animals. Good for cats too. States it's deodorizing. Can be purchased as one pack, or a "value pack" with three bottles. 
PROS:
It's anti-itch with the oatmeal. 

Has Conditioner built in. 

Can be time-saving if owning several animals of different ages.

Mentions use on puppies.

Good for cats too

Deodorizing

All Natural

Hypoallergenic

All Ages

Different sizes of packages so it can be ordered for a larger doggie family!

CONS:
Doesn't really state the scent, or what type of conditioner except oatmeal it contains.

It states anti-itch but doesn't attribute it to the oatmeal. 

Doesn't state why it's safe for puppies. 

States its good for cats but doesn't specify why.

No mention of how it deodorizes.
---
This is anti-bacterial, cuts back on the shedding, and claims to be all-natural also. Anti-fungal and anti-yeast provide itch relief. Helps with abrasions, hot spots, ringworm, and even other dermatological conditions.
PROS:
Anti-itch and fights fungus and yeast infections. 

All natural.

Medicated.

Heals abrasions and hot spots.

Useful for shorter haired dogs like greyhounds who are prone to abrasions.

CONS:
Doesn't really specify for puppies.

Doesn't really guarantee relief.

Only one size

May not suit dogs with heavy undercoats

Doesn't state specifically which types of fungus it prevents

Vets should very well be consulted because of the medicinal values
---

A mild, conditioning shampoo. Adds volume as well as silkiness. Enriched with Aloe Vera and silk proteins. States it has a great fragrance that can last for days and days. Gives the coat a brilliant sheen and can be used on cats and dogs.
PROS:
All Natural

Enriched with Aloe and Silk Proteins

Safe for Dogs and Cats

Long-lasting Fragrance

Brilliant Shine to the Coat after use

Adds Highlights to the coat

Adds Volume to the coat

Cons:
Doesn't state whether safe for puppies

Doesn't state whether its good for all breeds

Price is a bit expensive

Seems to be more for show dogs and the arena with the volume enhancement
---

Easier to use than liquid soap, just wet the pooch and rub the bar over to create a lather. Will appeal to conservationists as there is no plastic waste!
It's also for dry and itchy skin, with no harsh chemicals. Only bar soap that seems to be out there for dogs. 
PROS:
Its environmentally friendly with no plastic waste

Is all natural

Combats itchy skin and dryness

No harsh chemicals

Seems it can be used on all types of dogs

Seems very popular

The soap itself is cute with a pic of a pup on the bars

Comes in a two pack

It is for all hair types and coats

CONS:
Doesn't state if it can be used on puppies or cats

Doesn't really state a fragrance

It's hard to tell how long it will last therefore price per wash can't be determined

Doesn't state whether it helps with any other skin issues

Doesn't state much of an ingredient list
---

This is paraben-free as stated on the label, and does have de-shedding properties.  It takes a bit of reading though to determine this on the back label.
It rinses clean, thereby making sure that itching from leftover shampoo does not occur. PH balanced and alcohol-free also. Very deodorizing with the coconut and lime scent that it has. 
It has oatmeal so possibly this provides the "itch relief" but is not specific about this on the back label or the other materials provided. 
PROS:
Lathers well and rinses clean

No parabens

No alcohol

Great fragrance with the coconut and lime

All natural

PH balanced

For all breeds of dogs

CONS:
Does not state its safe for puppies

Does not state if it can be used on cats

Different sizes do not seem to exist

Doesn't really state how it provides the itch relief
---

This is for heavily undercoated dogs only. Will be too strong for lightly coated breeds but a bonus for those that own heavy undercoated breeds.
It promises to loosen and remove the undercoat which exacerbates shedding horribly. It comes in one-gallon containers only for many removals and also probably since a lot of shampoo is needed for a large breed with a heavy undercoat.
Over 30 years of professional pet experience from this company. Has coconut for fragrance and also for moisturization. Salon quality is available for use at home.
A full line of products are available to enhance its performance such as detangling products and moisturizers. The product looks good but may need other products to get the required results. 
PROS:
30 years of dog product experience by the company

Great fragrance

Great moisturization

Large container

Salon quality

All natural

Fairly good price for this type of product and size of product

A clarifying choice is also available

CONS:
Doesn't state if cats can use this

Doesn't' state if it's good for puppies

Should probably not be used on breeds with fine, thin coats

Doesn't mention much deodorization

Other products may need to be purchased to enhance the products full capability.
---

This is a sister product to Coat Handler Undercoat Control Shampoo. Can be used on heavy coated or medium dense coat breeds and contains clarifying agents for dogs' coats that have become dingy looking.
The ingredient list is almost the same as Undercoat Control Shampoo but this will give a nice sheen to dogs that have lost the gloss to their coats. It's conceivable that an owner can combine the two and get the best results.
It's another large container at one gallon. The product looks very good but may need other products in order to have optimal results. 
PROS:
30 years of dog product experience by the company

Great fragrance

Great clarifying results

Large container

Salon quality

All natural

Can make a dingy dog look really shiny

An undercoat product can be purchased with this to improve overall results. 

No alcohol or parabens

Can be used on medium coated as well as heavily coated dogs

CONS:
Doesn't state if cats can use this

Doesn't state if it's good for puppies

Can purchase sister products for overall best results

Doesn't mention how much deodorization

May need other products for optimal results depending on the breed

The price is a bit steep compared to the other products by this company
---

A product that can be used for both dogs and cats. A well-known brand name is known for its products. 16 ounces at a good price.  States it has a great fragrance. 
PROS: 
A good price

A well-known company

Can be used on dogs and cats

Has a great fragrance

All natural

CONS:
Doesn't state what the fragrance is

Doesn't state if its good for puppies

List of ingredients is a bit confusing
---

This blend is tear-free, states it for use on puppies, very gentle, all-natural and calming, and moisturizing with the addition of pure lavender essential oils.
It's good for grown dogs too as which dog can't use a more stress-free life? Really affordable and very gentle, being cruelty-free, paraben-free, and chemical-free.
The bottle is so cute too and the packaging. Made me smile to look at it!  Has colloidal oatmeal too for itchy skin!
PROS:
Not tested on animals

Very affordable

Paraben and Chemical free

Cute packaging!

Tear Free

Used for dogs and puppies (check with a vet)

Great deodorization

Great moisturization

Essential oils of a high grade

All natural

Colloidal oatmeal for itchy skin
CONS:
Only one size

Not specific as to how it prevents deshedding (although it insinuates it does)

Not specific as to application

Not specific as to breeds of dogs and puppies that would benefit from it

Not specific as to use on other animals, i.e. cats (some are)
---

For dogs, cats, and all small animals. If you have a menagerie, this one might be what you are looking for! Has colloidal oatmeal for anti-itching, is a fairly good size, and the price at 17 ounces. It's made 100 % in the United States.
Is soap-free and all natural. Contains vitamin E and aloe vera for moisturization. Combines cleansing with great deodorization and moisturization with the addition of a conditioner, the Vitamin E. A top seller among pet products!
PROS:
All natural

Contains Vitamin E

Contains Aloe Vera

Contains Oatmeal for itchiness

Can be used on dogs, cats, and other small animals. 

Made in the United States entirely!

Soap free

No additives or harmful chemicals

Nice price and size

Will lead to a shinier coat

Great deodorization

Hypoallergenic

CONS:
Doesn't state whether it can be used on puppies

Doesn't' state what size or breed of dog it can be effective on

Doesn't really specify how it helps with de-shedding although it does state that it will

No choice of sizes, one size only

Not tear free

States can be used on cats and other small animals but not specific about the size or type of small animal.
---

This seems to be a very good product to me. It is a "five in one: with detangling, moisturization, cleansing, and deodorizing in an all-natural mixture.
It's also for dogs and puppies it states! It's a good size, 16 ounces, with a pop-top, and is made entirely in the United States.
It's gentle and easy to rinse. Can be used on all breeds. It helps with de-shedding as it states it's also "professional strength." A smaller size is also available. 
PROS:
Two sizes to choose from if you want to start small!

Hypoallergenic

All natural

Gentle and tear free

Easy rinsing and lathering

Professional strength for maximum benefits

Five in one product. 

Also for puppies it states

All breed usage.

A pop top that is convenient and non-spill

Great smell and deodorization

Coats are left shiny and soft

No parabens or alcohol

No sulfates

Great set of directions on back of bottle

Conditions, detangles, moisturizes, and deodorizes in one simple step

CONS:
Not for use on cats or other animals

Doesn't really specify anti-itch

Doesn't seem to contain oatmeal

Must be kept out of reach of children so this made me pause a bit. No explanation for that statement.
---

This does not really say it's de-shedding assistance but does insinuate this, based on its anti-itch properties. It's possibly one to try, especially for dogs and puppies with tender skin or skin problems. It's worth looking into possible. Comes in a good size at a good price.
PROS:
Can treat a variety of skin problems like mange

Can treat hot spots

Is conditioning with oatmeal

Is hypoallergenic

Is all natural

Comes in a good size

Good price

Might help with de-shedding by treating underlying skin issues

CONS:
Doesn't state whether it's good for puppies

Doesn't state whether it's good for all breeds or which breeds

Ingredient list is small

May or may not help with shedding

Not made specifically for shedding but insinuates that it can help by fixing underlying skin problems.
---
My Own Personal Choice
Since many different types of de-shedding shampoos exist for a variety of coats and breeds, you must pick the one that best suits your own dog or puppy. You should always check with your vet too in regards to any washing of a puppy as there are age limits.
I can't stress this enough! I actually prefer the Pet Care Sciences Dog Shampoo that is the second to the last entry here. It has everything in it, deodorization, moisturization, Vitamins, and can be used on both puppies and dogs it states.
I like the pop-top bottle and selection of sizes too. Since I have many ages of greyhounds, who are prone to hot spots, this did seem to work for me and my hounds love it and I do!
Smells great and their fur is silky soft!  It doesn't have colloidal oatmeal but that did not make a difference at all it seems. 
Why Do Dogs Shed Naturally?
All dogs and puppies shed naturally to maintain healthy skin and coats. As older hair dies off it is replaced by newer hair.
Temperatures can play a part and the health of the animal is also a factor. Medical issues can produce more shedding, as can improper nutrition.
Too much aggressive grooming can also cause excessive shedding as can diseases or improper diet. Dogs, like humans, have a natural PH balance on their skin that cannot be upset.
Puppies especially go through a period when they lose their puppy coats and grow adult coats. Shedding can be fierce at this time.
There also are many environmental factors that will increase shedding. Shedding per se can't be eliminated entirely but a good de-shedding shampoo can help to eliminate some.
De-shedding tools also assist with this in combination with a good de-shedding shampoo. There are methods when bathing a dog that ensures completeness in the process.  This video does show this.
A dog or puppy that is free of excess hair and debris is generally happier and healthier. Owners are too as the lint roller does not need to be used as frequently! The vacuum and broom also stay in the closet longer!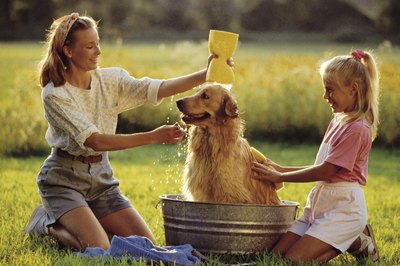 Why De-Shedding Shampoos are Needed?
De-shedding shampoos are needed to:
Help loosen excess fur. These shampoos aid in removing the dead fur for easier removal. Excess fur can be irritating to dogs and puppies and an annoyance to the owners.

Add much-needed nutrients to the coat and skin. Softer, silkier fur does not shed as much. In addition, the skin remains healthier which also decreases shedding.

Relieve itchy skin. An animal with a lot of loose furs will feel itchy. Dogs and puppies may actually chew at the excess fur trying to remove it themselves.

Prevent matting and tangles. Less hair means fewer tangles and mats that need to be cut away eventually. Matting can be very painful to a dog or puppy.

Prevent dogs from ingesting the loose fur. Dogs and puppies lick themselves all the time and can ingest the dead fur regularly. This causes digestive problems.

Keep your home, clothing, and furnishings more hair-free. Less cleaning of home, furnishings, and clothing. More enjoyment of your furry baby!

Keep your dogs' environment, their beds, and clothing more hair-free. They get to sleep in their own hair-free quarters! Even they enjoy a hair-free environment.

Keep fleas, parasites, and dirt from being attracted by loose hair. Dirty, loose hair attracts fleas and other parasites and dirt. A dog's health and skin can be affected negatively by this.

Keep dogs and puppies from scratching. Dogs and puppies will try to scratch away the dead hair, sometimes leaving red, raw skin, or even open wounds.  Open sores and wounds will attract infection.

Keep yeast infections and other bacterial infections from starting and/or spreading.

Keep flea infestations if they exist from spreading. Flea eggs and nits can be shed with the dead hair onto the furniture and other environments.

Keep dogs and puppies smelling clean and fresh. Dead hair many times can attract and hold odors. Furnishings are soft too and can have a doggy odor after shampooing and cleaning is too much hair remains on the furnishings too long.

Keep in mind th

e best de-shedding shampoo for dogs will be made from natural ingredients and formulated to improve skin and coat. By improving the condition of your dog's skin and coat, you can control problem shedding and make your life a lot easier.

Shedding can be a real problem in puppies, especially when shedding puppy coats. Although a FEW products exist that can be used on puppies, MANY vets suggest that an owner wait to bathe until after a certain age. Puppies shed their puppy coats and this must be taken into account. Puppies are also more sensitive to ingredients and have tender skin (just like human babies).  Consult your vet before bathing your puppy, please!

Some dogs and puppies have very little shedding and are sought after by those with allergies. These include:
Bichon Frise:

Little puff balls whose hair is curly, but stays put. They resemble cotton balls.

Miniature Schnauzer:

Larger Schnauzers can shed more but the mini has wiry hair that sheds little. Grooming is required. The Giant Schnauzer is on the opposite end of the spectrum but sheds little too. Standard and large Schnauzers tend to do more shedding.

Poodle:

All size poodles have dense, soft super-curly hair which does not shed. however, grooming can be extreme.

Yorkshire Terrier:

Also known as "Yorkies". The hair resembles human hair in texture and is super soft. Do require some grooming especially around the face and legs.

Shih Tzu:

They grow very long hair and require grooming and clipping frequently but the hair stays put!

Maltese:

A very tiny all-white dog that sheds little. The hair can or cannot be groomed it's up to the owner.

Portuguese Water Dog:

A mid-sized dog that President and First Lady Obama chose because of their children's allergies. Curly coat with hardly any shedding.

Scottish Terrier:

Stubborn dogs, with very wiry coats and grooming needs. however Little shedding.

Giant Schnauzer:

Can shed very little too, just like the Miniature version.  Standards and large Schnauzers shed more.

West Highland Terrier:

This cutie resembles the Scottish Terrier but has a softer coat. The coat also stays put however with limited shedding. Also requires grooming.
Even with minimal shedding a good de-shedding shampoo will make the skin and coat look even better and cut down on any shedding that does occur! Dogs and puppy fur is not like human hair.
Human hair has one hair growing out of each hair follicle while dogs and puppies have several springing from one follicle. Most dogs have three types of fur:
The undercoat, guard hair, and whiskers, each a bit different from the other. Some dogs have a very little undercoat, while others have a dense one and shed more.
Shedding is also seasonal with more occurring in the warmer months to keep the dog or puppy cooler. Dogs and puppies do not have sweat glands.
The only cooling comes from the pads of their feet. Shedding also occurs more frequently while in "heat" and also for females after giving birth.
Hormones do play a part in this. Hormone imbalances, poor nutrition, and also thyroid problems can make shedding worse.
You May Like: What Jobs Can You Do Working With Dogs?
Characteristics of a Good De-Shedding Shampoo
A de-shedding shampoo should first do the job of cleaning gently and effectively; secondly, be non-irritating enough for a dog's skin, be as natural as possible, and contain moisturizing ingredients, as well as certain other ingredients that are geared to a dog or puppies' special needs.
Different blends exist that can assist in flea treatment, dry skin, dermatitis, acne, and even prevent mange. Some have lavender and other natural oils to enhance a dog or puppy's well-being.
Each case is unusual and should be tailored to the animal. Parabens at all costs should be avoided! Paraben is a chemical compound and really adds nothing to the shampoo.
It's used to prolong the shelf life only. Good de-shedding shampoos should have the following ingredients: Vitamin E, moisturizers, and deodorizers. They should also be as natural as possible, and hypoallergenic as well.
Good de-shedding shampoos can be scented or unscented, and also contain flea control, dry skin control, acne control, and dandruff control ingredients.
Many perfumes contain alcohol to enhance longevity so fragranced products should always be all-natural without any alcohol.
Keep in mind always that all breeds are different. Heavy undercoated dogs will need a different de-shedding shampoo than those with a thin, wispier coat.
No matter what type of product, many contain oatmeal, which is a natural anti-itch ingredient. Never purchase any with any parabens or alcohol!
Omega Fatty Acids
These impart fatty particles that keep a dog and puppy's coat and skin nourished. The fur will be shinier and silkier. Omega 3 and Omega 6 are extremely important to prevent dry itchy, malnourished skin which usually results in excessive shedding.
These can be found in many de-shedding shampoos, or even given as a supplement, with the advice of a vet, or in specialized foods.
You May Learn: Does Walking The Dog Count As Exercise?
Vitamin E
Vitamin E aids in the hydration of the coat which in turn decreases shedding. A hydrated coat does not die off as readily as one that is hydrated properly.
Less dead hair means less hair everywhere! This vitamin can be found in many de-shedding shampoos or given as a supplement with veterinarian advice. Foods can also be found that contain it.
Moisturizers
Many types of moisturizers exist and the presence of this ingredient in dog shampoo again prevents dehydration of the coat in dogs and puppies. The coat remains on the dog and puppy longer as a result.
Aloe Vera and oatmeal are great for dehydrated and dry skin, as well as calming any itchiness in animals. Aloe Vera and oatmeal are the most commonly found moisturizers.
Natural Ingredients
Any fragrances or ingredients should be all-natural and hypoallergenic. Lavender is a great natural oil for fragrance and relaxation.
All types of combinations of ingredients exist but always focus on all-natural. Scented products should have natural fragrance oils at all costs. Heavy dyes and perfumes are irritating to dogs and puppies. 
Deodorization
Any deodorization should be done via natural oils and ingredients. Mint, lavender, and green tea are all-natural. Lemon and lime also although can be too acidic for some pets. Lavender can also calm a dog or puppy.
Even floral scents are available if natural ingredients are sought, but these seem a bit harder to locate. Lavender, lemon, lime, and green tea seem the most commonly found scents, with lavender being the most sought after by owners.
Popular Reading: How Do I Make My Dog Smell Better?
FAQs About Dog Shampoos For Shedding
# Are De-Shedding Shampoos Effective?
There are those individuals and animals that don't see much benefit I'm sure in these but for my greyhounds, where shedding can lead to abrasions, the products do work.
Now for heavier undercoated or wiry-haired dogs and puppies, different brands may or may not work.
All the material that I've read does encourage the use of these shampoos as they do moisturizers and treat the skin.
However, all the materials do also state that a de-shedding tool is also useful for heavier-coated dogs and puppies.
You May Like: What Is The Best Job For Animal Lovers?
Final Thoughts
Research is needed into all de-shedding shampoos and a veterinarian's input is a good idea. So many types exist, and so many breeds of dogs and types of fur that it is hard to say that each shampoo would work for each animal.
Although I preferred the Pet Care Sciences Dog Shampoo, I do have greyhounds with a very little fur. All breeds are different! Trial and error and research are needed.
Brushing first and removing as much dead hair as possible is imperative before using any of these shampoos. The less dead hair that remains, the better the product works!
An approach that uses brushing, tools, and shampoos seems the best approach (although with my greyhounds, who have little fur, I have minimal work)! Enjoy your fur baby with less shedding of fur!
Further Readings
Why Puppies Shed
Fatty Acids for Pet Skin and Haircoat Health
Related Topics
1. 15 Best Dog Shampoos For Odor Control
2. Best Dog Shampoo For Dandruff
3. Best Waterless Dog Shampoo
4. Best Dog Diapers For Females In Heat
5. How Dog's Fur Tells A Lot About Your Puppy's Health?
6. Dog Constipation: Causes, Symptoms, And Treatments